You should know by now that I love coffee cakes (I mean, any excuse to eat cake for breakfast, right?) and this blueberry cream cheese variation may just be my favorite one yet!
With a moist and tender crumb, fresh summer blueberries, and a ribbon of sweetened cream cheese running through the middle, this bold breakfast cake is bound to make your morning better (or your afternoon, for that matter, as it can be enjoyed any time of day!)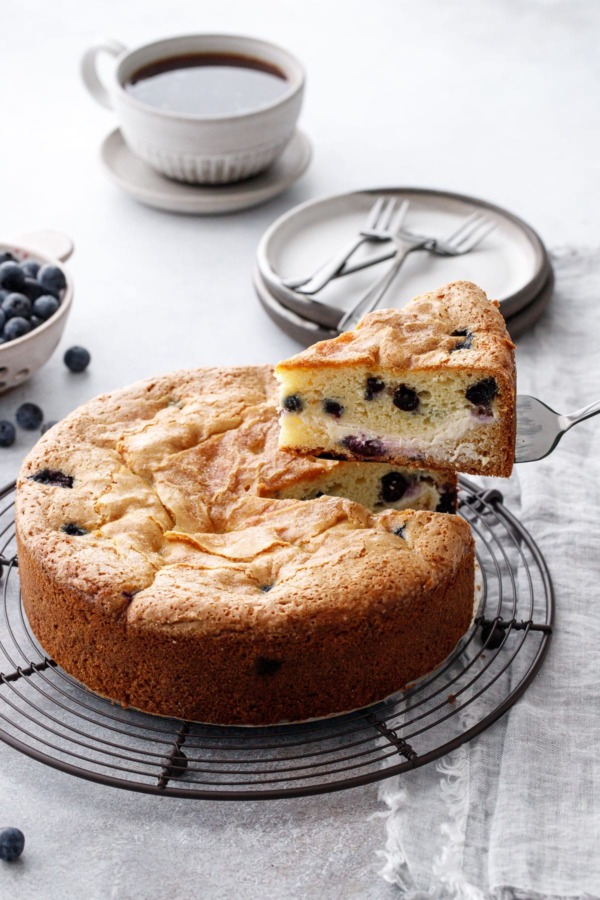 This pesky recipe. Considering it's nearly identical to my other coffee cake recipes (which are all based on my grandma's recipe for sour cream coffee cake), I didn't anticipate it needing quite so many tests. But that cream cheese swirl just didn't want to cooperate. First the cream cheese was too liquidy, making it nearly impossible to spread the final layer of thick cake batter on top. Then my blueberry distribution was off, resulting in a base of blue and barely anything in the top half. A few proportion and process changes improved the process greatly.
The cream cheese layer sunk a little bit in the final version, but I've decided I'm ok with that because this coffee cake is amazing and I didn't want you to have to wait any longer for the recipe.
Seriously.
I brought in one of my early tests to ceramics class, and heard from more than one of my classmates that this cake was one of the best things I've made. Which is saying a lot, considering they've also gotten to taste test my chocolate chai cheesecake bars, black sesame-stuffed matcha cookies, and blackberry lemon bars.