It's summer in a tart shell: with creamy basil goat cheese and juicy vine-ripe heirloom tomatoes nestled in a savory parmesan shortcrust.
Peak tomato season is officially here! Make the most of it with this gorgeous (and delicious) goat cheese and tomato tart, with fresh heirloom tomatoes rather than roasted to really showcase their bright flavor and gorgeous colors.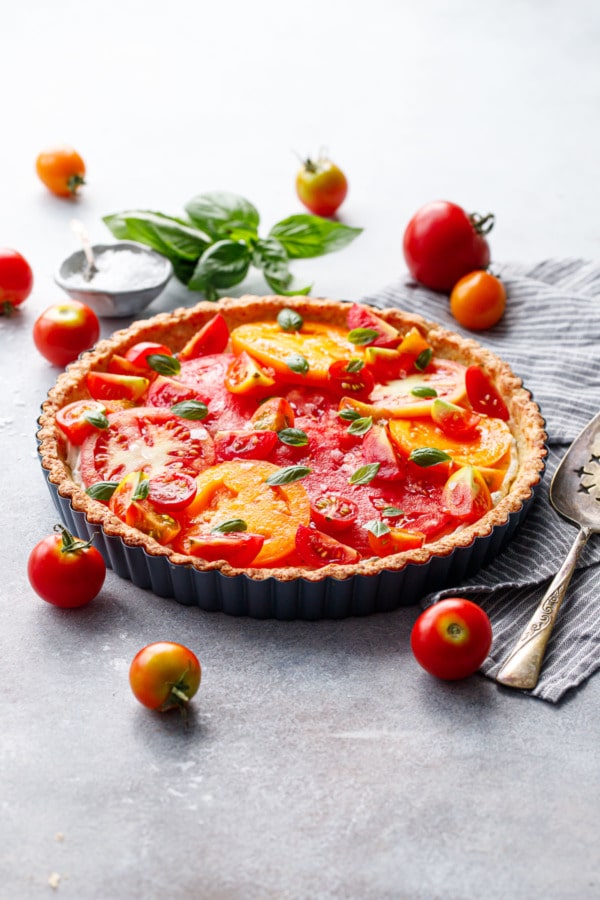 This is the first week we've gotten tomatoes with our CSA, and this tart was the first thing on my list to make (along with some caprese, of course, and luckily we have more than enough tomatoes for both).
We first made this tart last summer after a particularly successful farmers market haul left us with a stunning assortment of heirloom tomatoes.
We had planned to make two meals out of it, considering the recipe yields a full 9-inch tart. But the two of us devoured the entire thing in a single sitting. That's how good it is.
What differentiates this tart from the countless other tomato tart recipes out there is this one is unbaked, leaving the tomatoes fresh and juicy and brightly flavored. Sure, baked tomatoes have their place, but when your vine-ripe summer tomatoes are this good, it's a shame to subject them to heat.
The crust is also simply spectacular, adding grated parmesan to a standard shortcrust for an extra savory twist. Not to mention it's dead simple, you don't even have to roll it out (just dump the crumb mixture into your tart pan and press it into the bottom and up the sides).