My favorite Iced Pumpkin Spice Latte recipe is made with real pumpkin, your choice of milk (dairy or plant-based), and naturally sweetened with just a hint of maple syrup.  So tasty and ready to go in 5 minutes!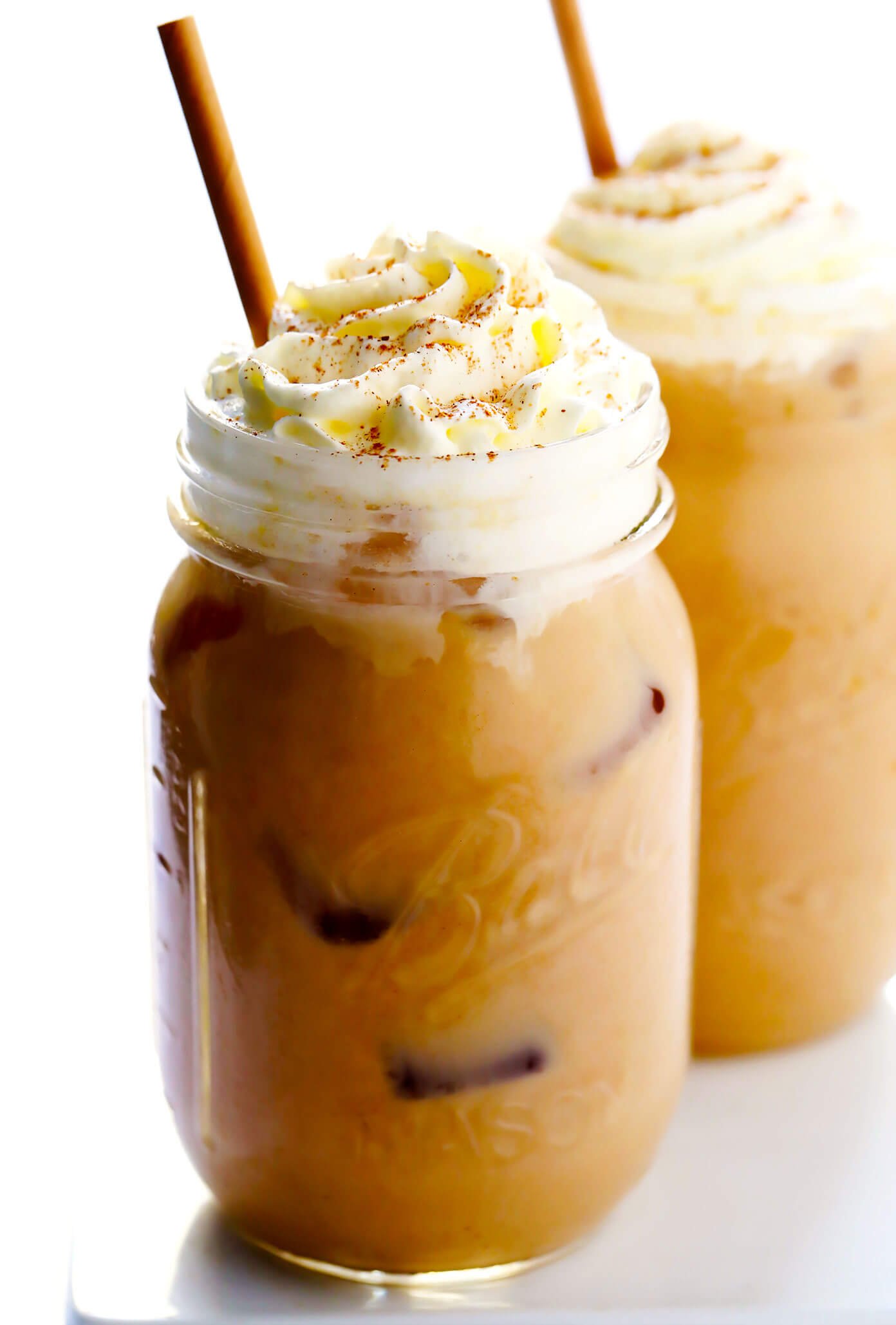 It's that time of year again! ♡
Okay okay, I know that we're still officially a few weeks away from the beginning of fall.  But this past weekend, the weather majorly cooled off here in Barcelona and it seemed like the perfect time to break into my inaugural can of pumpkin purée for the season.  And the first thing that I found myself craving was none other than…a nostalgic pumpkin spice latte.  Well, make than an iced pumpkin spice latte, because while I'm apparently ready for pumkin season, I can't quite let go of my iced summery drinks quite yet.
I have to admit, though, that I have become quite picky over the years when it comes to PSLs.  As much as I credit Starbucks with the introducing us all to this now infamous drink, the original version is far too sugary for me to handle nowadays.  And while Sbux' version was modified in 2015 to finally include (granted, a very tiny amount of) actual pumpkin purée in the drink, I like making my drink with a legit spoonful of pumpkin in there, plus a hint of vanilla, pumpkin pie spice and (yes) sea salt to bring out the pumpkin's coziest flavors. Together, the combo yields my idea of the perfect iced pumpkin spice latte that's full of nostalgic fall vibes without the usual subsequent sugar crash.  And, of course, the homemade pumpkin spice latte has the added bonus of being considerably more affordable than the coffee shop version.
Feel free to customize your own with whatever type of coffee (espresso or brewed coffee), milk (dairy or plant-based), and whipped cream (optional but delish) you prefer.  And in less than 5 minutes, this delicious drink can be yours to enjoy in no time.
Cheers and enjoy, everyone!