Crispy, golden brown roasted potatoes served with a uniquely flavorful and oh-so-versatile black garlic aioli that'll make your tastebuds sing with delight.
Up your side dish game with these crispy roasted potatoes, served with a black garlic aioli (it's savory, I promise I'm not dipping potatoes in chocolate pudding here, despite appearances).
This post is sponsored by Duke's Mayonnaise and includes tracking links. For more information about tracking links and how to opt out, please visit All About Do Not Track prior to clicking any links found in this post.
This dish is little bit inspired by Spain's famous Papas Bravas, which is a dish of crispy fried potatoes served with a garlicky aioli (the traditional Catalan version is literally just garlic and oil worked together by hand until creamy, though many modern versions include egg to help with the emulsification).
We've taken some liberties with our recipe, obviously, both by baking our potatoes until golden and crisp and serving them with a simple and delicious shortcut aioli made with Duke's Mayonnaise and both fresh and aged black garlic for a unique and flavorful combination.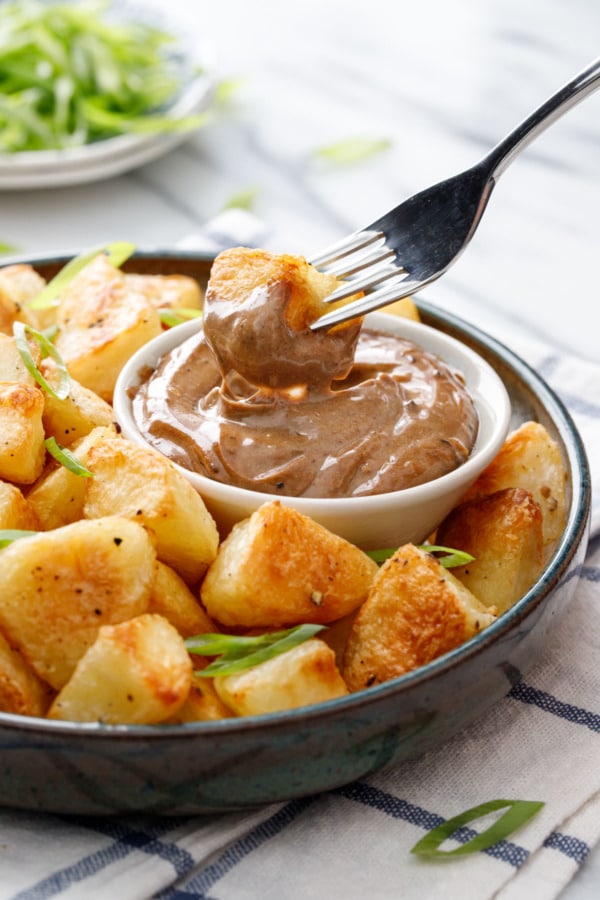 Making aioli from scratch can be tricky if you don't have the right equipment, or the patience. Instead, we've opted for a shortcut aioli, using our favorite Duke's Mayonnaise as the creamy, tangy base, and mixing in both fresh and black garlic—the fresh gives the aioli a perfect bite, while the rich umami notes of the black garlic provide incredible depth of flavor while mellowing out the sharper spice of the fresh garlic.
The result is a delicious and unique side dish that comes together in a jiffy, and perfectly compliments these crispy roasted potatoes (though its versatility certainly doesn't end there).