Moist and tender coffee cake muffins studded with fresh blueberries and a cinnamon sugar topping that bakes to a delightful crunch.
Turns out my grandma's old fashioned sour cream coffee cake recipe makes for some pretty spectacular muffins.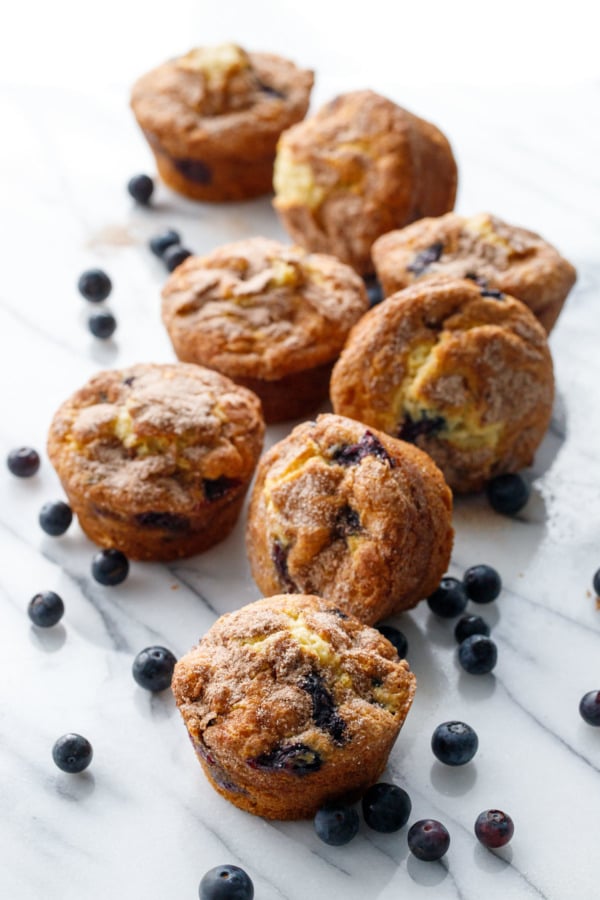 For a while now I've wondered if my grandma's old fashioned coffee cake recipe would translate into muffins.
The answer?
Resoundingly YES.
I may as well burn all my previous muffin recipes because this one beats them all. Sorry sourdough muffins, these coffee cake muffins have my whole heart (ok ok that's not fair to the sourdough muffins which really are quite good. Seeing as these are made with butter, sour cream and almost double the sugar, I mean, it's not entirely a fair comparison).
I think the keys that make this recipe so spectacular are twofold: sour cream for adds moistness, richness and a hint of tang, and the crispy sugar topping for a truly terrific textural experience.
I'm always a fan of muffins with toppings; the more streusel the better, I say. But sometimes it pays to be minimalist. In this case, a simple sprinkle of cinnamon and sugar bakes up into a light and crispy topping that puts any streusel to shame. Not to mention it's way, way easier.