Chocolate and raspberry, together at last in one sweet and salty (and delightfully crumbly) mouthful.
Jam crumb bars are one of my favorite desserts, and this choco-fied version is no exception: a layer of bright raspberry jam sandwiched between sweet and salty oatmeal shortbread, and chunks of bittersweet chocolate melted on top for good measure.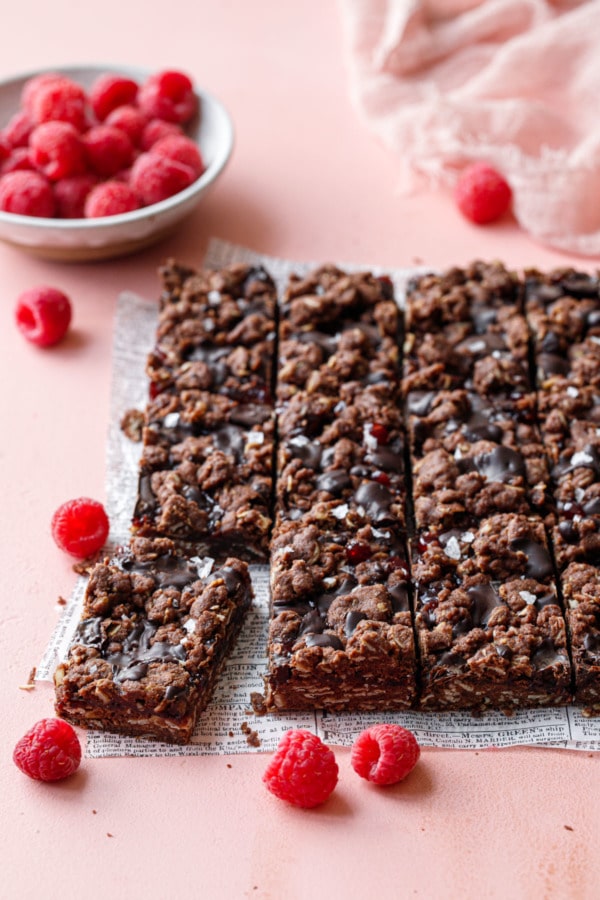 Oat and jam crumb bars are, well, kinda my jam. I love being able to use up the random half-filled jars of jam floating around the fridge (because, surprisingly, for as much jam as I make we really don't eat that much of it). Jam bars are like thumbprint cookies with half the effort.
A layer of crumbly oat shortbread + fruity jam + even more crumbles = one seriously tasty treat. Even more so when you add a double dose of chocolate to the mix. This is basically a choco-fied version of my original jam bars (one of the bonus recipes that comes with my Jam e-book bundle, and while I haven't shared it in full on the blog, it's one of my all-time favorites.)
You'd think chocolate crumb bars would be a thing, but usually it's just regular crumb with a layer of chocolate or chocolate chips or something, which is not nearly enough chocolate for me.
So I added cocoa to the crumb base AND chopped up pieces of dark chocolate on top, making for the extra-chocolatey crumb bar of your dreams.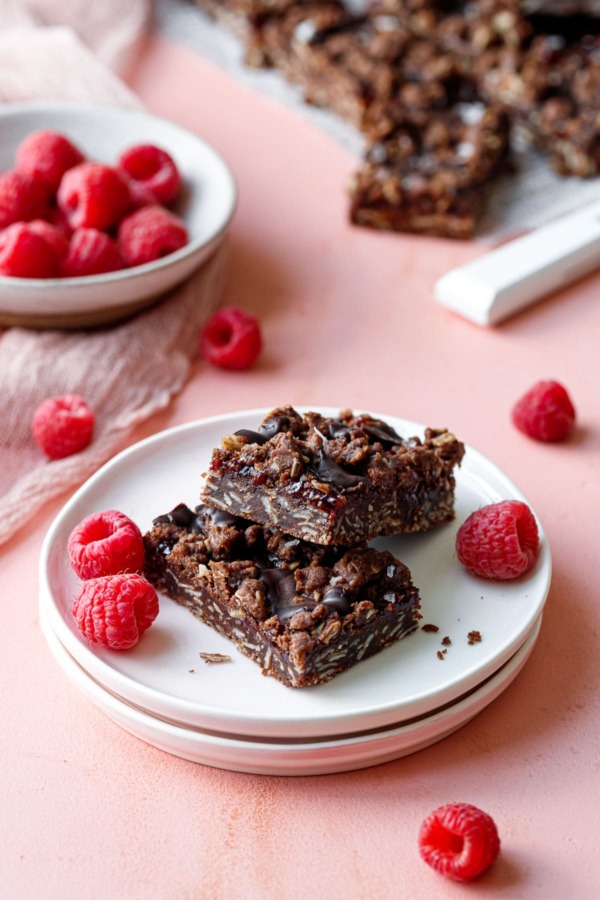 This is one of those unassuming recipes that doesn't look that impressive (it's no s'mores tart topped with berries and edible gold leaf), but it's just as satisfying, maybe even moreso for the pure simplicity and ease of preparation.
In other words, the effort-to-impact ratio is far higher than a high-effort/high-impact dessert like that tart, which in many ways makes it the superior recipe, wouldn't you say?