Don't let that sourdough discard go to waste: make a batch of these delicious almond sourdough muffins!
Made with leftover sourdough starter that would otherwise be discarded, these moist and tender muffins are flavored with almond and studded with dried blueberries and sliced almonds.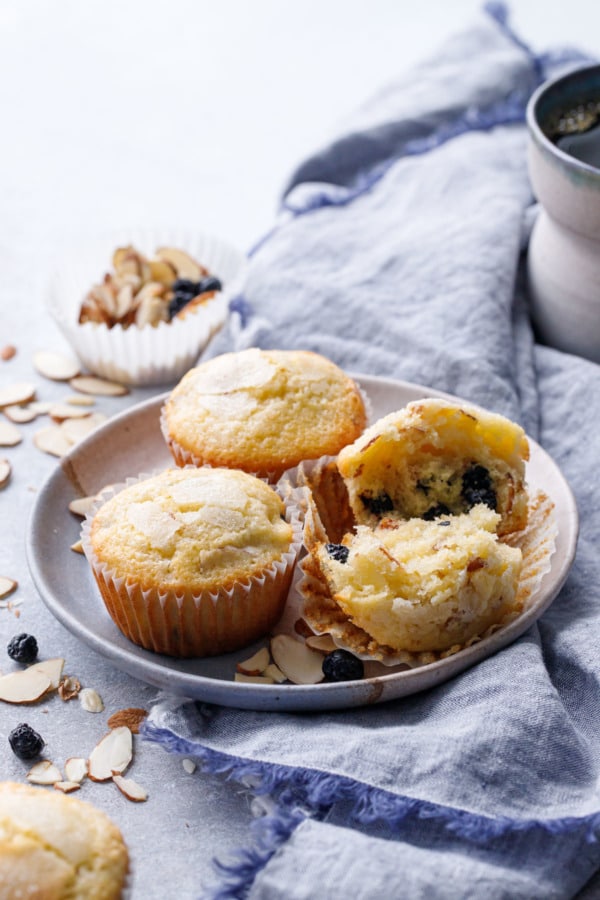 Hooray, more sourdough discard recipes! Y'all are loving my crackers and biscuits so much I figured I'd see what else I could make with sourdough discard. These muffins are the result (next up: waffles perhaps?)
It makes me so happy to see so many people dipping their toes into the world of homemade sourdough. It's something I've been doing for the past 3 years and it brings me endless satisfaction (sure, some frustration too, but that frustration is surely eased when you bite into a fresh slice of homemade sourdough slathered in good salted butter; I mean, it's one of my greatest joys in life).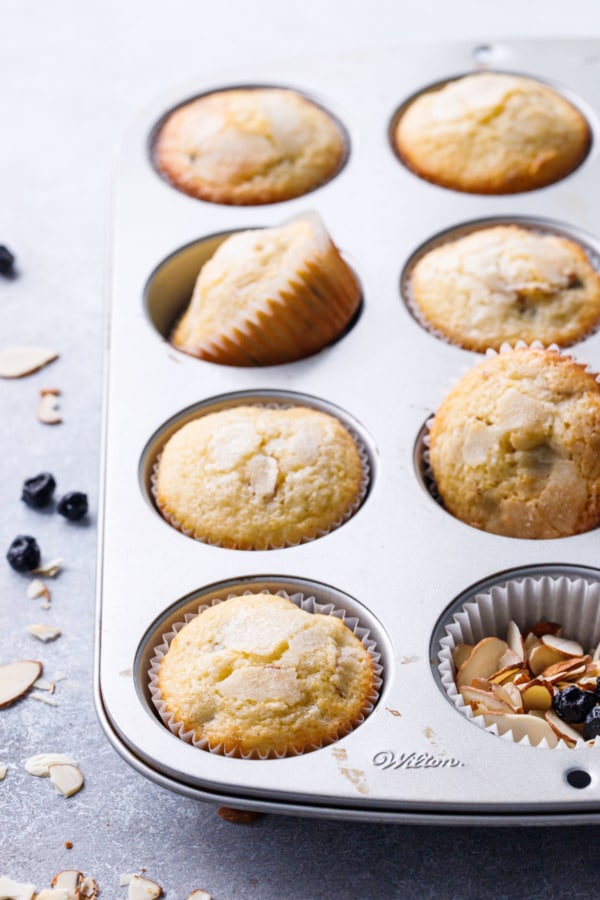 When maintaining a sourdough starter (and especially when you are first developing it), there is a good amount of that starter that is discarded during the process. If you didn't discard, your starter would just keep growing and growing like something out of a horror flick.
Once you have a thriving starter, you can technically maintain it with a very small amount of flour (as little as 25-50 grams), and unless you plan to bake every day or two, store it in the fridge between bakes rather than feeding it every day (feed it once or twice before you plan to start baking to wake it back up again, especially if it's been dormant for longer than 2 weeks).
But even reducing the quantity of flour and frequency of feedings, there will still be discard. It's unavoidable.
But that doesn't mean it has to go to waste.
That's where sourdough discard recipes come in – those spoonfuls of starter that would otherwise be thrown away can be incorporated into almost any recipe that already uses flour and liquid, from crackers and biscuits to pizza dough and pancakes. And, of course, muffins.