A classic yellow sheet cake, moist and tender with a hint of vanilla and lemon zest, topped with a fluffy strawberry rose buttercream and decorated with Valentine's-themed sprinkles.
Sheet cakes are satisfyingly simple, with no fussy layers or crumb coats, just the perfect ratio of buttery yellow cake to creamy strawberry rose frosting.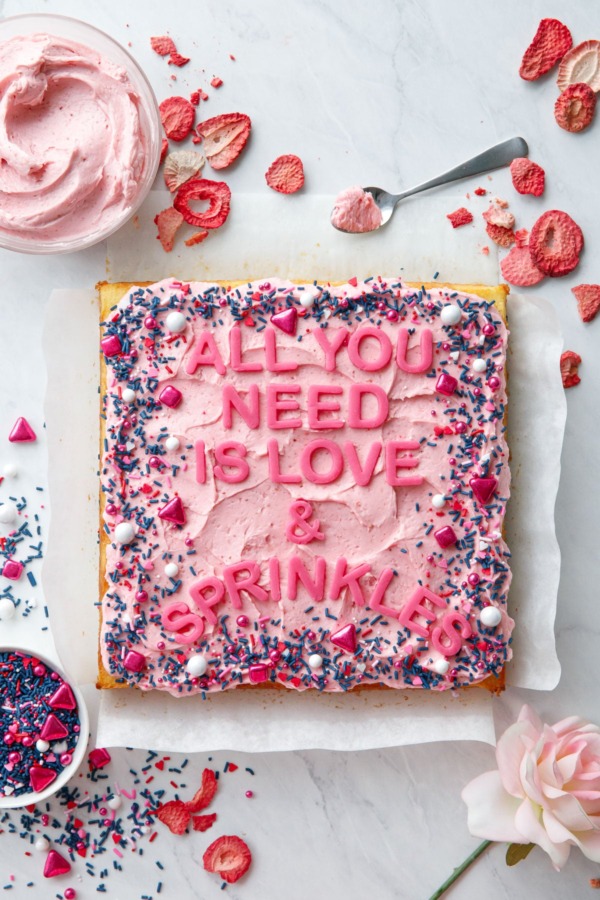 This post is sponsored by Sweetapolita, our favorite source for fun and fabulous sprinkles (because, let's face it, sprinkles make everything better).
Let's start the New Year off right.
With cake.
(Duh.)
I mean, I'd really be fine if we skipped the entire month of January altogether (although we can keep the 22nd because that's Taylor's birthday and he wouldn't be pleased if we skipped that). How nice would it be to jump straight from the pleasant fog of the holidays to February, and, in particular, Valentine's day (because that's when we, as food bloggers, are officially 'allowed' to post sweet things again, which I think is complete nonsense.)
So, resolutions be damned, here's a delightful little sheet cake, full of love and sprinkles and, oh yes, butter.
But seriously, how adorable are these sprinkles? They're from Sweetapolita's Valentine's day collection, and served as the inspiration for this quippy cake. They're called Catch Feelings and, well, I've certainly caught some feelings for this gorgeous sprinkle medley!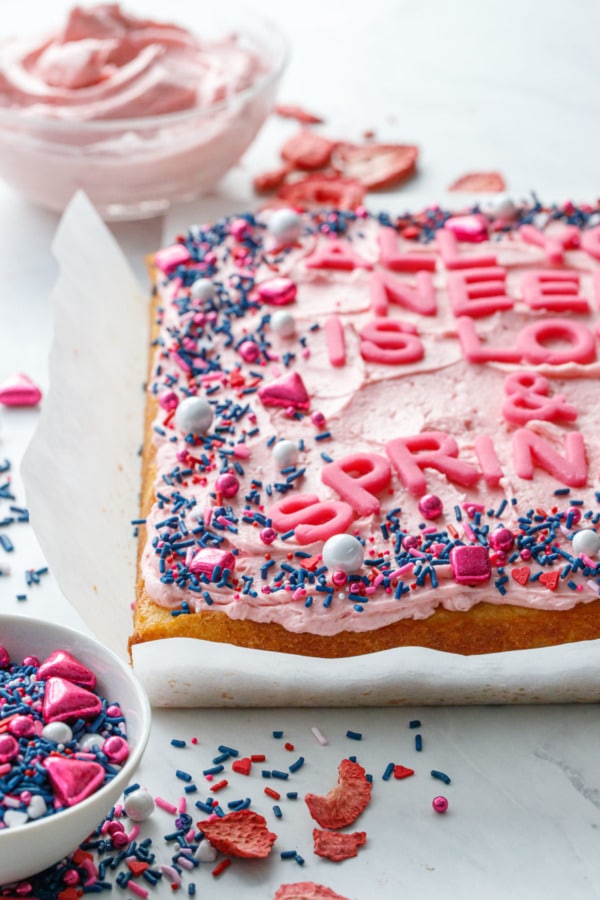 The cake itself is a classic yellow cake, rich with egg yolks (vs white cake which is made with just egg whites) and tangy buttermilk, plus vanilla and the barest hint of lemon zest (the cake does not noticeably taste like lemon, however adding just a little zest to the batter adds a depth and roundness of flavor that makes this cake taste like pure nostalgia).
While I certainly think it'd be fabulous with a chocolate fudge frosting, in following with the Valentine's day theme I opted for something a bit more… romantic. In this case, a strawberry rose buttercream.