Talk about the perfect dessert, this stunning tart is basically a giant raspberry-flavored s'more with a silky chocolate ganache and fluffy, pink-tinged marshmallow meringue topping flavored with freeze-dried raspberries.
Chocolate, raspberry, graham cracker, and marshmallow: not sure about you, but that's what my dreams are made of. But this surprisingly simple tart is no dream: it's a rich, decadent reality.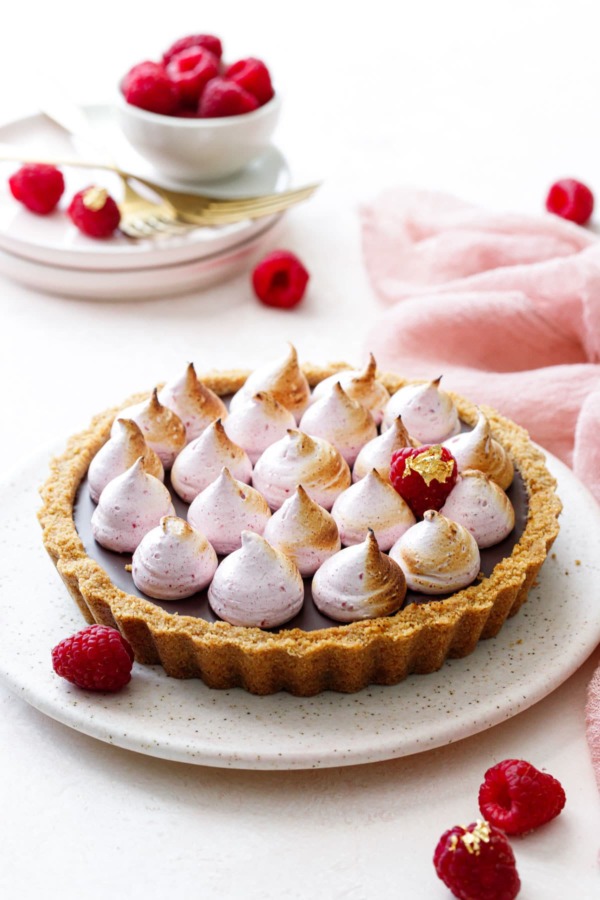 What do you get when you combine a classic milk chocolate s'more with fresh and fruity raspberry flavor? Something gosh darn delicious, that's what.
This tart has everything: a sweet and salty graham cracker crust, bold raspberry jam, a silky smooth chocolate ganache, and a fluffy, raspberry-scented toasted marshmallow meringue to top it all off.
For as impressive as it is, it's surprisingly simple.
I call this recipe nearly no-bake, because the crust does need a few minutes in the oven. If you truly can't stand the thought of turning on your oven in the summer heat, you can set the crust in the fridge or freezer before adding the jam and ganache. However it might be a little less cohesive and slightly more crumbly when you cut into it.