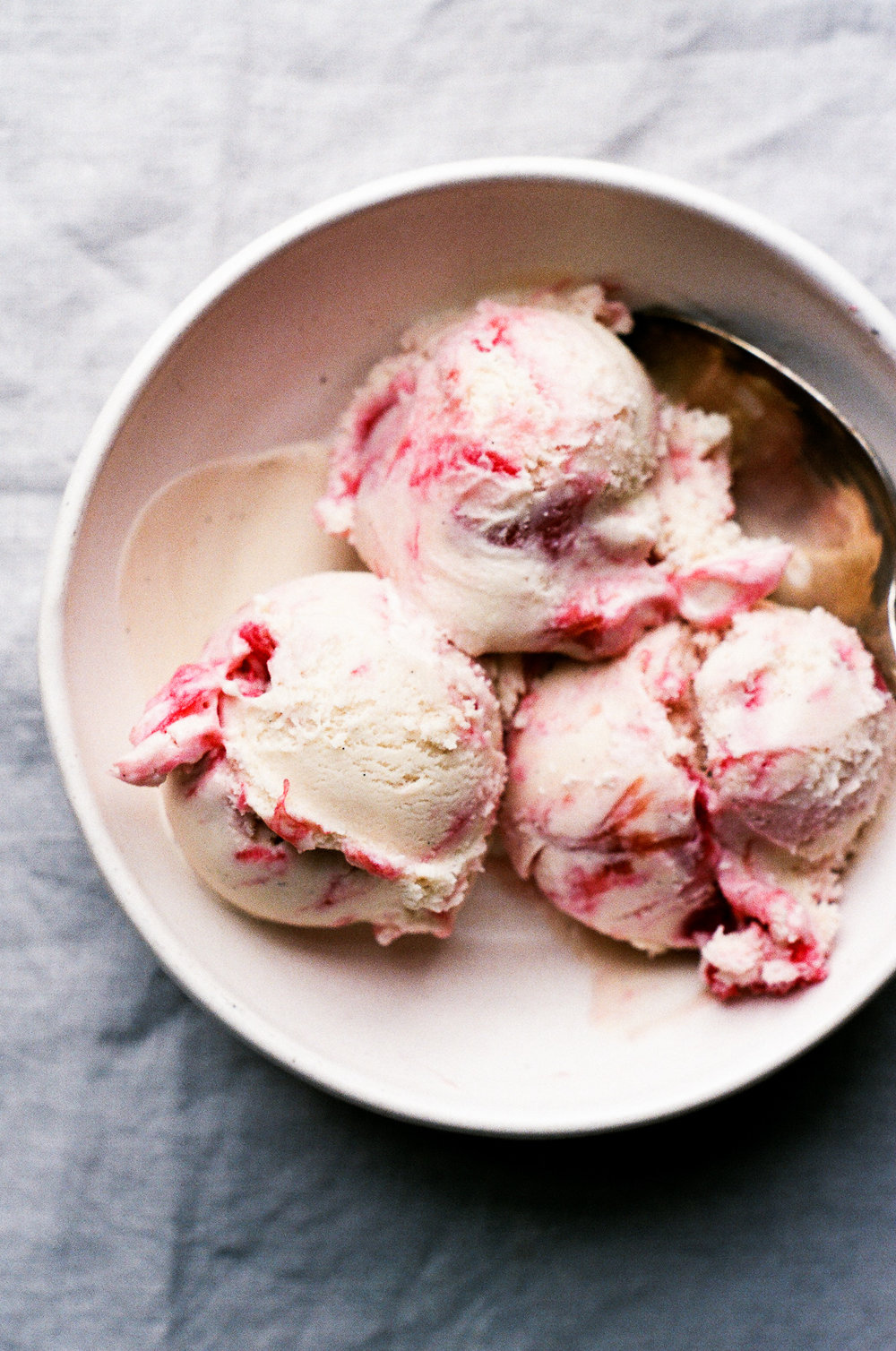 Don't you love the way rhubarb ripple sounds? Vegan ice cream is a tricky beast. A lot of them rely on coconut milk and oil, which makes every flavor taste, well, like coconut. Except, there is a Van Leeuwen ice cream near my apartment and their vegan flavors never taste too coconutty – unless they are meant to. So I did a little (very little) sleuthing to figure out their secret. Turns out they have a cookbook and their secret is a combination of cashews for chew and cocoa butter and coconut for richness. The combination is not entirely neutral in flavor, you can still taste the individual componenets if you think about it, but the texture is amazingly smooth and rich. I decided to play up the cocoa butter (white chocolate!) flavor in this recipe which pairs beautifully with rhubarb and makes a delightfully springy plant based treat.
---
There are a couple of spots left in my Fall Paris Workshop with Olaiya Land! We and I had such a long waitlist for our Paris workshop this Spring (thank you!) that we added another workshop this September 20-24. The format will be pretty much the same as the Spring version - think lots of pastry, delicious wine and cheese, market visits, prop shopping, and some solid photo, styling, and editing lessons in the city of light. This trip is for anyone looking to build their photography and styling skills (all levels welcome) and enjoy lots of beautiful food in one of the most amazing cities in the world. I am so excited to explore Paris in the fall, I am dreaming of the markets already!
Details this way!
---
White Chocolate Rhubarb Ripple Ice Cream (Vegan)
makes about 1 quart
ice cream base adapted from Van Leeuwen Ice Cream
The key to the texture of this ice cream is to make sure the mixture is completely smooth and emulsified at every step so don't skip on the blending steps. Also, the ice cream base is wonderful on its own or with a bit of chopped chocolate folded in.
Roasted Rhubarb Compote
1/2 (225g) pound thin rhubarb stalks
1/2 cup (50g) granulated sugar
juice of 1/2 lemon
Vegan White Chocolate Ice Cream
1/2 cup (75g) raw, unsalted cashews
1 cup (200g) granulated sugar
1/2 cup (100g) cocoa butter
3 tablespoons coconut oil
3/4 teaspoon kosher salt
1 1/4 cups full fat coconut milk
2 tablespoons vanilla extract
1 vanilla bean, seeds scraped
For the compote
Heat oven to 375ºF.
Slice the rhubarb into 2-3 inch lengths. Toss it in a baking dish with the sugar, and lemon juice. Roast until soft and juicy. Blend until smooth. Cool completely before using in the ice cream. It should be thick and jammy, if it seems liquidy cook it on the stovetop for a few minutes over medium heat to reduce.
For the ice cream
Cover the cashews with water and let soak overnight. Drain and rinse the cashews then add them to a blender with 1/2 cup water. Puree until completely smooth.
Combine the sugar with 1/4 cup water and cook over medium-high heat until the sugar is dissolved. Remove the pan from the heat then whisk in the cocoa butter, coconut oil, and salt until melted and smooth.
Add the sugar mixture, vanilla extract, and vanilla bean seeds into the blender and puree until smooth. Refrigerate until cooled completely then churn in an ice cream machine according to manufacturers instructions. Spoon 1/3 of the ice cream mixture into a freezer safe container, dollop 2 tablespoons of the rhubarb compote over the top and swirl with a knife, repeat with more ice cream and rhubarb until you have used all of the ice cream. You will have some rhubarb compote left over. Cover and freeze until firm, at least 4 hours.