Let's talk through the story of my favorite red lentil soup. Years ago, two of my neighbors hosted a soup party. It was an inspiring affair – big pots of simmering soups and stews, house full of chatty, friendly people. Part of what I liked was the simple premise. The hosts (David & Holly) made a number of soups, guests were asked to arrive with their drink of choice and one thing to share – salad, appetizer, or something sweet.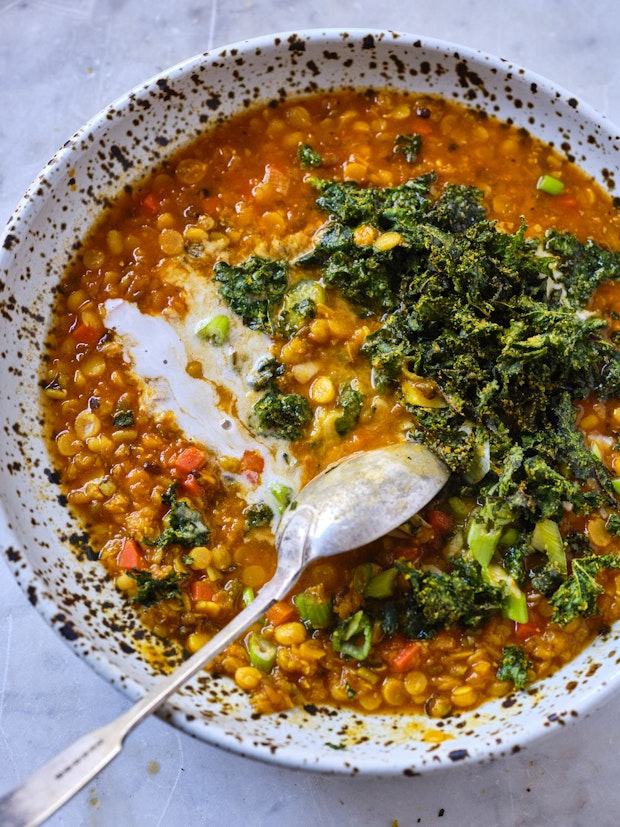 The Inspiration:
One of the vegetarian soups that night was a beautiful shade of yellow-orange. It was a light-bodied, curry-spiced coconut broth thickened with cooked red lentils and structured with yellow split peas. It appeared to be a beautiful take on lentil soup. When I asked Holly to tell me about it, she mentioned it was based on an Ayurvedic dal recipe in the Esalen Cookbook, a favorite of hers. I suspect that recipe might have been inspired by the Bengali-style cholar dal where you see chana dal punctuated with raisins in many preparations.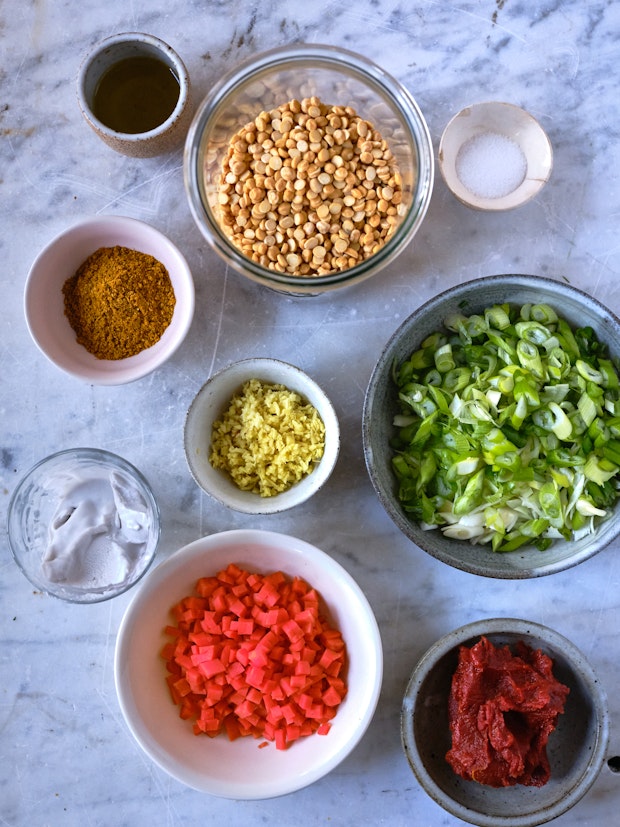 Holly happened to have an extra copy of the Esalen book, and sent me home with my belly full, a new cookbook tucked under my arm, and a few suggestions related to the soup. I still make this soup regularly, love it (so much!), and thought it might be fun to revisit it today in video form – enjoy! I've also included some notes related to adapting this soup to the Instant Pot.
What Makes this so Special?
The method used to bring this soup together caught my attention. While your lentils are boiling, you saute lots of scallions in butter (or ghee, coconut oil, or olive oil) in another pan. Add to those scallions a fat dollop of thick tomato paste along with plenty of toasted spices and you're on your way. This flavor bomb is what you stir into the lentil base. Golden raisins plump up with curry broth. There are beautiful back notes of ginger, and depth from that tomato paste. It all comes together in one amazing bowl of restorative, lentil soup goodness. To be honest, I consider the raisins optional and make this often without – or sometimes I swap in some chopped dates.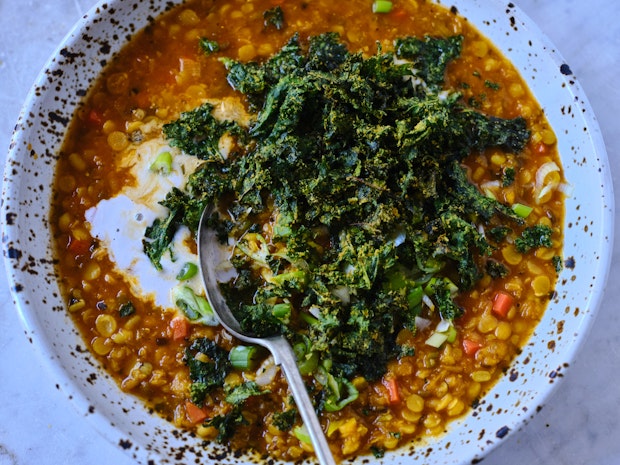 Topping Ideas:
I've cooked this soup countless times over the years and tend to finish it with what I have on hand. The original recipe has you go big on cilantro. But you can see in these photos I sometimes pile it high with extra scallions and freshly-baked kale chips. Other ideas:
finish with a few big handfuls of finely shredded green cabbage
stir in a few big handfuls of chopped kale
fry 30-40 fresh curry leaves in a few tablespoons of oil adding some chile flakes (or torn chiles), mustard seeds and cumin seeds in the last 15 seconds or so. Pour generously over each bowl
finish with deeply roasted tomatoes and omit the raisins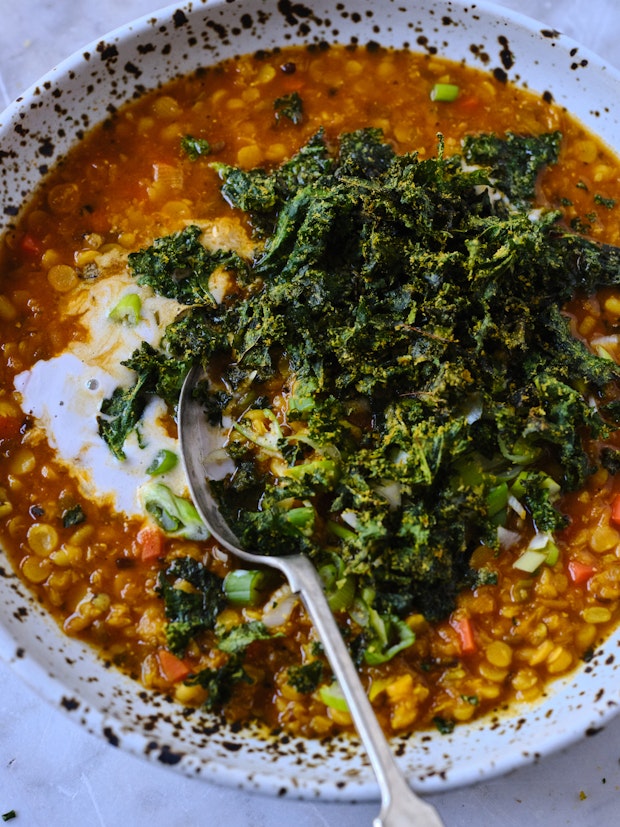 A Variation
There was one variation that I noted after cooking this because it stuck out to me as particularly delicious. I was out of scallions and ginger but still wanted to make something along these lines. Instead I used a strong paste made of chopped garlic and serrano peppers – probably a 50/50 blend. I added a few tablespoons of the mixture in place of the scallions in the recipe. The end result was feisty, strong and really wonderful.

I hope you enjoy this as much as we have over the last decade or so! Here's where you can find all the soup recipes, if you want to explore more. And there are lots of lentil recipes in the archives as well.
Continue reading Coconut Red Lentil Soup (Esalen Ayurvedic Dal) on 101 Cookbooks