These stunning cheesecake bars feature a coconut and vanilla wafer cookie base, an ultra-creamy vanilla bean cheesecake, topped with a tart layer of passionfruit gelée on top.
The richness of cheesecake paired with the vibrant tartness of passionfruit, altogether in one delicious (and downright impressive) dessert.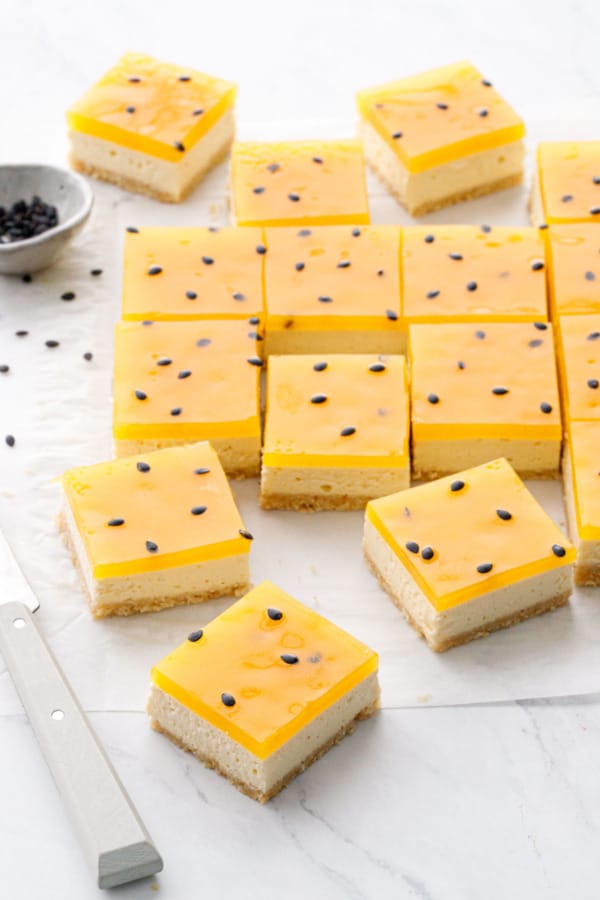 There's no denying cheesecake is one of the richest desserts out there. Which is why you often see it topped with a fruit sauce like raspberry: that hint of acidity cuts the richness of the cheesecake, resulting in a perfectly balanced dessert.
These passionfruit cheesecake bars take that concept and turn it up to 11.
The passionfruit layer can only be described as bright. Like really, really bright. Both in color (seriously, I almost had to dial down the saturation in these photos it was practically glowing), and also in flavor. The tartness is almost like a super-lemon, just as mouth-puckering but with a tropical flair.