Skip the boring old pumpkin pie—this unique twist on a traditional Greek dessert is the show-stopping Thanksgiving dessert you've been looking for!
With crispy, ruffled layers of phyllo dough on top and a custardy, bread pudding-like interior infused with pumpkin and spices, this ruffled milk pie is a textural experience unlike anything you've ever had before.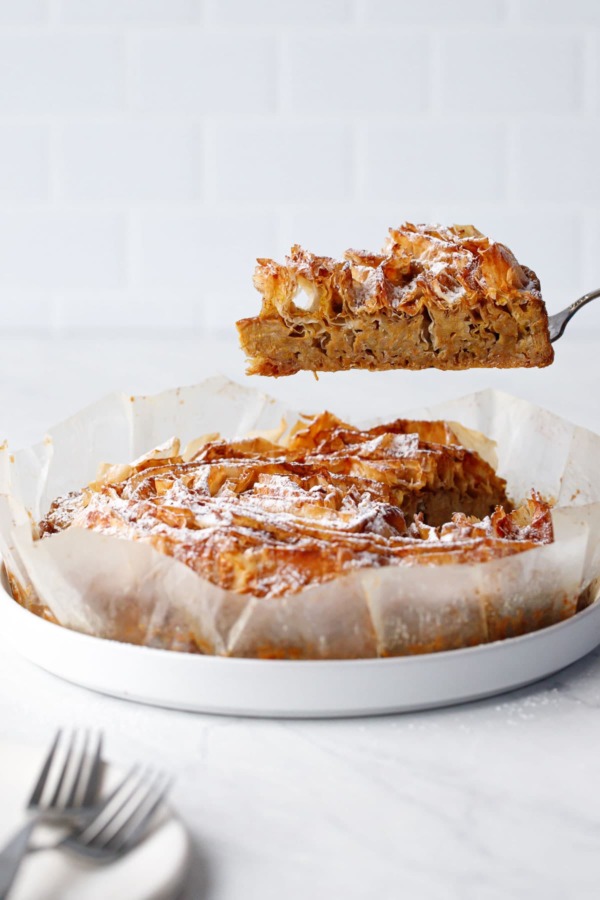 The most unusual twist on pumpkin pie yet?
Perhaps.
This pumpkin-spiced ruffle milk pie gives me all the feels. I mean, talk about a stunning dessert with surprisingly little effort (I'll take phyllo dough over pie crust any day).
Ruffled milk pie has Greek origins, known also as galatopita (literally 'pie made with milk'), made from layers of flaky phyllo dough and a sweet milk and egg custard. This version adds pumpkin and spices for a festive twist that will no doubt make an impression on your Thanksgiving table.
It's really hard to compare galatopita to anything else in the American dessert repertoire. For those of us who've never had the original Greek version before, I would describe it as something like a phyllo bread pudding, with a crispy top and a soft and creamy, yet slightly chewy center.
The texture reminded me a lot of the dish called štruklji that we enjoyed in Croatia and Slovenia this past spring (in Slovenia it was a sweet version, steamed phyllo filled with an orange-scented chocolate sauce, while in Croatia it was savory, baked with fresh farmers cheese). But the texture of the steamed phyllo is very similar to what you end up with here when the phyllo bakes within the milk custard.
I infused the milk custard with pumpkin puree and pumpkin spices (enough to be brightly flavored, but not so much spice that the delicate flavor of the milk custard and buttery phyllo get overpowered). With a brush of honey butter and a dusting of powdered sugar on top, it's the perfect amount of sweetness to balance out the more savory nature of the phyllo itself.
The top of the ruffled phyllo dough turns golden brown and gorgeously crispy in the oven, while the base softens within the silky sweet, lightly spiced pumpkin custard.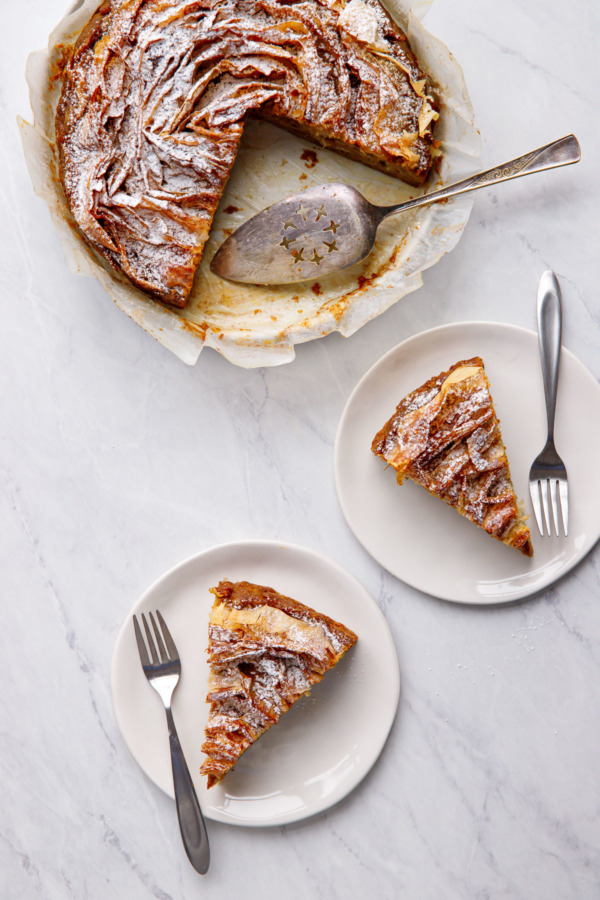 I will say this: some people might not like this pie, mainly because the texture of it is so unexpected and unusual. Soft baked phyllo dough is interesting, to say the least, and not what you expect when you see that beautiful crispy topping.
The two phyllo-based dishes most Americans are familiar with are baklava and spanakopita, and this pie isn't anything like either of them.
So keep an open mind… and maybe make a second dessert to serve alongside this one (might I suggest this Pecan Fudge Pie? It's a sure crowd-pleaser.)