With lovely layers of moist chocolate cake, dark chocolate ganache, crunchy chocolate crumble and a luxurious pistachio buttercream, this chocolate pistachio naked cake is a three-layer masterpiece!
Naked cakes (called so because they don't have an outer layer of frosting) are impressive and surprisingly easy to assemble, resulting in a stunning presentation that shows off the different layers of texture and flavor.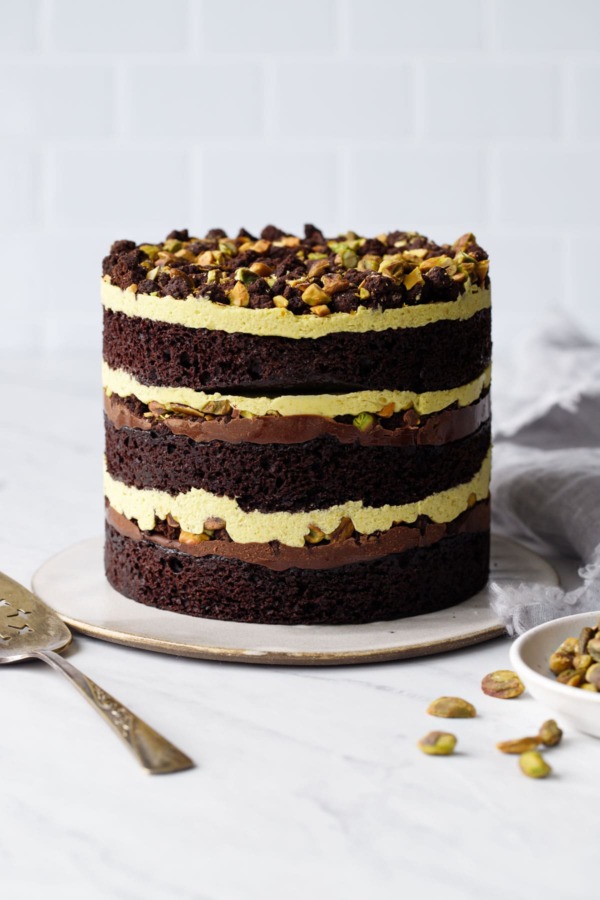 It's January again… and you know what that means.
It's Taylor's birthday!
Which means… cake. Chocolate cake, if we're being specific.
I didn't have any grand plans to make an over-the-top fondant-covered masterpiece this year (been there done that have no desire to do it again lol), but still wanted to make him something extra special, and extra delicious.
He only ever wants chocolate cake, so I've had to get creative over the years to give him the chocolate cake he wants but also something unique and interesting that would make for a good blog post.
I hadn't done a naked cake in a while, so I flipped through the Milk Bar cookbook for some inspiration and stumbled across the pistachio layer cake recipe. I still had a few jars of pistachio butter/cream/paste leftover from previous pistachio experiments, so I decided to combine the pistachio buttercream recipe with a moist chocolate cake, chocolate crumb, and chocolate ganache for good measure (because there is no such thing as too much chocolate).