Baked Chicken Drumsticks are one of my favorite easy dinner quick fixes because drumsticks are usually pretty inexpensive, they're mostly hands-off to prepare, and you can make them just about ANY flavor. So this week I dressed mine up with a little melted butter and ranch seasoning mix and O-M-G. Talk about good! Trust me, you want to make these Ranch Chicken Drumsticks tonight.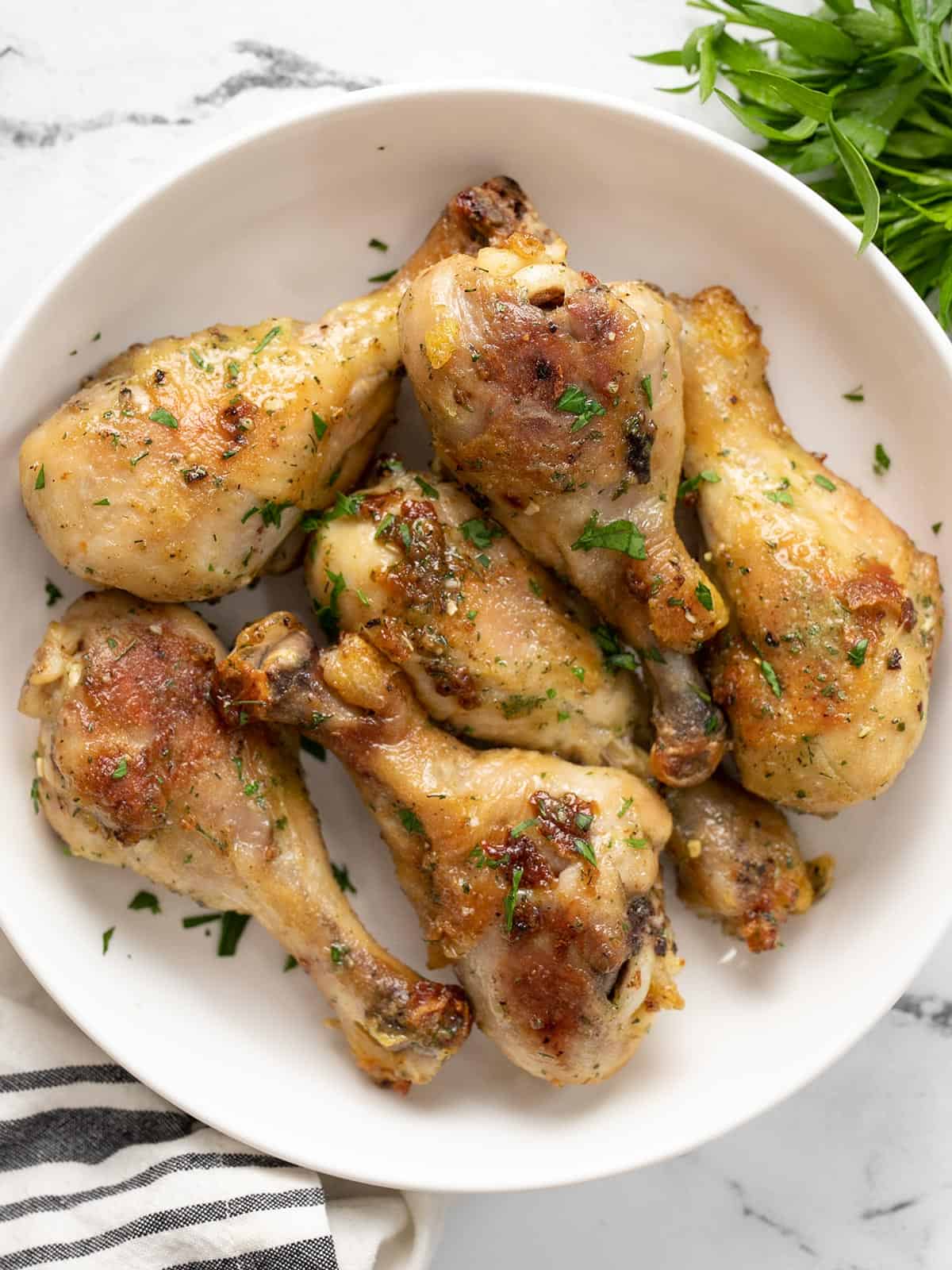 What is Ranch Seasoning?
The ranch seasoning mix is the star of the show in this recipe. It's basically a mix of herbs and spices combined with buttermilk powder that creates the most deliciously tangy and flavorful layer on whatever you add it to. You can use a store-bought packet of ranch seasoning, or make your own using our homemade ranch seasoning recipe.
Why Add the Seasoning After Baking?
Ranch seasoning contains dehydrated buttermilk and those delicate proteins can burn if you coat the chicken in the seasoning before it goes into the oven. Plus, the powder tends to clump once mixed with oil or melted butter, so we found that the best way to coat the drumsticks in ranch flavor is to sprinkle it on after baking. …And to use a little melted butter to help it stick. ;)
Can I use Other Types of Chicken?
Yes, you can definitely make this recipe with other cuts of bone-in, skin-on chicken, like thighs or breasts, just be sure to adjust the baking time for the size of the piece of meat you're baking. Larger pieces, like breasts, will require more time and a lower temperature to prevent drying out. Check out our Herb Roasted Chicken Breast recipe for a good technique for cooking bone-in, skin-on chicken breast.
I do not suggest using this method for boneless, skinless breasts as they tend to dry out too quickly in the oven and they will not achieve any browning like you get with skin-on chicken.
What to Serve with Ranch Chicken Drumsticks
Ranch is such a classic flavor that it will go with all sorts of simple side dishes. I've paired it with our Parmesan beans and roasted broccoli, but it would also go great with mashed potatoes, steamed green beans, three bean salad, lemon pepper zucchini, lemon parsley pasta, or macaroni salad.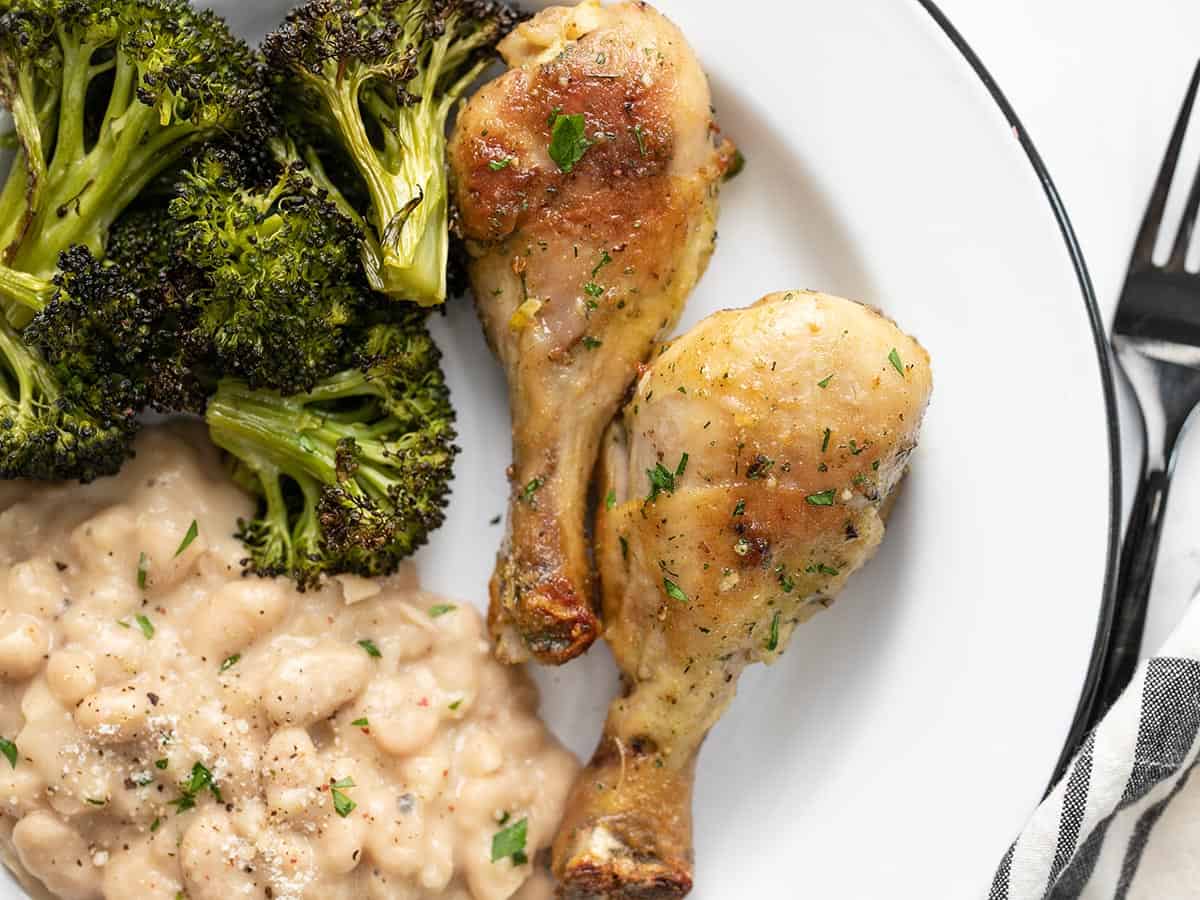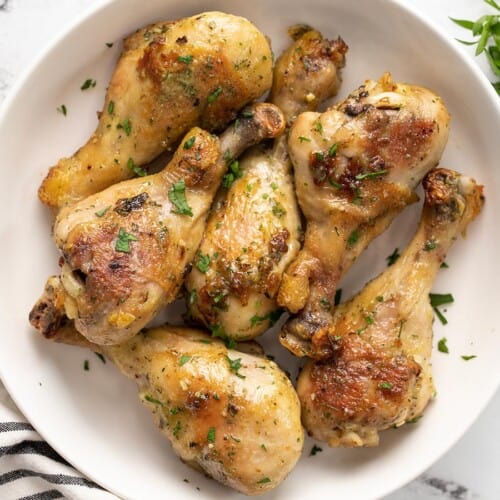 Print
Ranch Chicken Drumsticks
Ranch chicken drumsticks are an easy and flavorful main dish for dinner that you can make with just a few simple ingredients.
Instructions
Preheat the oven to 425ºF. Line a baking sheet with parchment paper.

Place the chicken drumsticks in a large bowl and drizzle the cooking oil over top. Add the garlic powder, salt, and pepper, then toss until the chicken is evenly coated in oil and seasoning.

Place the chicken drumsticks on the prepared baking sheet and bake for 40-45 minutes, or until the internal temperature reaches 175ºF and the drumsticks are browned. Flip the drumsticks once, halfway through baking.

After baking, transfer the drumsticks to a clean bowl. Melt the butter and drizzle it over the drumsticks. Gently toss the drumsticks to coat. Sprinkle the ranch seasoning over top then toss to coat again. Serve hot!
See how we calculate recipe costs here.
Nutrition
Serving:
1
drumstick
|
Calories:
284
kcal
|
Carbohydrates:
1
g
|
Protein:
27
g
|
Fat:
18
g
|
Sodium:
419
mg
|
Fiber:
0.02
g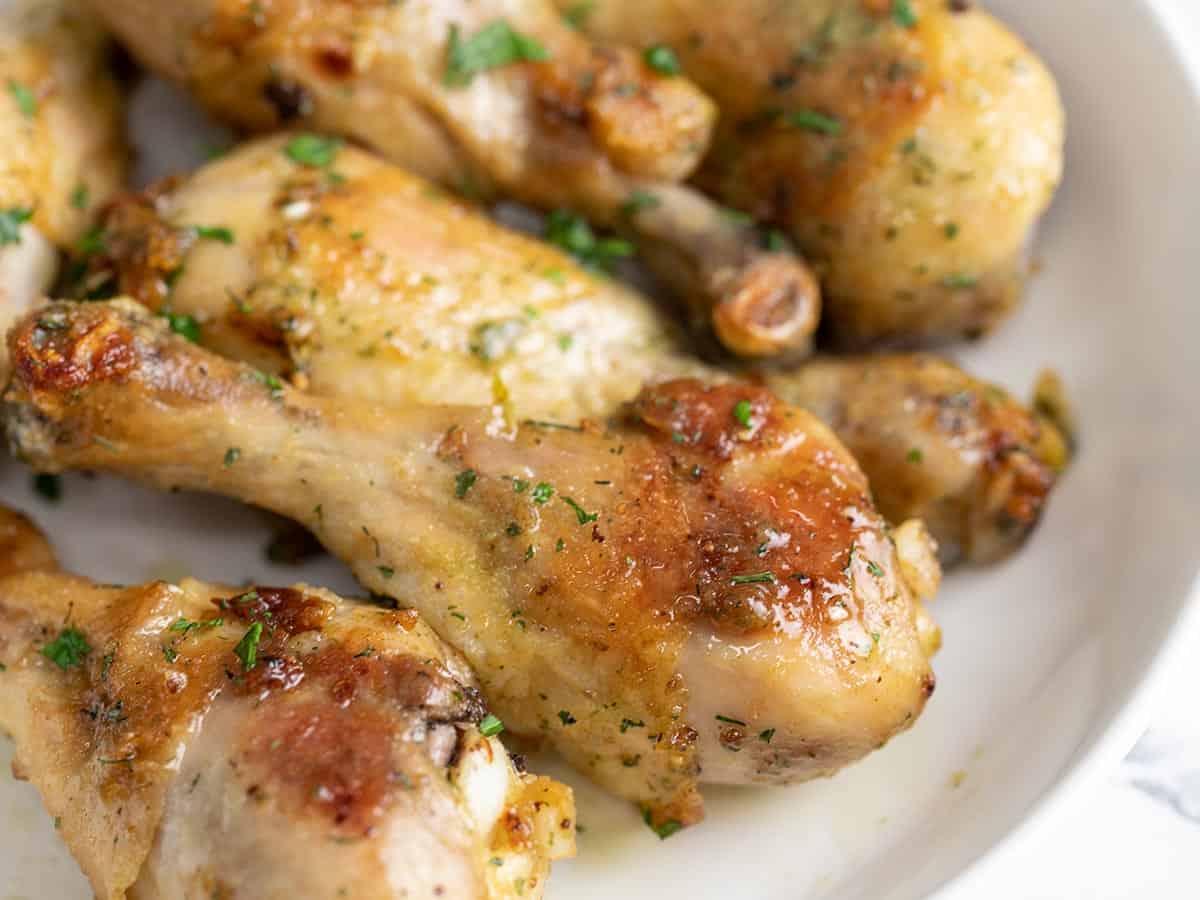 How to Make Ranch Chicken Drumsticks – Step by Step Photos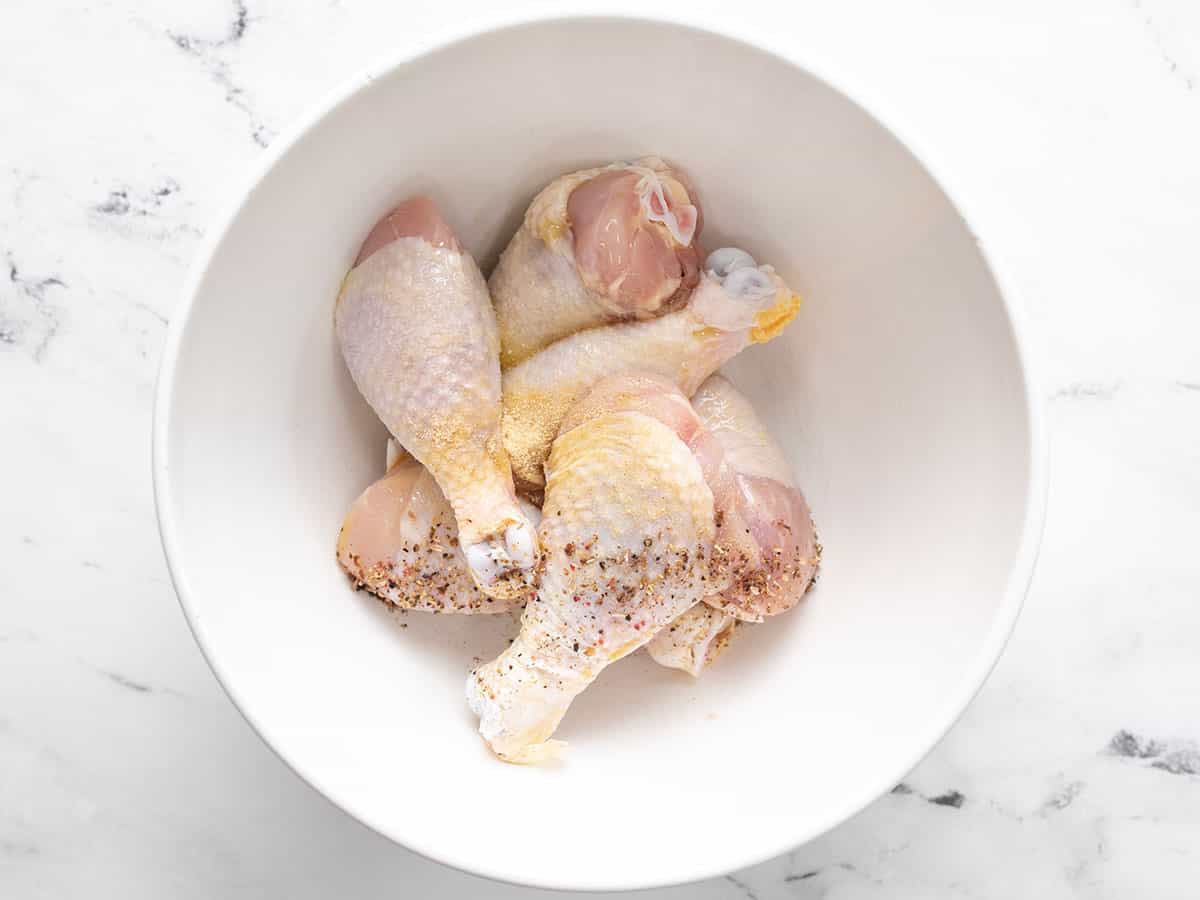 Preheat the oven to 425ºF. Place about 2 lbs. of chicken drumsticks in a bowl. Drizzle 1 Tbsp cooking oil over top and add ¼ tsp garlic powder, ¼ tsp salt, and ⅛ tsp freshly cracked pepper. Toss the drumsticks until they're evenly coated in oil and seasoning.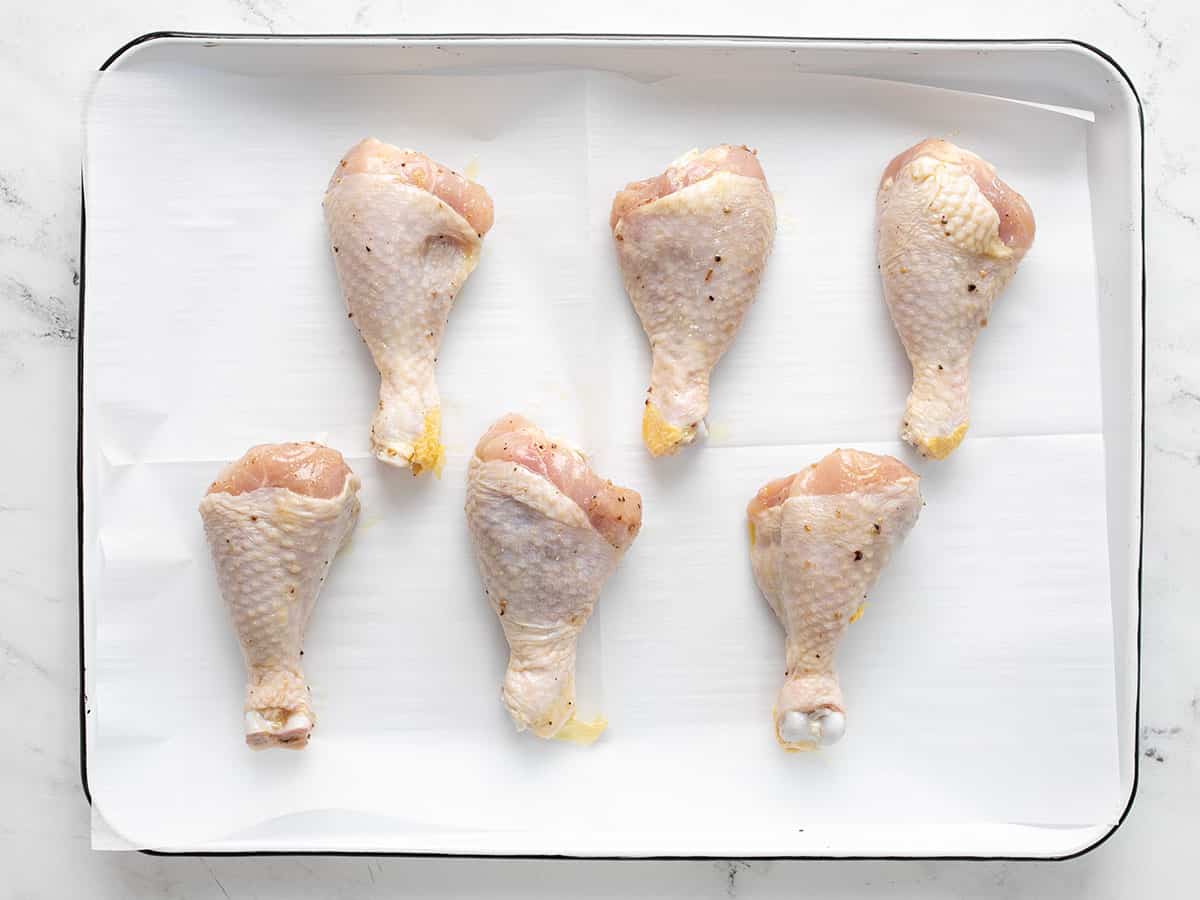 Place the seasoned chicken drumsticks on a parchment-lined baking sheet, making sure there is a little space around each one to allow adequate exposure to hot air.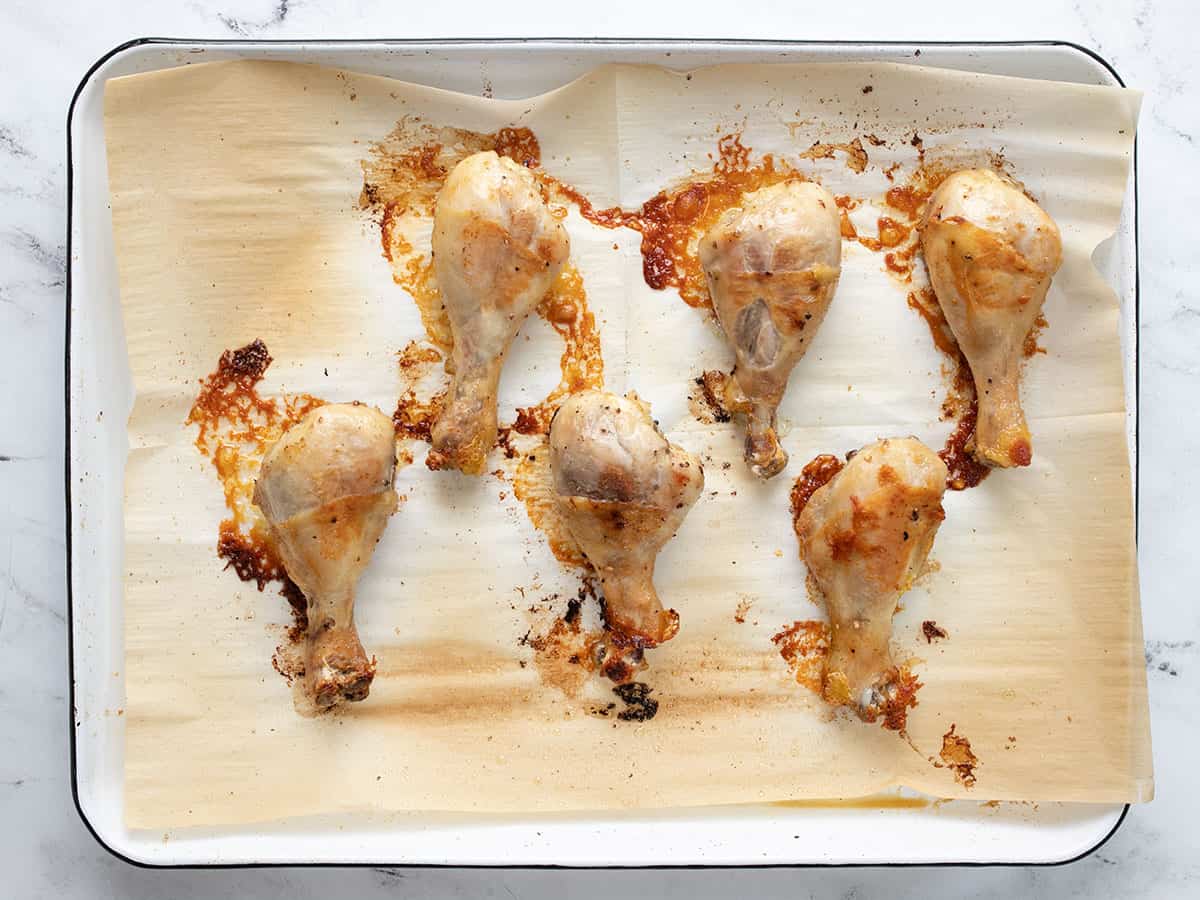 Bake the drumsticks for 40-45 minutes, or until they reach an internal temperature of 175ºF and are browned. Flip the drumsticks once about half-way through cooking.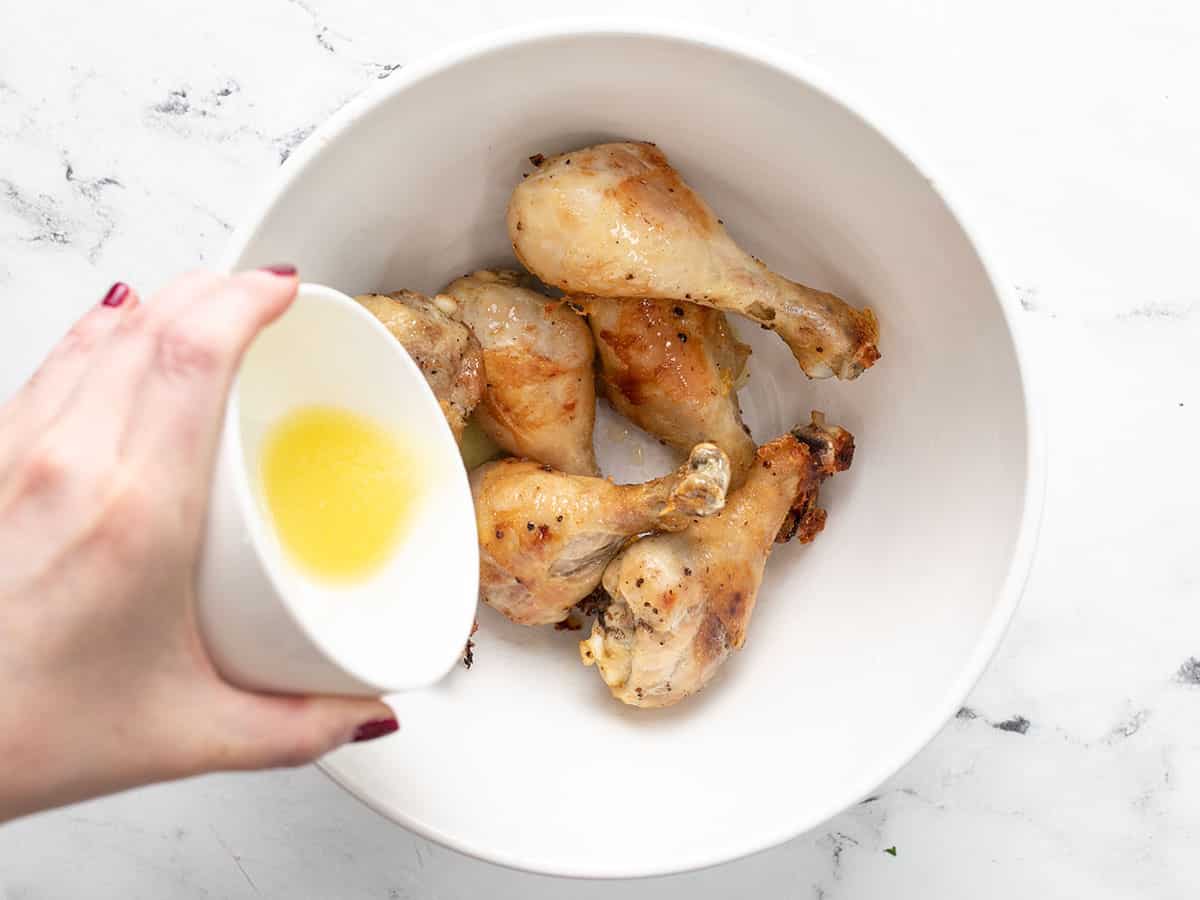 Place the baked drumsticks in a clean bowl and drizzle 1 Tbsp melted butter over top. Gently toss the drumsticks with a large spoon or spatula to coat them in the butter.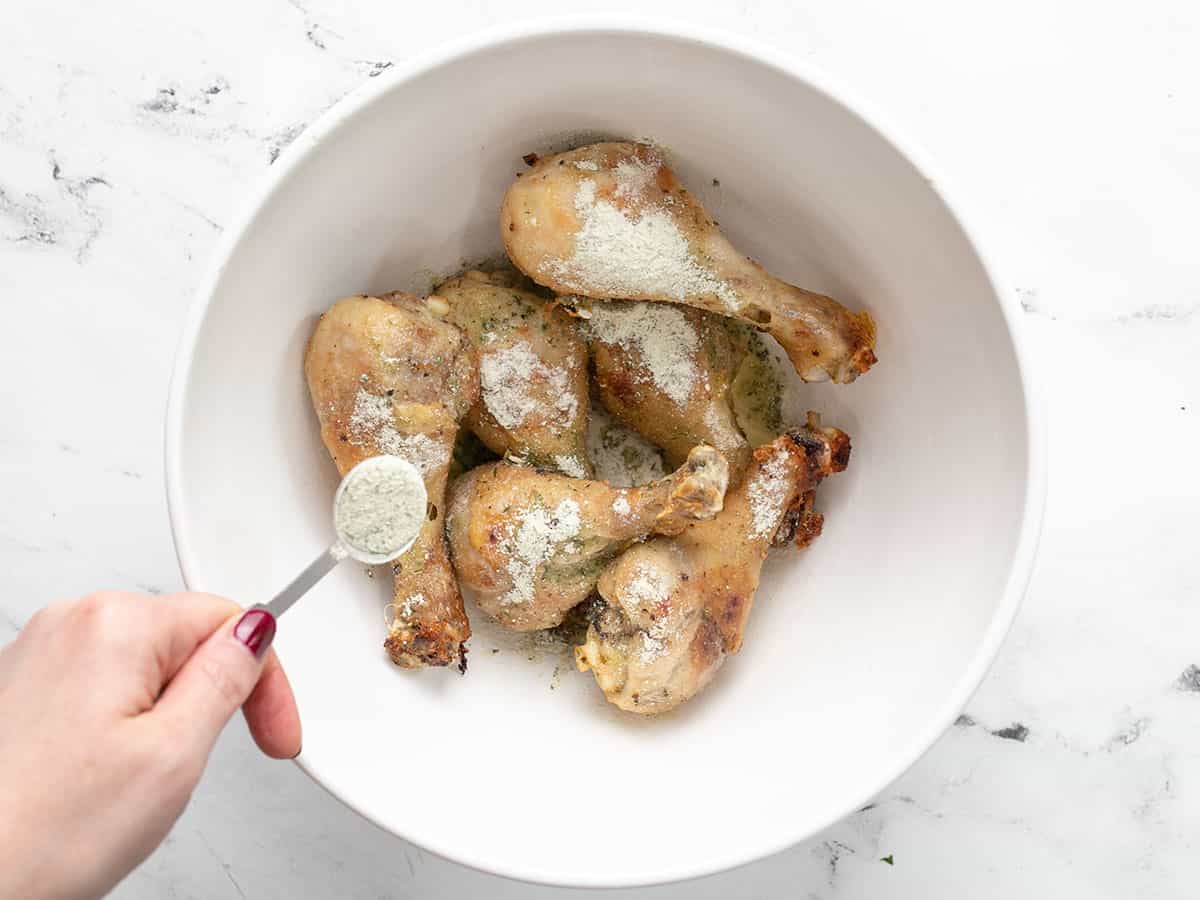 Sprinkle about 2 teaspoons of ranch seasoning over the drumsticks and gently toss again until evenly coated.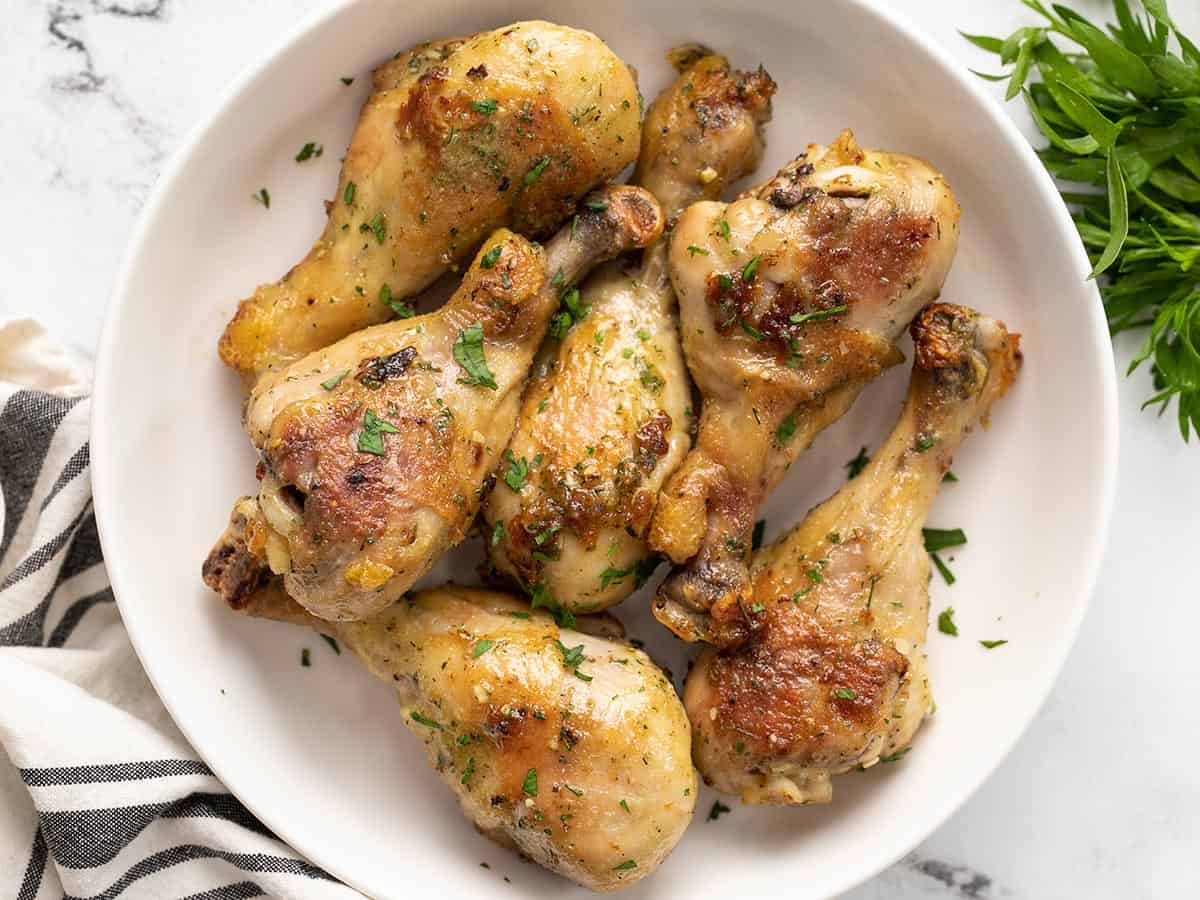 Serve hot and enjoy! (garnished with chopped parsley for color, not flavor).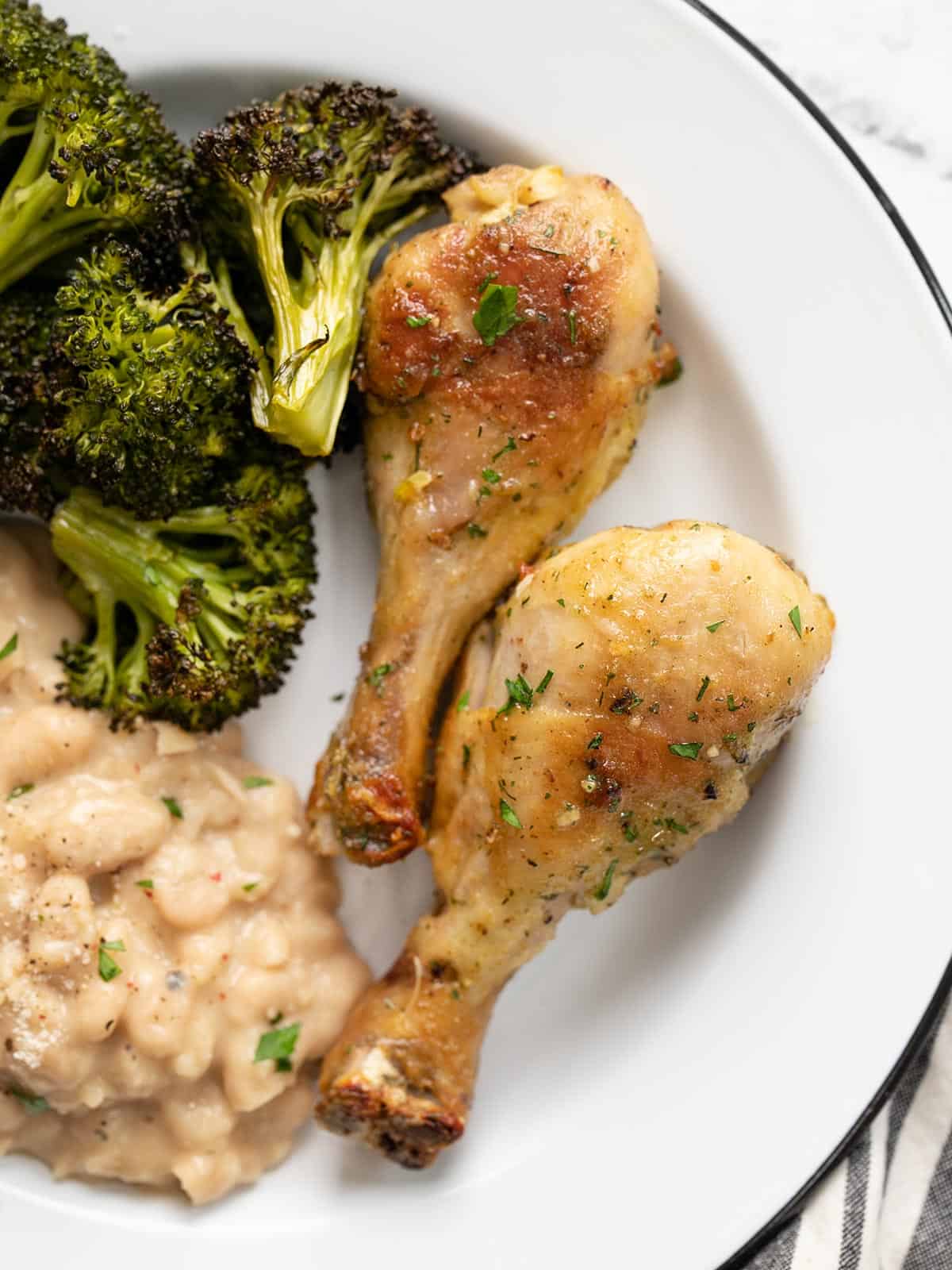 The post Ranch Chicken Drumsticks appeared first on Budget Bytes.