This Thai-inspired noodle stir-fry is tossed with fresh veggies, tender shrimp, and a zesty lemongrass coconut sauce. Easy to make and full the best bright and citrusy flavors!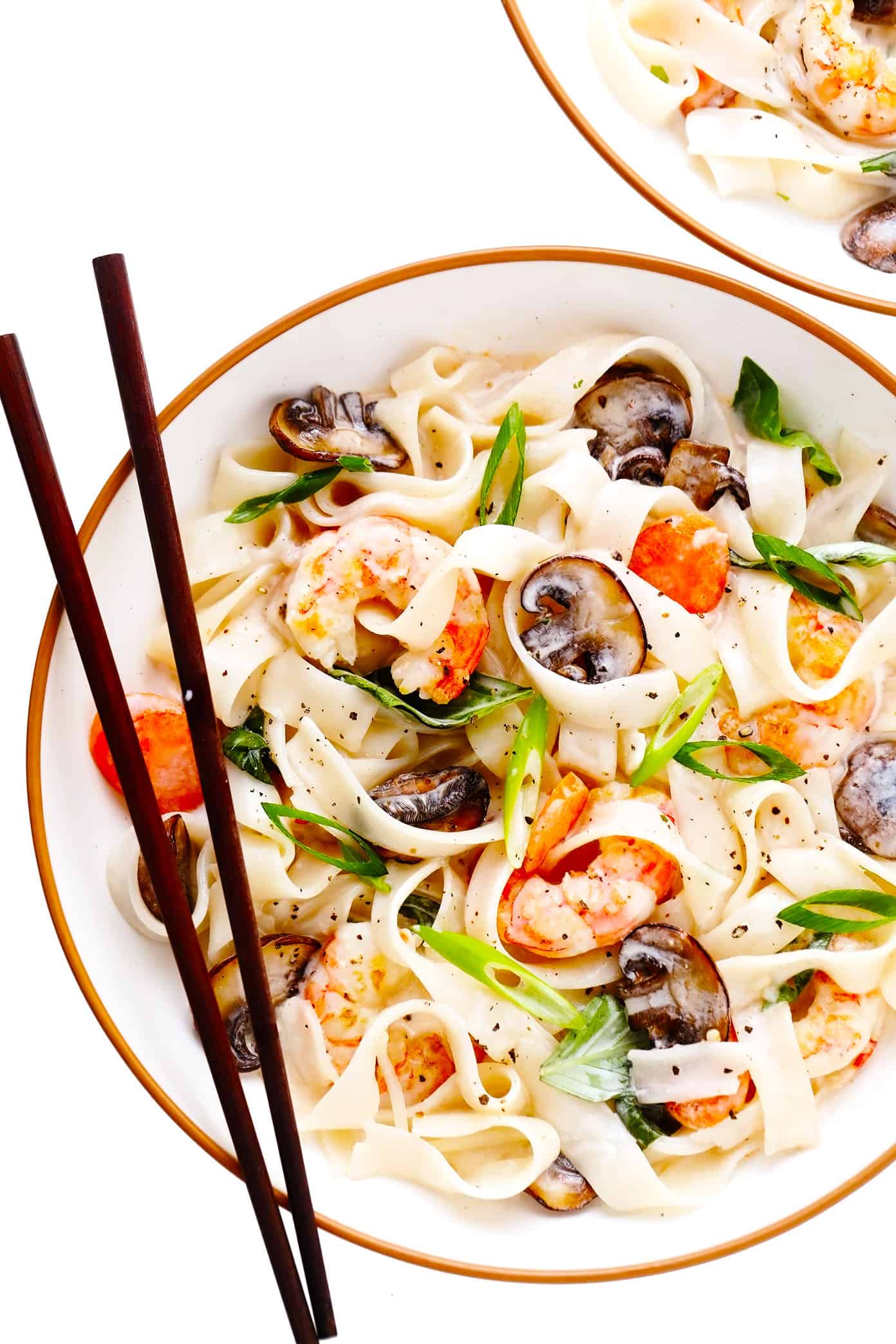 Say hello to the lemongrass coconut noodle stir-fry that we have been loving here lately. ♡
It's loosely inspired by Thai tom kha (coconut soup), which happens to be my husband's all-time favorite soup and one that we've both been craving lately now that it's finally cooling off and feeling like autumn here in Barcelona. Instead of simmering those classic creamy, citrusy, earthy, sweet and slightly-spicy flavors into a big pot of soup broth, though, they are condensed into a rich coconut stir-fry sauce and tossed with a simple stir-fry and rice noodles for this recipe. And the end result is bursting bright, fresh flavors and absolutely delicious.
Fresh lemongrass — with its uniquely citrusy, minty, earthy flavor — is the starring ingredient in this coconut sauce and one that you definitely won't want to skip. So the next time you're at the market, be sure to pick up a few stalks of fresh lemongrass or a tube of lemongrass paste to brighten up that creamy coconut milk sauce. Along with it, we will simmer a generous amount of fresh ginger, the juice of one fresh lime, your desired amount of brown sugar and a splash of fish sauce for extra umami flavor. To be sure, this list of ingredients is notably different than those used in the broth of authentic Thai tom kha gai (which traditionally uses galangal in place of ginger, kaffir limes in place of fresh lime juice, palm sugar in place of brown sugar, etc — any of which I would completely encourage you to sub into this lemongrass coconut sauce recipe if you'd like). I initially just improvised this recipe one evening with the ingredients that I already happened to have stocked in my kitchen, so the recipe is written accordingly below.
Since my husband is pescatarian, we've typically been turning to shrimp as the main protein for our stir-fry. But the lemongrass coconut sauce recipe included here is actually completely vegan (also gluten-free), so feel free to swap in crispy tofu to make this recipe completely plant-based, or you can of course substitute any other meat in place of the shrimp, such as chicken, steak or pork. Feel free to also toss in whatever veggies you love best that happen to be hanging out in your crisper drawer. And if you can, I highly recommend tracking some some fresh Thai basil to fold into the stir-fry too — it's optional but so, so good.
Alright, grab that lemongrass and let's get to stir-frying!