This 30-Minute Brussels Sprouts Parmesan Pasta is made with garlicky shredded Brussels sprouts, toasted pine nuts, and a silky cheese and black pepper sauce.  Feel free to add bacon or sausage if you'd like, too!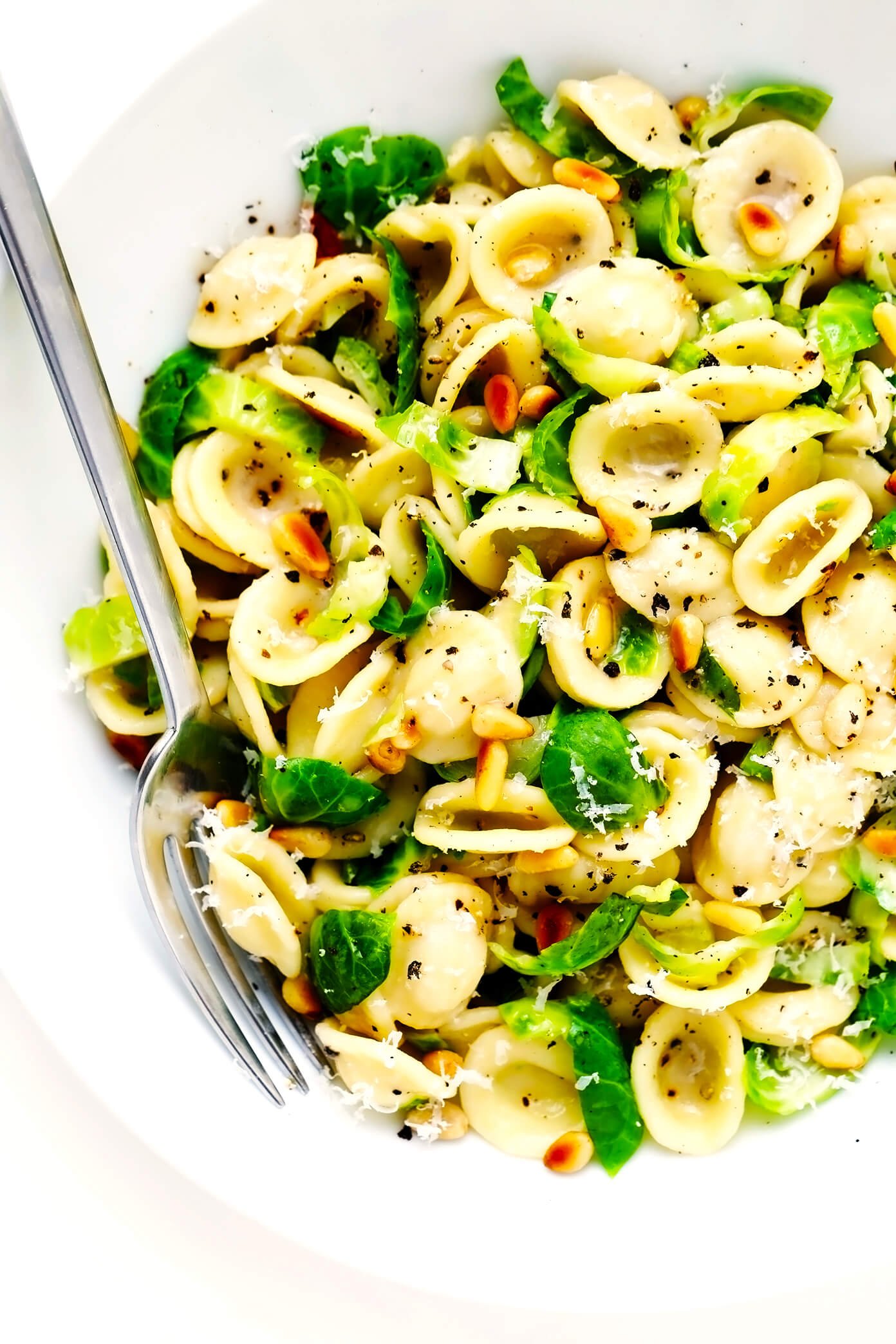 Now that Brussels sprouts are back in season, we've been buying them pretty much non-stop lately here in our house and roasting, sautéing, and tossing them into salads basically as often as possible.  I can't get enough of these little green superfoods this time of year!  But one of our favorite new recipes this past month ended up being an impromptu fusion of one of our favorite pastas (cacio e pepe) and one of our favorite side dishes (sautéed garlicky Brussels sprouts with pine nuts).
For lack of a more creative name, I'm calling it our new favorite Brussels Sprouts Parmesan Pasta. ♡
It's a super-basic recipe that requires just 6 ingredients and comes together in less than 30 minutes.  But I'm telling you, the comfort and flavor factors of this pasta are a full-on 10 outta 10.  The texture of that thick and chewy al dente pasta is balanced with wisps of tender shredded Brussels sprouts and toasted buttery pine nuts.  And when tossed together with a glossy butter, Parmesan, garlic and black pepper sauce, get ready to go back for seconds because I assure you that one bowl of this cozy seasonal pasta is going to have you swooning.
If you feel like adding in extra protein, some sautéed Italian sausage or bacon in there would be a very, very good idea.  Or if you felt like giving the pasta more of a lemon-buttery twist, this recipe would also be delicious made instead with the lemony brown butter sauce that I used in this recipe too.  However you make it, this pasta is a great way to enjoy the season's sprouts.  So bring home a batch, and let's make some pasta together!