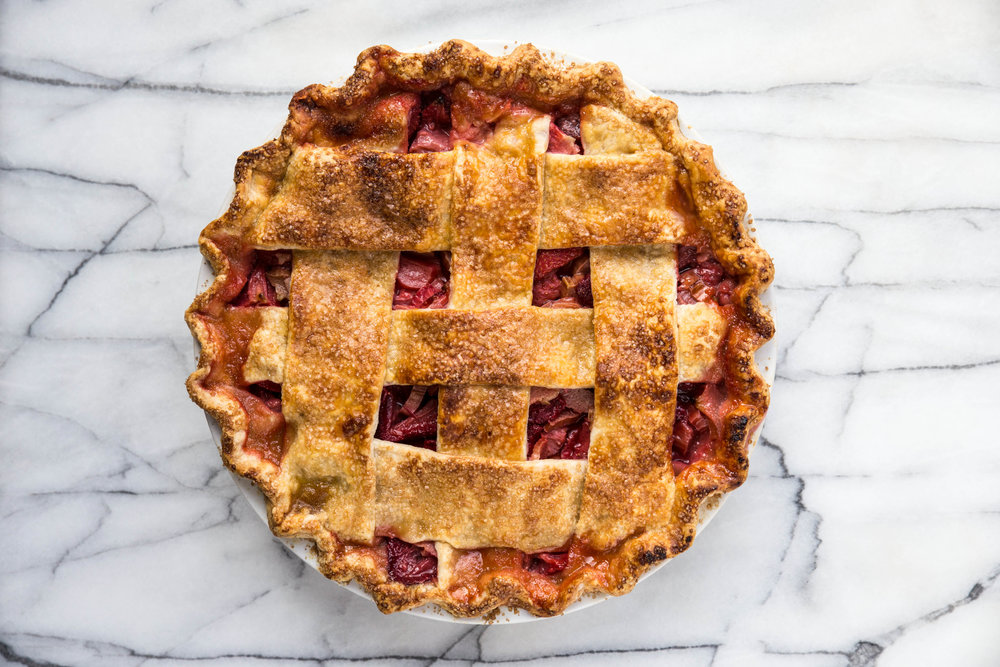 Summer is moving quickly. It feels like only a moment has passed since school ended and summer vacation began. I've been working on a project of sorts, which has made free time feel scarce. While I'm going to keep it under wraps a little while longer, I'm excited to share the details with you soon!
In the quiet, everyday moments, I remember to enjoy these summer days. I savor time on the deck watching the vegetable and herb garden grow (perhaps too much , as they have quickly escaped the confines of their planters). I remind myself to turn off the background noise in my life (television and cell phone) to bring my thoughts back down to earth.
And, of course, I bake.
I made this pie a couple of weeks ago, and am finally getting a chance to share it with you. With strawberries and rhubarb in full season, and a holiday around the corner, the timing still feels right. This pie takes full advantage of late spring and early summer's offerings.
I prefer a pie with a bit more bite, so the recipe below results in a pie with a tarter flavor. However, if your tooth is a bit sweeter, add another 1/4 cup of sugar to bring the sweetness to your liking. With a scoop of vanilla ice cream on top, this pie will be sure to please.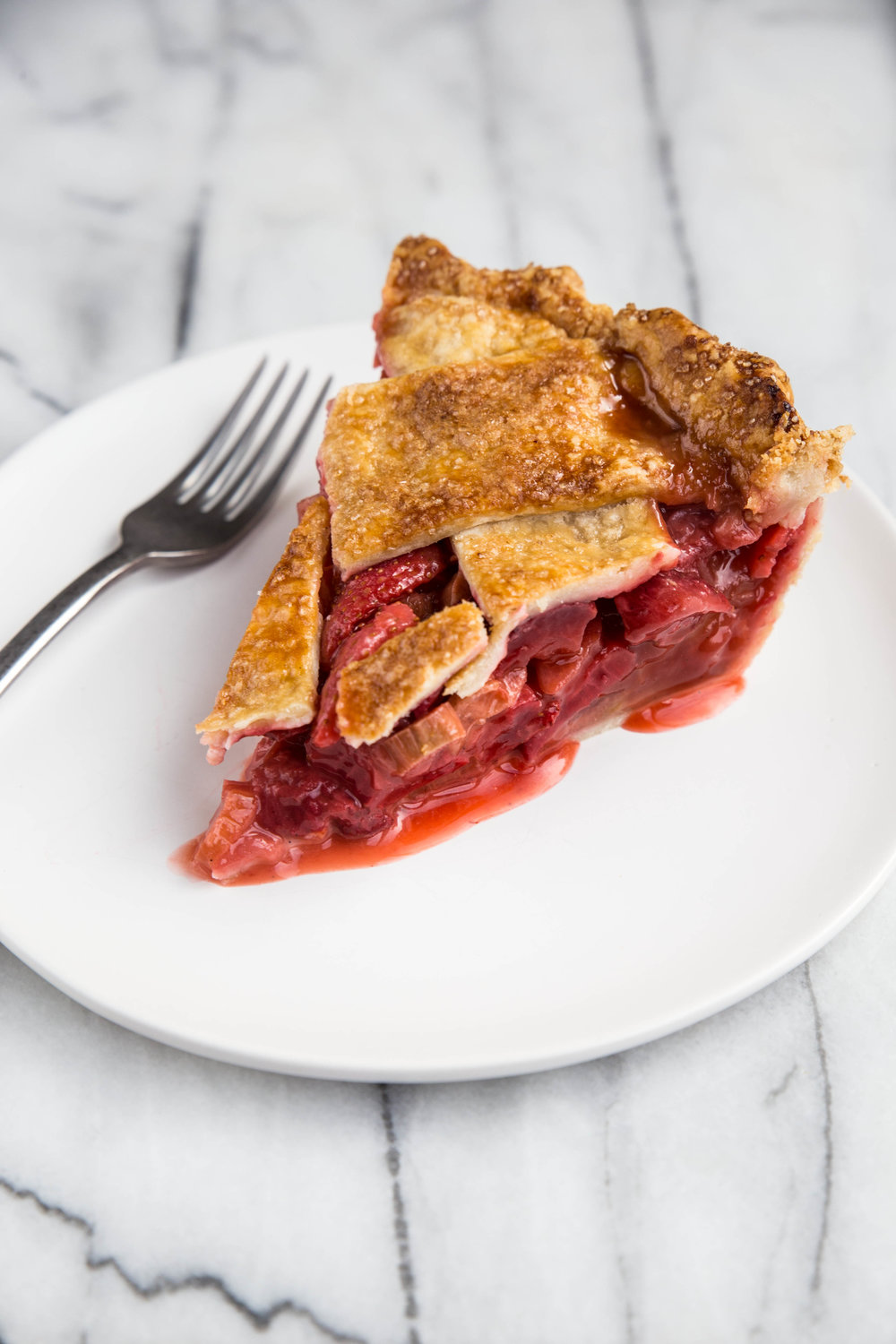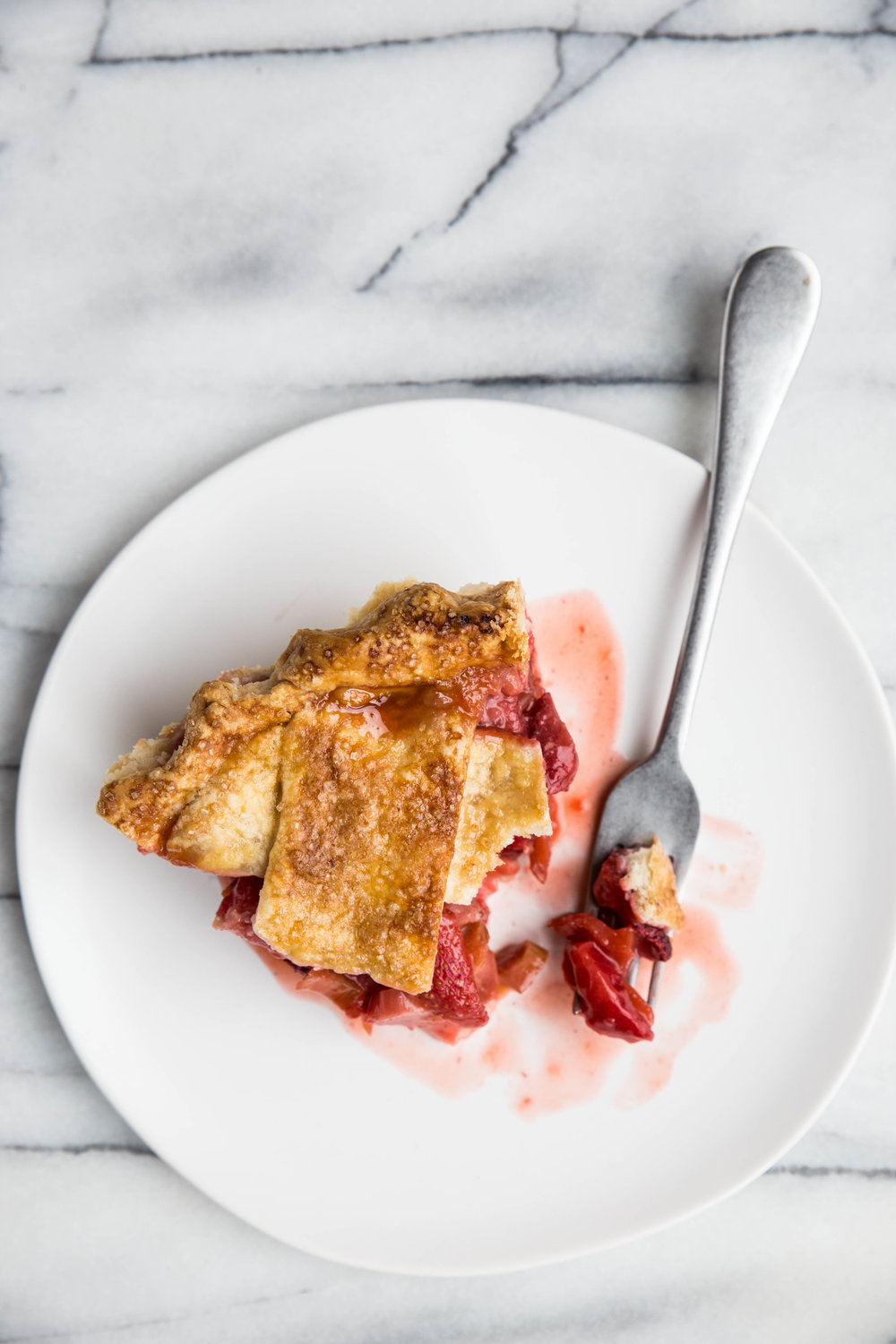 This Strawberry Rhubarb Pie celebrates the seasonal produce of June. Two pints of strawberries and a handful of rhubarb stalks come together in this brightly flavored pastry. With cornstarch to thicken, the pie and its juices set up nicely. Serve with a large spoonful of whipped cream or scoop of ice cream to share.
One Year Ago: Chocolate Peanut Butter Pie
Two Years Ago: Dulce de Leche Cake
Three Years Ago: Strawberry Layer Cake & Blueberry Oat Crumble Muffins
Four Years Ago: Mango Margarita, Chocolate Cacao Nib Banana Bread, & Chocolate Espresso Custard
Five Years Ago: Vanilla Chia Pudding, Rhubarb Vanilla Pound Cake, Boozy Margarita Lime Cake, & Double Chocolate Muffins
Six Years Ago: Toffee Chocolate Chip Cookies, Coconut Nutmeg Pudding, Lavender Lemonade, & Vegan Chocolate Cupcakes
Seven Years Ago: Whole Wheat Chocolate Chip Cookies, Garlic Parmesan Pull-Apart Bread, & Chocolate Almond Oat Bars
Eight Years Ago: Chocolate Coconut Granola, Bittersweet Chocolate Sherbet, & Tapioca Pudding
Strawberry Rhubarb Pie
Yields one 9-inch pie

1 double crust pie dough recipe
2 pints (24 ounces or 680 grams) strawberries, hulled and sliced
10 ounces (280 grams) fresh rhubarb, sliced into 1/4 inch pieces
1/2 cup (100 grams) granulated sugar
1/4 cup (50 grams) brown sugar, packed
1 teaspoon vanilla extract
4 tablespoons cornstarch
Egg wash (1 large egg + 1 tablespoon water, whisked), for brushing
Raw or demerara sugar, for sprinkling
Preheat oven to 425 degrees F (220 degrees C).
In a large mixing bowl, gently stir together the sliced strawberries, rhubarb, sugars, vanilla, and cornstarch until evenly coated. Set aside.
Form the pie dough into a disk and divide it into a 60/40 ratio (if using a store-bought crust, do not worry about this step). On a lightly floured surface, roll out the larger section of dough into a 14-inch round circle. Carefully transfer it to a 9-inch pie pan and trim the excess pie dough to create a 1-inch overhang. Fill the pie crust with the strawberry-rhubarb mixture.
On a lightly floured surface, roll out the smaller section of pie dough. Using a pizza cutter and a ruler, cut out wide strips of dough. Layer the strips over the top of the pie in a decorative fashion and trim so they are even with the edge of the pie pan. Using your fingers, pinch the bottom and top layers together in a pattern of your choice.
Using a pastry brush, brush the top of the pie crust with egg wash and sprinkle raw sugar over the pie. Bake the pie for 15 minutes at 425 degrees F (220 degrees C). Then, lower the oven temperature to 375 degrees F (190 degrees C). If necessary, cover the edges of the pie crust with aluminum foil to prevent further browning. Bake an additional 50-65 minutes, or until the lattice and crust are evenly browned.
For perfect slices, cool for at least 3-5 hours (or overnight). Serve with whipped cream or ice cream, if desired.