A delicious summery dinner you can make as a vegetarian centrepiece for dinner parties or even a weeknight meal. These aubergines are stuffed with a tomato sauce filled with capers and shallot, fresh mozzarella cheese and breadcrumbs.
These taste almost like a classic aubergine parmigiana but (a) a lot prettier and (b) a lot easier to make (no frying involved = much less hassle). I know aubergine skins can often become tough and chewy when baked but here, they are soft and melty! The inner aubergine flesh is scooped out and cooked into the tomato sauce which makes it silky smooth and means you don't waste any part of it.
I think these are the perfect thing to make for a Summer-y yet comforting meal and are a bit fancy looking too so are great for when guests come round. Serve them up as a starter (just 1/2 an aub per person) or a main (1 aub per person) with a side salad & some bread.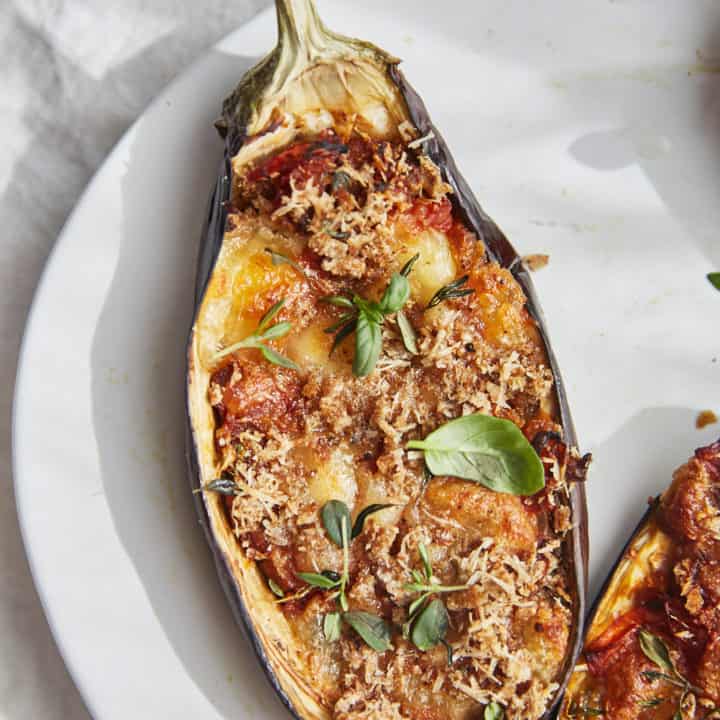 Stuffed Aubergines with Mozzarella & Tomato
Total Time:
1 hour
20 minutes
Ingredients
2 medium aubergines
olive oil, for drizzling
salt
1 shallot (or 1/2 small onion), finely diced
1 tbsp olive oil
200g (7 ounces or ~4 medium) tomatoes, roughly diced
2 cloves garlic, crushed
1 tbsp balsamic vinegar
1 tbsp capers (optional)
2 tbsp tomato paste
4 Ryvita dark rye breads
25g (1/2 cup) Pecorino or Parmesan cheese, grated
2 tsp olive oil
3 sprigs thyme, leaves picked
black pepper
125g ball fresh mozzarella, drained and diced
fresh basil/thyme leaves for garnish
Instructions
Preheat your oven to 180C fan (350F).
Cut the aubergines in half down their lengths. Use a spoon to scoop out the centre flesh of the aubergine leaving a 1cm thick border. Save the flesh for later.
Place the aubergine halves on a baking tray, cut side up, and drizzle with some olive oil. Use a pastry brush or your fingers to spread it around over the cut surface of the aubergine and sprinkle with a pinch of salt.
Bake for ~20 minutes until soft.
Roughly chop up the aubergine flesh from earlier. Set aside for now.
Heat a large non-stick frying pan over a medium heat. Add the chopped aubergine flesh and a pinch of salt to the dry pan. Cook until the aubergine has shrunk and is starting to brown then add 1 tbsp olive oil and cook for a few minutes more to help the aubergine soften.
Add the shallot and cook, stirring, until translucent (~5 minutes). Next stir in the tomato and garlic. Finally stir in the balsamic vinegar, capers and tomato paste. Take it off the heat and set aside.
Place the ryvita rye breads into a sandwich bag and bash them up until broken down to the size of small breadcrumbs. Mix with the pecorino, thyme leaves and a few grinds of black pepper in a bowl and set aside.

Assemble and bake:
Take your baked aubergine halves from earlier. Place a spoonful of the tomato mixture into the base of each half and spread out into an even layer. Top with a layer of diced mozzarella and a layer of the ryvita mixture. Repeat this layering once more to use all the remaining tomato/mozzarella/breadcrumb mixture.
Drizzle with a bit of olive oil and bake for a further ~30 minutes until the cheese has melted and they're golden and bubbling.
Sprinkle with some fresh thyme/basil if you like and serve hot.
The post Stuffed Aubergines with Mozzarella & Tomato appeared first on Izy Hossack - Top With Cinnamon.