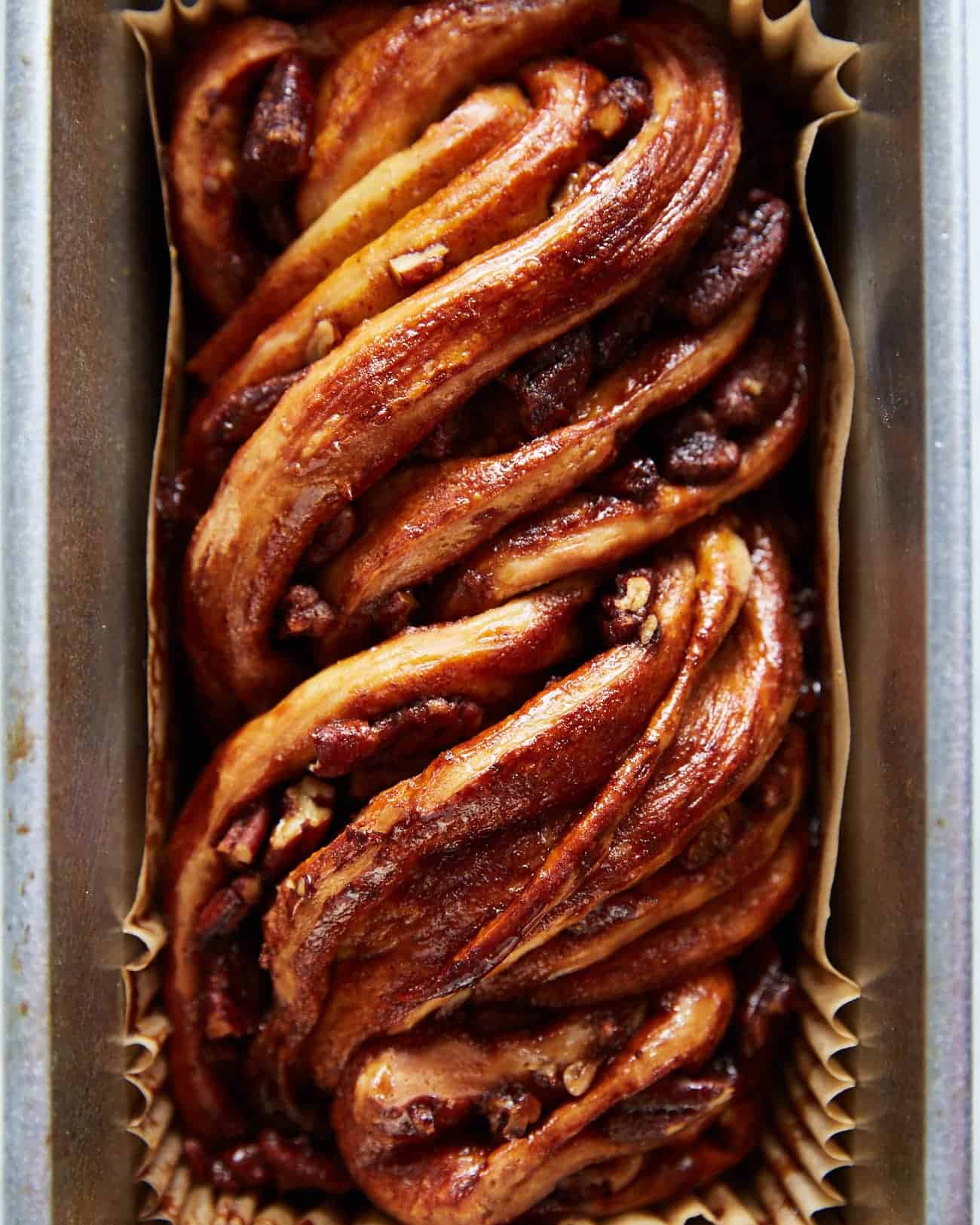 This recipe was created as part of a paid collaboration with Lyle's Golden Syrup on Instagram but I'm posting it here too for ease of access!
We all love a babka don't we? So much more impressive looking than cinnamon rolls AND it's sliceable (which means you can whack a slice under the grill until toasty and then cover it in butter). Whilst chocolate babka will always be my favourite kind I of course have an affinity to a cinnamony babka. It's like a fancy cinnamon-swirl loaf! Perfect for turning into French toast when it gets a little bit stale and not too sweet overall. I added pecans to the filling since I always seem to find that they work well with cinnamon and brown sugar.
This one is a no-knead boy which means that yes, you do need to make the dough the day before (I leave it for at least 10 hours in the fridge), but it also means that it makes the process seem more manageable since it's broken up by that waiting period. The dough is one I adapted very slightly from the incredibly clever book by Zoe Francois, Holiday & Celebration Breads in 5 Minutes a Day.
Soaking the baked loaf with a syrup made of diluted golden syrup is also key – the loaf really isn't that sweet so the syrup does help to boost that but ALSO keeps the loaf moist and soft so don't skip it!!
No-Knead Cinnamon-Pecan Babka
Additional Time:
12 hours
Ingredients
Dough:
100g lukewarm water
1 tbsp Lyle's golden syrup
1 tsp easy-bake yeast
1 medium egg
45g vegetable oil
250g white bread flour
½ tsp fine table salt
Filling:
50g unsalted butter, melted and cooled
60g muscovado sugar
30g Lyle's golden syrup
5g ground cinnamon
Pinch of salt
75g pecans, roughly chopped
Syrup:
50g Lyle's golden syrup
50g water
Instructions
For the dough:
Place the water, golden syrup, yeast, egg and oil in a medium bowl and mix until combined. Add the flour and salt and stir together until the dough comes together and there are no floury patches remaining (it may be easier near the end of mixing to use your hands to knead it lightly in the bowl).
Drizzle a little bit of vegetable oil on the dough and flip it over a couple of times so the dough is coated in oil. Cover the bowl (I like to use a small, clean bin bag, secured at the side with a food clip) and let rise in a warm place until doubled in volume – around 2 hours.
Once risen, chill the dough overnight. This will do the 'kneading' for us and also makes the dough easier to handle when it's time to shape.
For the filling:
The next day, combine all of the filling ingredients except the pecans in a small bowl. Set aside.
Shape the babka:
Lightly flour a work surface and tip the chilled dough out onto it. Dust with some more flour on top and roll out into a 25 x 30cm rectangle. Spread all of the filling over the surface of the dough and sprinkle with the chopped pecans.
Starting at the long edge, roll the dough up tightly into a log. Pop onto a tray or plate and freeze for 15 minutes – this will keep things neat and easy for the next step.
Remove the dough log from the freezer and cut down the length of the log so you end up with two long strips. Place the cut sides facing up and twist the lengths over each other a few times, pinching the ends to seal.
Carefully transfer the shaped dough to a lined 2lb loaf pan, cover, and leave to rise in a warm place for 45 minutes-1 hour, or until almost doubled in volume.
Around 10 minutes before your dough is ready, preheat the oven to 180C fan. Uncover the babka and bake for 25-35 minutes. It'll be done when a skewer inserted into the centre comes out with no dough attached.
For the syrup:
As the babka is baking, warm the golden syrup and water in a small pot just until it starts to gently bubble.
Pour the warm syrup over the hot babka and leave it to soak in and cool before slicing and serving.

Have you made this recipe?
I'd love to see how it went! Tag me on instagram @izyhossack and hashtag it #topwithcinnamon so I can have a look & reshare in my stories!
The post No-Knead Cinnamon-Pecan Babka appeared first on Izy Hossack - Top With Cinnamon.