Chocolate peppermint thumbprint cookies are sure to be a new holiday favorite, with a red and white marbled shortbread, dark chocolate filling with a hint of peppermint, and crunchy candy cane bits sprinkled on top.
I can't speak for Santa, but classic thumbprint cookies are one of my all-time favorite cookies, the buttery shortbread serving as the perfect foundation for myriad filling possibilities. This festive take pairs dark chocolate with peppermint, plus a sprinkle of crushed candy canes for decoration and crunch.
Along with gingerbread, spritz, and, obviously, amaretti, thumbprint cookies are a necessity for any holiday cookie box.
And these festive, candy-cane inspired thumbprints are no exception. In fact, I'd argue these chocolate peppermint thumbprints are perhaps the ultimate holiday cookie.
I mean, just look at them!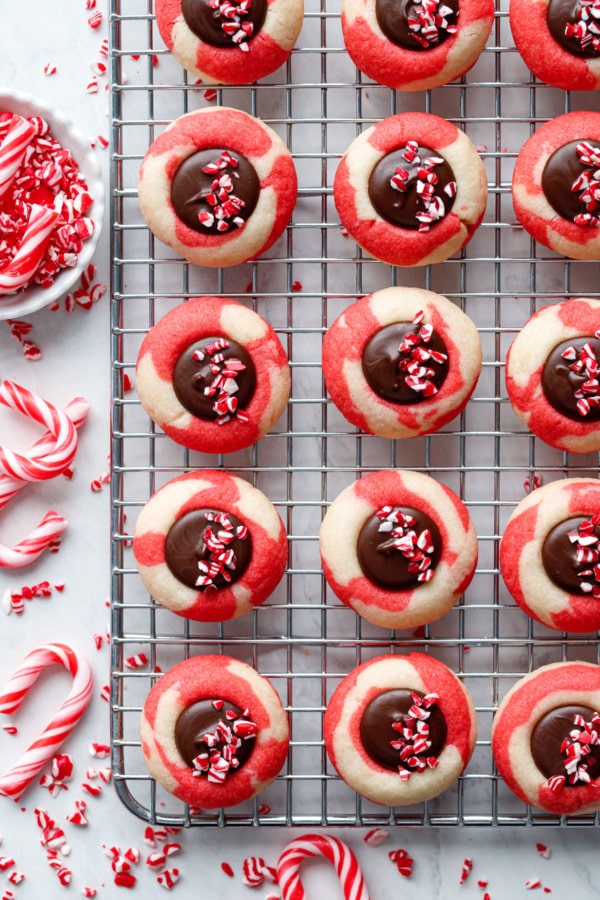 I've been wanting to do a chocolate peppermint thumbprint cookie for some time now, but it's taken me until now to actually nail down the details. I mean, it could have gone in so many different directions, I just couldn't decide. Should it be a chocolate cookie with a white chocolate peppermint filling? Or double chocolate with a chocolate cookie and a dark chocolate filling? Or should I stick with a traditional shortbread cookie, and if so, should the cookie itself be left natural, infused with peppermint extract, mixed with crushed candy canes, or marbled with multi-colored dough?
This is how my brain works when I'm developing a recipe.
Ultimately, after a number of tests, I opted for a traditional shortbread with a hint of almond, with a striking marble effect with a swirl of red and white dough, and a dark chocolate filling with a hint of peppermint extract.