Pretty on the outside, stunning on the inside: these festive Christmas ornament entremet cakes feature flavors of chocolate and caramel enrobed in a shiny red mirror glaze.
Entremet cakes are a labor of love, but the final result is downright impressive. This holiday variation incorporates a crunchy chocolate pecan crust, gooey salted caramel, creamy chocolate crémeux and a cloud-like caramel mousse.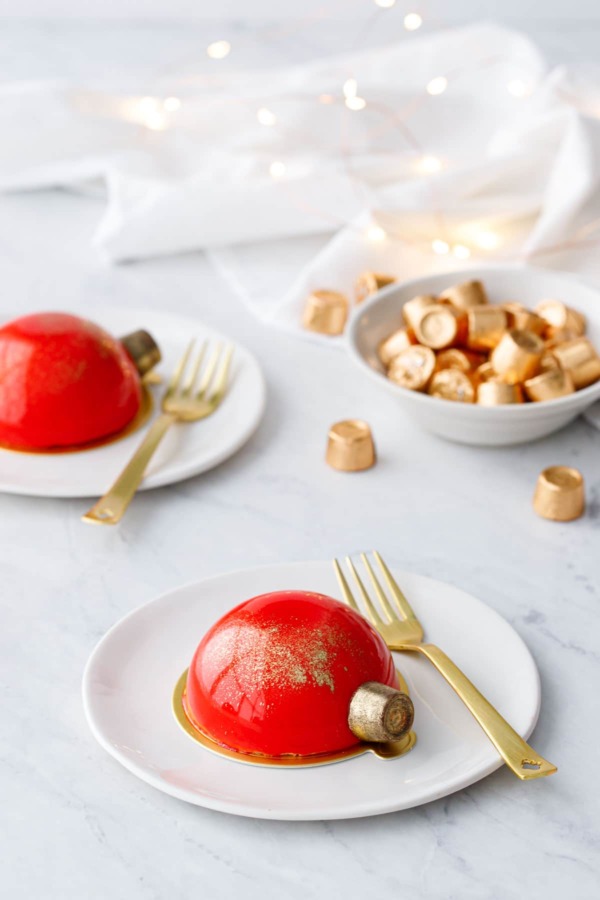 For the last two weeks I've been completely and utterly consumed by this recipe. (That said, I've already consumed two of the finished cakes myself, so… I'd call it even in the end.)
Entremet cakes by nature have many different layers and components, and I found myself with a serious case of choice paralysis: there were simply too many options and I just couldn't decide. I spent hours scouring the internet and pastry cookbooks, considering a multitude of options for different flavors, textures and techniques; my obsessive thoughts even finding their way into my dreams (if you've never had OCD recipe development dreams, are you even a food blogger?)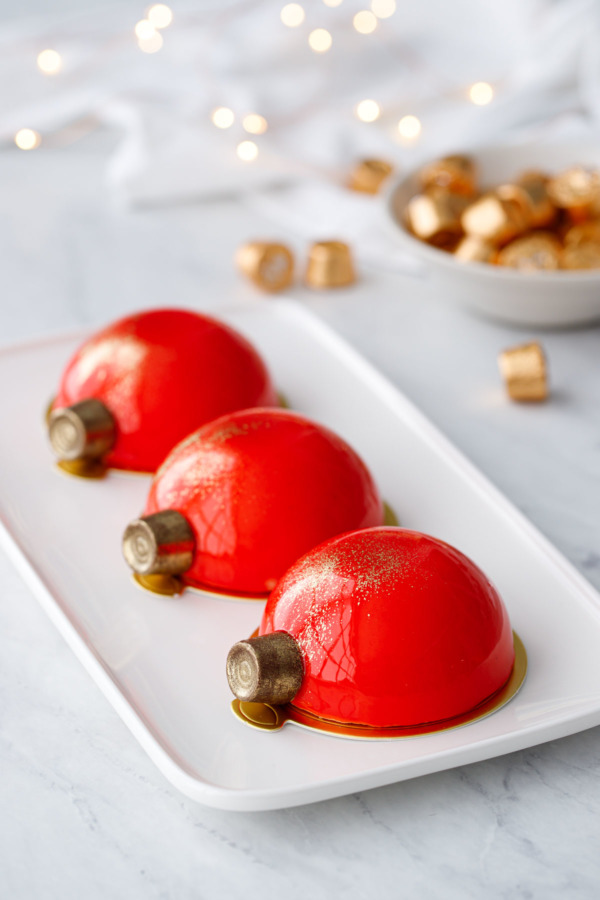 I knew I wanted a combination of chocolate and caramel flavors to go with the Rolo candies I'd be using for the ornament topper. But that was really the only thing I had definitively decided.
But should I do a chocolate mousse and a caramel crémeux, or a caramel mousse and a chocolate crémeux?
How about a caramel-chocolate ganache or a chocolate-caramel sauce or a regular salted caramel? s
Should the base be soft sponge cake or chocolate cookie or crispy sable crust?
Should I mold the insides as domes or should I cut out rounds?
Well…
Now you see what I mean by choice paralysis?
Eventually, after testing a few components separately, I decided on a crunchy chocolate pecan cookie crust, a center of rich chocolate crémeux, a layer of simple salted caramel, and then a salted caramel and caramelized white chocolate mousse for the outer layer.
Yes, I probably obsessed over the details a bit too much, because, really, how can you go wrong with anything chocolate and caramel?