Vibrantly colored and boldly flavored, this dragonfruit smoothie bowl recipe is topped with delicious crunchy pistachios, shredded coconut and dried goji berries.
Smoothie bowls are a thing of beauty, beautiful to look at, sure, but also satisfying to eat. The crunchy toppings give them a unique texture that's missing from normal drinkable smoothies (and let's be honest, the crunch is the best part!)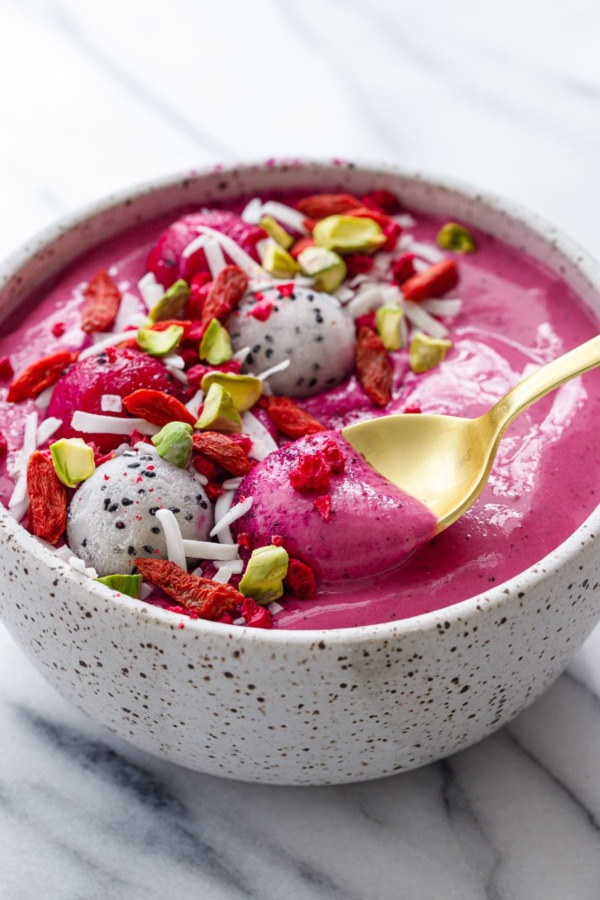 Melissa's was far too generous when they sent me fresh dragonfruit for that shrimp taco recipe I posted a few weeks back. I had half a dozen fruits left and needed to something with them quickly before they went bad.
After a bit of thought, I figured I had three options: Smoothies. Sorbet. Or jam.
Ultimately I went with smoothies, or smoothie bowls to be specific, which are thicker fruit smoothies that you eat with a spoon. This particular smoothie bowl is made with pink dragonfruit (for color, mainly—it's mostly flavorless on its own), mango, raspberries and banana as the main fruit base, with a bit of lime juice and ginger for an extra bright flavor.