Ultra thin and crispy crackers topped with a homemade everything bagel seasoning blend that'll have your tastebuds demanding more.
Homemade crackers are the ultimate snack, and these ultra-crispy, everything bagel-inspired delights are no exception. Top them with a smear of cream cheese and a dollop of pepper jelly or a slice of smoked salmon for a truly delectable combination!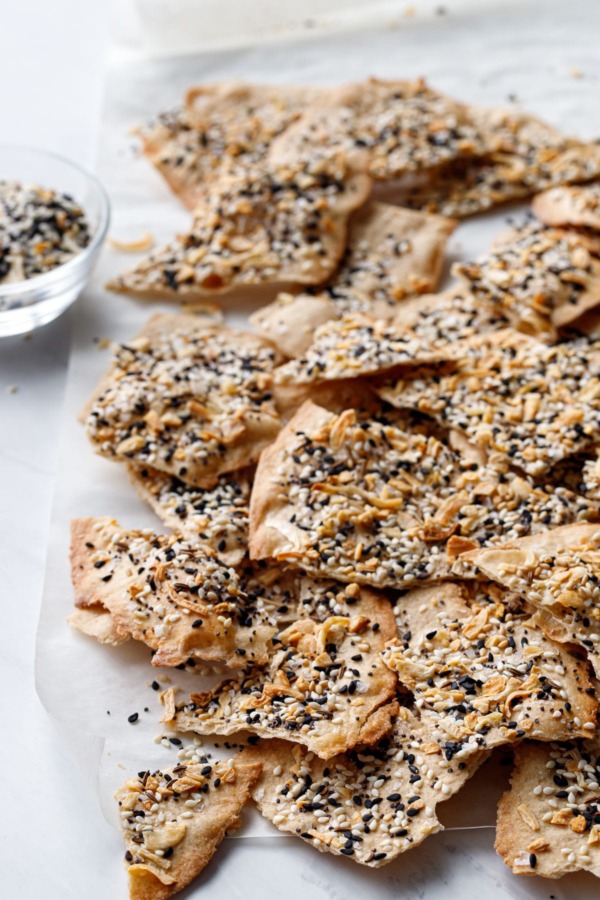 With this year's bread baking boom it's no surprise that my most popular recipe of the year was these homemade sourdough crackers. I regularly get tagged in Instagram posts and stories when folks make the crackers, using all manner of creative seasoning combinations. (Also, can I just say that seeing folks making my recipes is by far the best part of this job, it makes me smile every time!!)
I've been wanting to do a non-sourdough version of these crackers for some time now. If you think about it, sourdough starter is just equal parts flour and water, so converting the recipe is just a matter of some simple math.
You'll definitely notice a difference in flavor if you compared the sourdough vs non-sourdough crackers directly. The sourdough ones taste distinctly like wheat thins to me (weird, but true), regular crackers rely more on the seasoning and mix-ins for flavor. Still, they're no less delicious.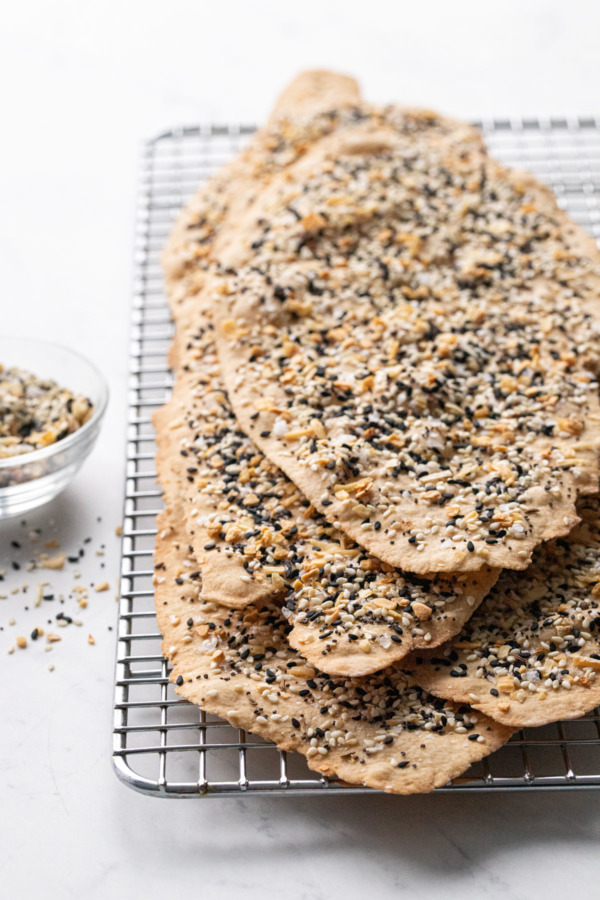 These homemade crackers are ridiculously simple, made with little more than flour, water, and olive oil (I also added a bit of honey to give them that subtle bagel-like sweetness, barley malt syrup would be lovely as well). After a brief respite, they are then rolled super thin (pasta roller FTW), topped with a generous layer of everything bagel seasoning, and baked to crispy perfection.
If you did want to use some leftover sourdough discard, simply replace and equal amount of flour and water with your 100% hydration starter (for example, if you have 100g of starter, replace 50g of flour and 50g of water). And yes, a digital scale makes all this math so much easier (in case you're stymied by the weird flour measurements in the recipe, just use a scale please).
You can ultimately season the crackers with whatever spices you like (I used herbs de provence in the original recipe, za'atar is also a popular option a lot of folks rave about). Here I oped to go for everything, mixing up my own everything bagel blend.