If you're looking for an easy treat that's a legit snack, look no further than this old-fashioned Oatmeal Chocolate Chip Snack Cake.
Basically an oatmeal chocolate chip cookie in cake form, this quick and easy snack cake makes for a sweet afternoon treat. It's ridiculously easy, uses only one bowl, and is the perfect balance of sweetness—no frosting necessary.
Every so often, when I'm feeling particularly uninspired, I like to pull out my grandma Elaine's old recipe box and flip through the faded index cards and magazine clippings inside. Despite the fact I've had the box for 5 years now, if I inhale deeply, it still carries the scent I will forever associate with her kitchen.
Her old fashioned coffee cake is a reader favorite, and her New York-style cheesecake holds a special place in my heart.
This ridiculously easy, and ridiculously good, oatmeal chocolate chip snack cake is another gem from her box, one that is sure to be an instant hit. Grandma never fails me, and this cake is no exception.
Now, she didn't call it a snack cake, that's my own moniker, given because this cake is so simple and perfect for snacking. No excuse needed to grab a square at three in the afternoon.
In fact, I'd argue the afternoon is the ideal time to consume a cake like this, when lunch is but a distant memory and you need some serious sustenance to get you through to dinner. The oats in the cake give a bit more heft and substance than a typical springy sponge, making it both satisfying and filling.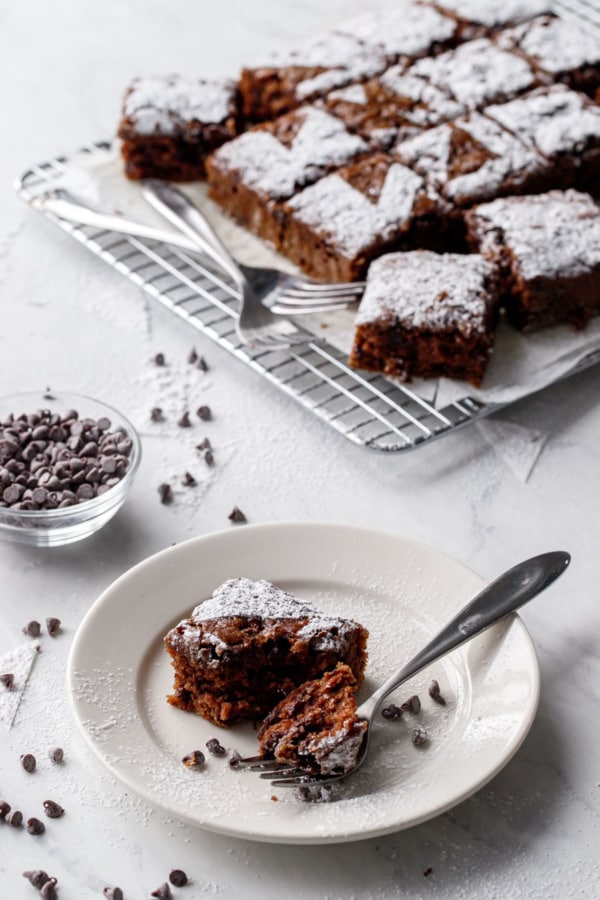 The texture of this cake is hard to describe. It's not springy nor fluffy nor light (clearly I need to expand my cake vocabulary). In fact, it's actually quite dense, each square has a surprising heft to it, with a coarse crumb and an undeniable moistness that I attribute to the oats.
Rather, it falls somewhere between a fluffy white cake and a fruitcake, or maybe a hearty muffin, with a bit of, shall we say chewiness to it… not unlike mochi cake made from glutenous rice.
You might be thinking… dense? Coarse? Chewy? This cake sounds awful. And maybe my cake-descriptors are lacking here, because it's decidedly not awful but actually quite lovely.
You'll just have to trust me on this one. And luckily, if it turns out you don't like it, you've haven't wasted hours upon hours of time baking and trimming and frosting and fussing. It really doesn't get any easier than this frosting-less one bowl wonder of a cake (if that's not reason enough to try it I don't know what is).