The perfect way to use tender spring kohlrabi, this traditional Hungarian dish features bulbs of kohlrabi stuffed with a flavorful pork and rice filling, and served alongside a kohlrabi soup made with the leftover scraps and greens.
Kohlrabi may look like an alien creature, but if you've never had it before, you're in for a treat! It has a taste and texture similar to broccoli stems, but sweeter and not quite as odorous.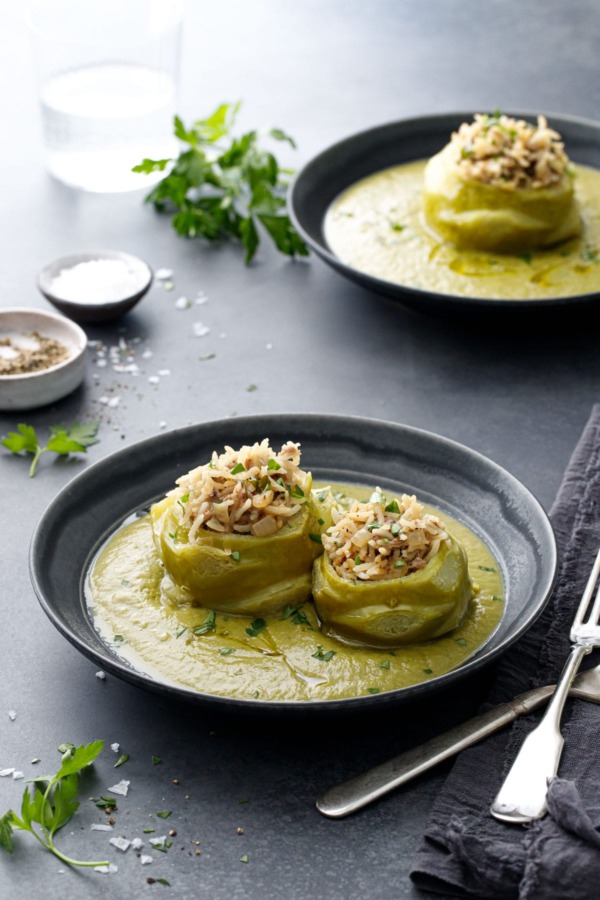 This is our second year as Caney Fork Farms CSA members, which, unlike other CSAs we've been a part of over the years, offers a year round produce box. The fact that we can still get fresh produce in the dead of winter still astonishes this raised-in-Colorado girl.
Last winter, one of the most exciting items in our box was an alien-looking brassica called Kohlrabi. It was something I had never eaten, let alone cooked, and I really had no clue what to do with it. So, hoping for both inspiration and education, I asked my followers on Instagram for recipe ideas. And boy did you deliver!
Many suggested soup, also popular were slaws or salads (the crunchy bulb being not unlike the thick stalks of broccoli in terms of texture and flavor, so this makes sense.)
But one recipe stood out. Piszke, a generous follower from Hungary, sent over a recipe for a traditional Hungarian stuffed kohlrabi with a ground pork and rice filling, then served over a kohlrabi green and sour cream puree.
Stuffed kohlrabi is a very traditional Hungarian dish, but there's no one single way to make it. Much like Italians and their marinara, every family will have their own different version of it, with different meats (some feature beef instead of pork, or a mix of the two) as well as many different stuffings, seasonings, and accompaniments.
But this one is particularly unique in that it uses the entire vegetable, greens and all. It makes its own side dish, essentially, by pureeing the greens and leftover pulp from the hollowed-out bulbs into a gorgeously green, flavorful soup. Brilliant, right? That'd be like a cake recipe that made its own frosting or something.