Sweet dreams are made of these malted fudge brownie ice cream sandwiches, with layers of chewy fudge brownie, luscious ganache, and a malted cocoa ice cream.
These brownie ice cream sandwiches are quite possibly one of my favorite recipes, ever. With layers of silky smooth milk chocolate ganache and a light cocoa ice cream that's no-churn and no-fuss, sandwiched between two layers of thin, chewy brownie, they are as easy to prepare as they are to devour.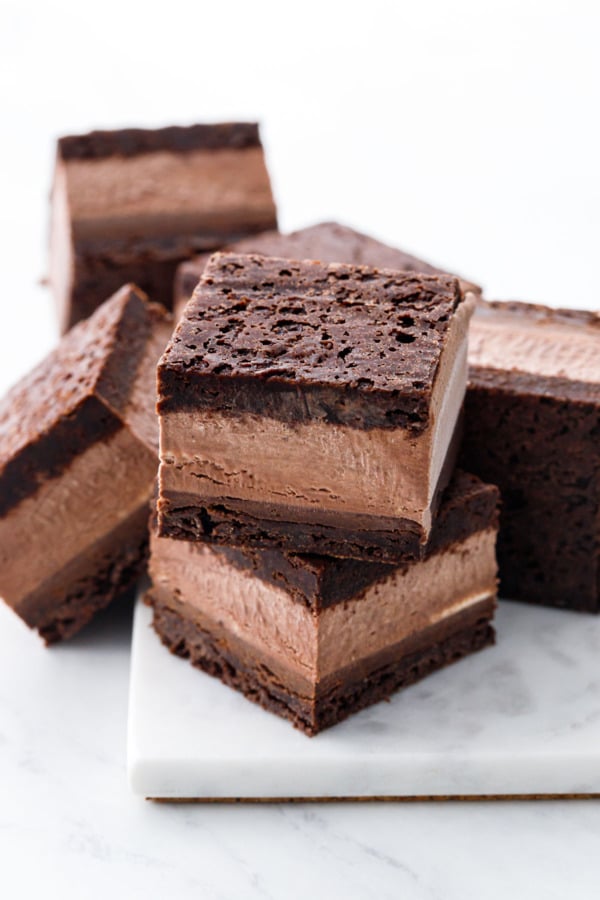 Friends, these are ridiculously good.
Like, one of the best things I've ever made good. And considering I've published over 1,500 recipes (!!) that's saying something.
Not to mention that for a multi-component ice cream sandwich, they are surprisingly easy to prepare. Which only makes them even better in my mind.
My original intention was to make Cosmic brownie-inspired ice cream sandwiches. I envisioned layers of chewy brownie, silky smooth milk chocolate ganache, and an ultra-rich, brownie batter-like ice cream. Topped off with rainbow bit sprinkles, of course.
The final recipe turned out a bit different than my original vision, with a lighter cocoa ice cream (a better contrast, in both taste and appearance, with the already-rich brownie and ganache), and leaving off the rainbow chips (gasp! I know). But in reality the chips didn't really add anything visually to the sandwiches, seeing as they were layered in between the ganache and ice cream and only served to mess up the crisp clean cuts.