Say hello to your new favorite sandwich: creamy egg salad seasoned with paprika, thin slices of roasted beet, and a generous handful of spicy microgreens to perfectly offset the richness of the egg.
Taylor's classic egg salad is simple and satisfying, with only 4 ingredients (eggs included), plus salt and pepper. It's not overly mayo-heavy or mustard-forward, with a very simple flavor profile that let you actually taste the egg (not overwhelmed by dill or relish or other add-ins). A pinch of sweet paprika gives the egg salad a well-rounded flavor and ever so slightly pink hue (something that pairs perfectly with the rich ruby red of the beets).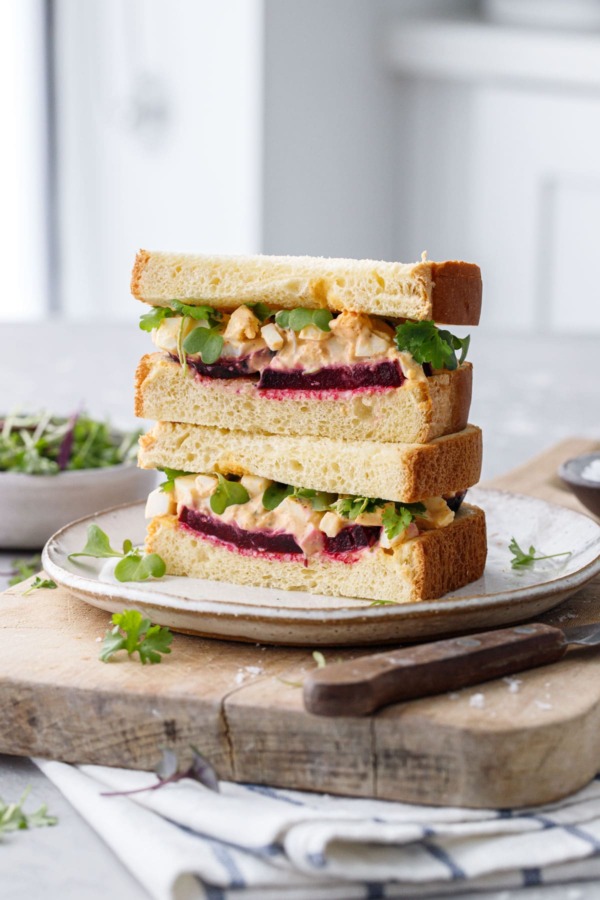 Lunch is often a struggle around these parts.
We try to plan our dinners to include leftovers (let's just say we're masters at cooking for 4 for this reason), but sometimes we find ourselves floundering in the kitchen at noon, hangry and without a solid plan for lunch.
It's days like these that egg salad sandwiches have become our go-to. Don't ask me where the idea for the beet came from, I just know I came downstairs one day to find Taylor had thrown this together and I fell in love all over again. Something about the sweet, earthiness of the beet goes so well with the creamy egg salad.
Assuming we have some roasted beets in the fridge (I fully admit we've been buying packaged pre-roasted beets and I'm not ashamed about it), these sandwiches come together in about 20 minutes, including the time it takes to boil, cool, and peel the eggs. Hard-boil a few eggs ahead of time and it'd be even quicker.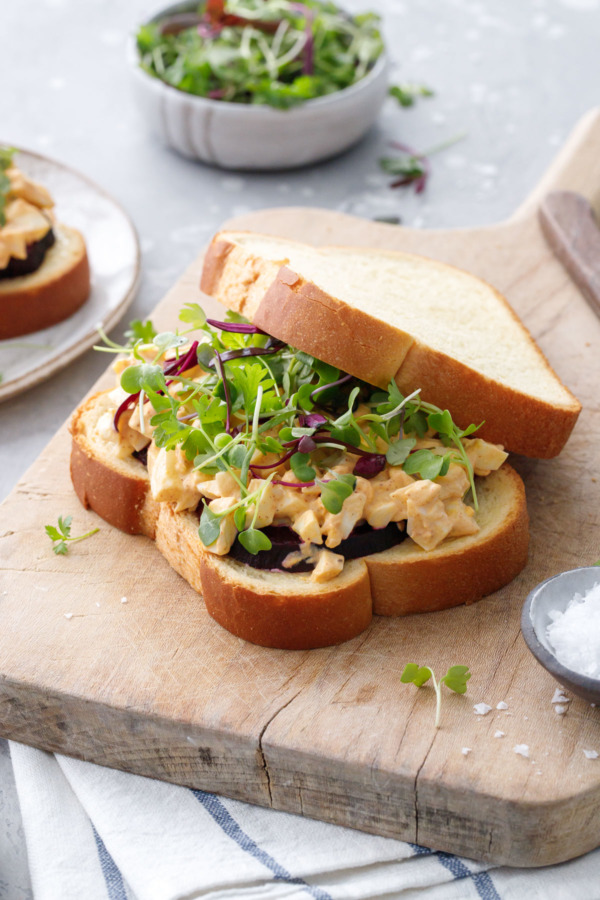 While this small-batch egg salad recipe could be used in a variety of ways, our favorite assemblage includes thin slices of roasted red beet, a thick layer of creamy egg salad, and a pile of spicy microgreens (arugula or watercress would also be great here too!)
The creaminess of the egg, the earthiness of the beet, and the spiciness of the greens all come together on slices of thick brioche sandwich bread to make what I consider the perfect sandwich.