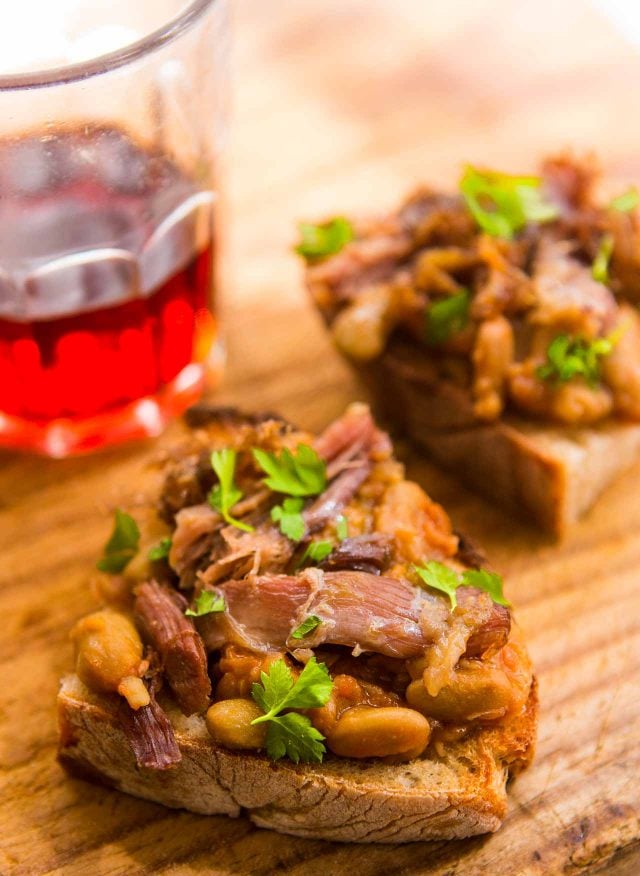 I'm a big fan of traditional Cassoulet. And I'm not alone; a repeated question I get is "Where can I get a good cassoulet in Paris?" The short answer is: To the Southwest of France. Sure, one can pick up a jar of Cassoulet from Castelnaudary, or make it, which I sometimes do. For those who want to tackle the project, there's a recipe in My Paris Kitchen. But not everyone wants to spend a few days gathering ingredients and sauteeing and simmering them together, then baking, then reheating the behemoth in their oven.
While it's one of my top favorite dishes in the French food canon, sometimes I don't want to wait, and remain wary of the jar. So when I saw a recipe for Cassoulet Toast in Open Kitchen: Inspired Food for Casual Gatherings, I was intrigued enough to give it a try. Cookbook author Susan Spungen is one of the top food stylists (she famously styled the food for Eat, Pray, Love and the Julie & Julia film), who noted in the headnote of the recipe that she originally wanted to include a Cassoulet recipe in her book, but decided it was too formidable to hoist on home cooks, so came up with a recipe that captures the flavors that we love about cassoulet; the rich, velvety beans, the caramelized aromatics, and the tender duck confit, all on a slice of crisp, country-style bread.
Continue Reading Cassoulet Toast...