These sweet and salty peanut butter-packed cookies are a peanut butter lover's dream: soft and chewy and studded with peanut butter chips for an even more intense peanut butter flavor.
I think you'll agree with me that the best cookies consider the texture as well as flavor, and these salted peanut butter cookies don't disappoint: soft and almost cookie dough-like in the middle, crispy on the bottom, with a coating of granulated sugar on the outside for a delicate crunch you'll adore.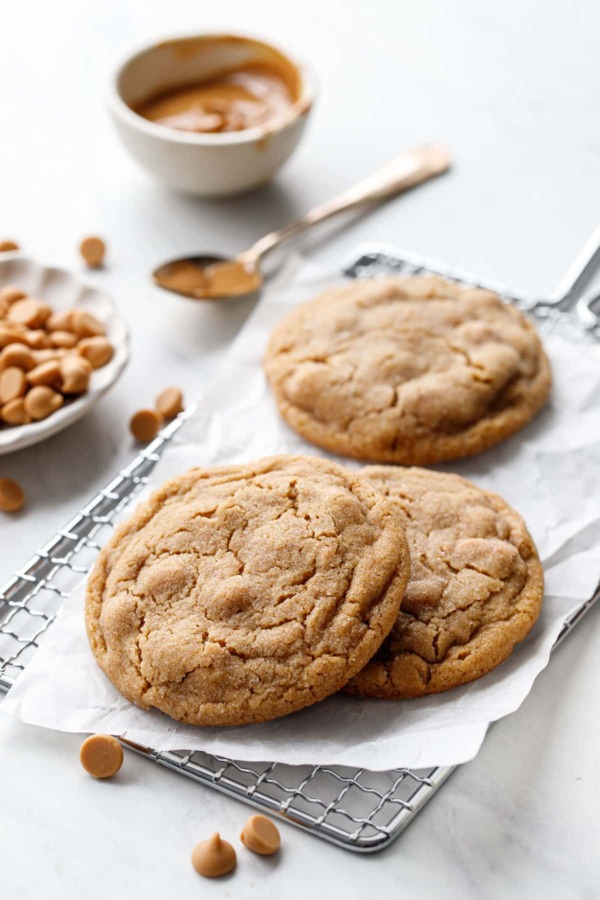 This right here is proof that a cookie doesn't have to have chocolate to be sinfully good.
For various reasons I had to go chocolate free for a week. Let me tell you… it's harder than I thought it would be. Even my mid-morning granola bars have chocolate in them.
And of course, the second you tell me I can't have something, I just want it all the more. Needless to say my sweet cravings were running amok.
I wasn't just avoiding chocolate either, it was anything acidic really, so I couldn't even turn to fruit desserts to sate my cravings.
Peanut butter was pretty much my only remaining option for a sweet indulgence. And rather than devouring the bag of peanut butter chips by the handful like a monster (ok, I admit, I may have snuck a few handfuls), I decided to put those chips to good use bake myself some truly extra peanut butter cookies.
At which point I realized that while I have recipes for peanut butter chocolate chip cookies, peanut butter stuffed cookies, and chocolate cookies with peanut butter in them, I have never published a straight up peanut butter cookie. I know, right?! Such a travesty must be rectified, stat!
The result is quite possible the ultimate peanut butter cookie: sweet and salty with extra peanut butter and peanut butter chips for good measure (because if some is good, more is better, right?) You know me, I'm not one to half ass things, so you certainly can't say I didn't go all in on this one.