A Detroit-style pizza is characterized by its thick, chewy crust with bits of crunchy cheese caramelized around the edges. Here we've topped it with a savory and tangy mix of pepperoni and two kinds of pickled peppers.
When you're craving a hearty pizza with a thick and chewy crust, look no further than Motor City, USA.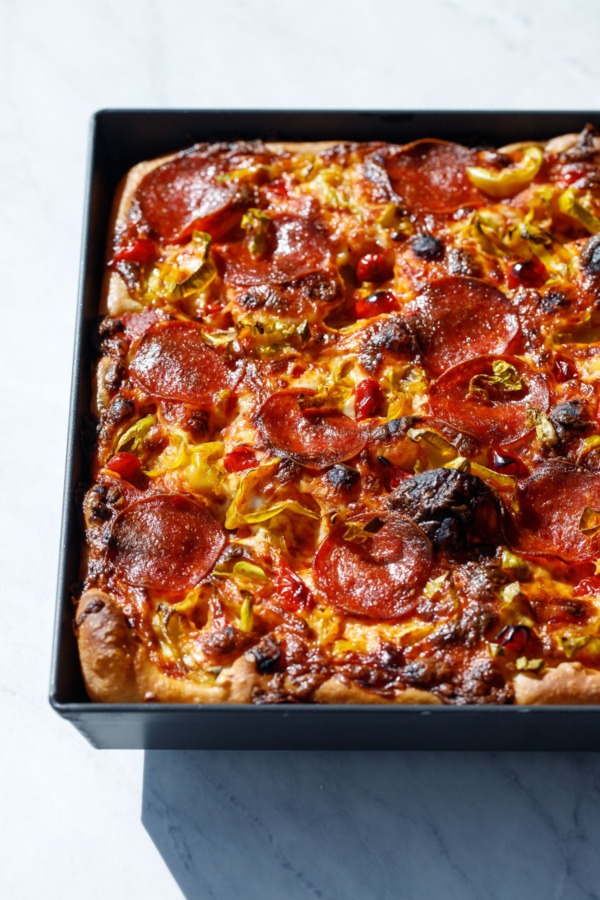 Peter Piper picked a peck of pickled peppers and put them on a pan pizza with some perfectly puckered pepperoni.
Now that's one tongue-pleasing tongue twister.
Detroit-style pizza is a lot like what some may call Sicilian style or grandma pizza (in fact I'd call Detroit-style pizza the descendent of Sicilian pizza), with a thick chewy crust baked to crispy perfection in a rectangular pan. Toppings will run the gamut as will the order in which they are layered (some call for meat first and then cheese, some dribble a few 'racing stripes' of sauce over the meat and cheese, while others, myself included, prefer the more traditional sauce-meat-cheese schematic).
But whatever you call it and however you assemble it, there's no denying it is downright delicious.
One characteristic of this particular recipe versus other kinds of pizza is the addition of extra cubes of mozzarella cheese pressed right into the crust, resulting in pockets of melty cheese that caramelize to a crisp where they meets the edges of the hot pan. While the original recipe has more cheese cubes on top, we liked it better with shredded cheese on top.