These deeply rich and gooey chocolate cookies are studded with peanut butter and dark chocolate chips, with a crispy coating that makes for a perfect crunchy finish.
When it comes to cookies, the closer the cookie comes to cookie dough, the better I say. And these jumbo sized cookies are just that, with gooey middles and melty pockets of chocolate and peanut butter, all wrapped in a delightful coating of puffed quinoa that makes for a unique textural experience you'll simply adore.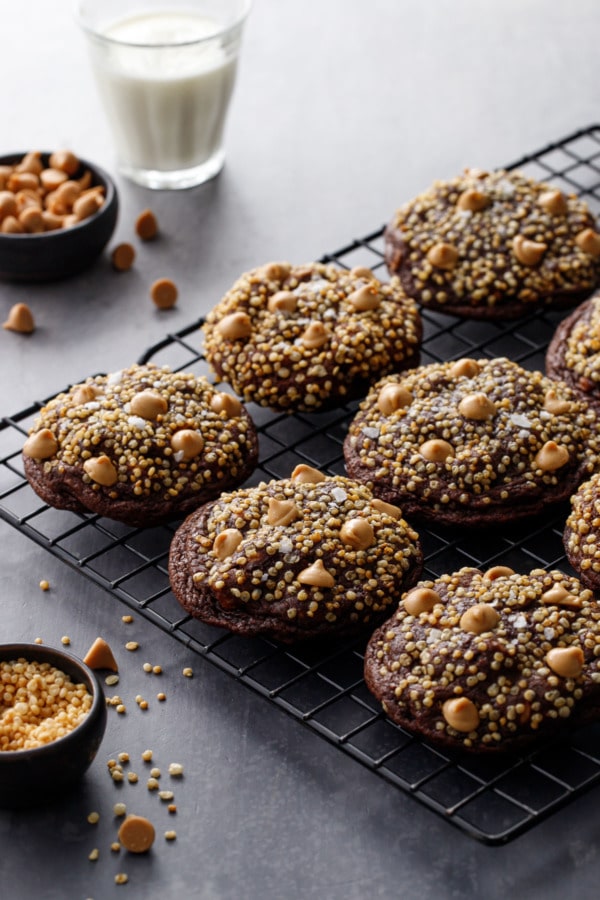 When a chocolate craving hits… only something ultra rich will truly satiate me. I often turn to my favorite brownies, but now that I've had these cookies, well, let's just say my allegiance may be changing.
I mean, just looking at these cookies has me drooling. They're sweet and salty. Gooey and crunchy. Dreamy dark chocolate and creamy peanut butter all rolled into one giant cookie.
Let me just warn you now, these cookies are rich. Like Warren Buffet rich. So you best have a tall glass of milk handy… and maybe a friend to share the goods (half of one of these monsters is more than satisfying).
I've seen similar thick and gooey cookies from the Levain bakery in New York City, and there are plenty of copycat recipes out there. This is not one of them, namely because I've never tried the real thing so who am I to try to replicate it?
That said, the cookies do look rather similar, with thick, rich chocolate middles and ample peanut butter chips that come out of the oven all lovely and molten (and indeed, I shouldn't have to tell you that these cookies are at their best when they are warm).
I don't think Levain has the crispy bits though, which is a darn shame because it makes these cookies a true textural delight – both to behold and then to devour.