With mesmerizing swirls of matcha and creamy white chocolate on a base of dark chocolate and crispy puffed quinoa, this truly unique chocolate bark is a masterpiece of texture and flavor.
Whether made as a homemade holiday gift or an indulgent treat for yourself, this matcha white chocolate crunch bark is both beautiful and delicious… and sure to be a new holiday staple!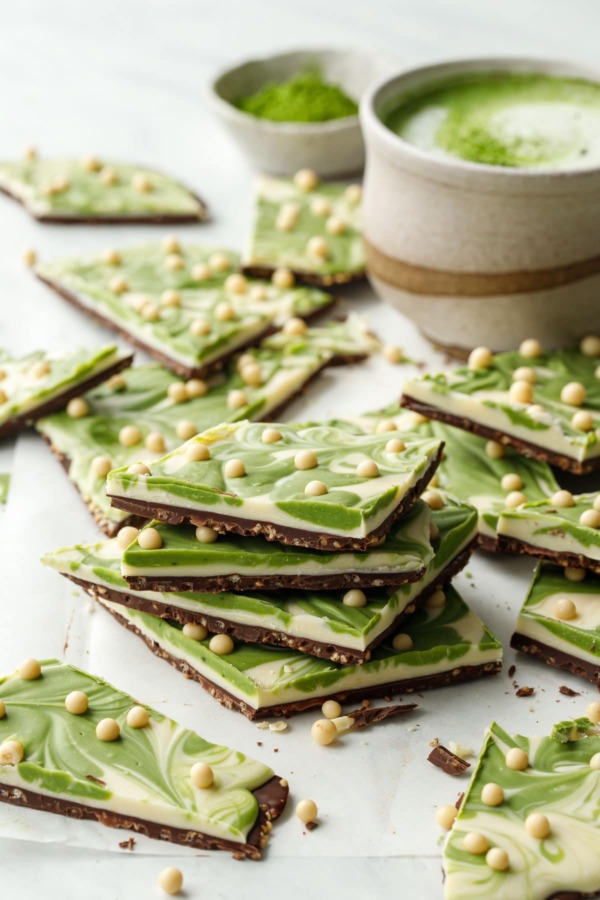 Chocolate bark is one of my favorite last-minute holiday recipes. I'll often use up all the random bits of chocolate I have left from my holiday baking, swirling them into pretty (and pretty delicious) slabs of chocolatey delight.
Not to mention the endless possibilities of flavors and toppings… from peanut butter to creme de menthe, freeze-dried fruit to crunchy cookie bits. And now this one, featuring grassy matcha swirled with sultry white chocolate and a base of dark chocolate to offset the sweetness.
I actually first started testing this recipe last year, but I wasn't completely happy with the appearance of it (turns out rainbow sprinkles aren't always the best choice), and seeing as it was practically Christmas already, I ended up tabling the idea for this year instead.