Creamy, decadent Homemade Scalloped Potatoes are right at home alongside your holiday ham. This dish is deceptively simple to make but will impress all of your dinner guests.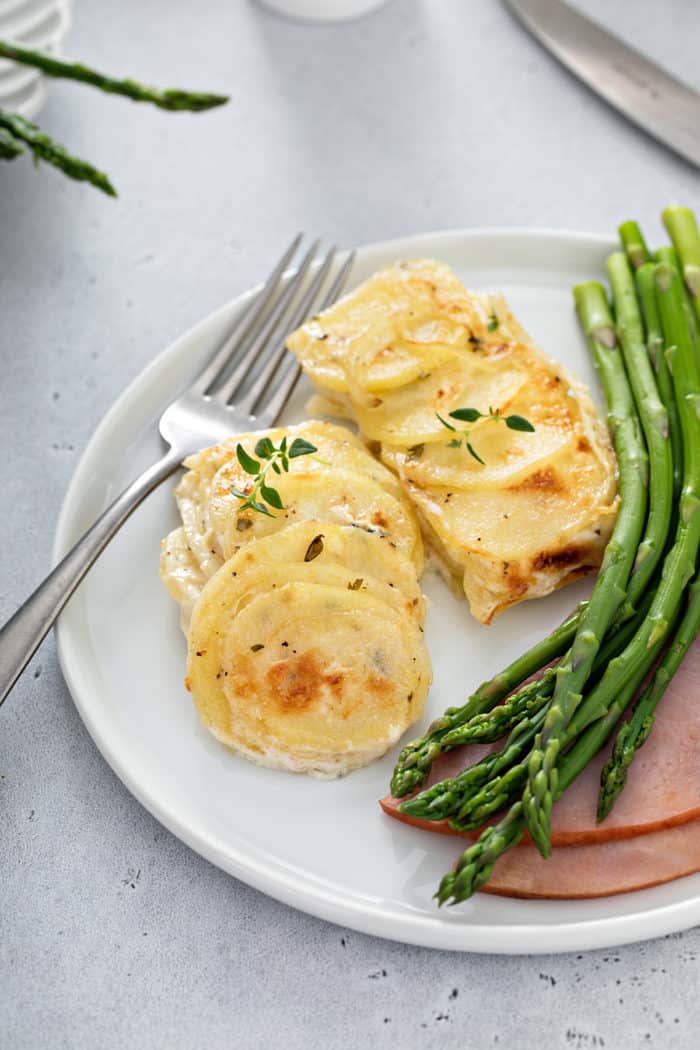 This post contains affiliate links.
I've never met a potato that I didn't like.
Knowing how to bake potatoes is obviously a must, and I can't get enough of Garlic Mashed Potatoes or Air Fryer Roasted Potatoes.
And that's not even mentioning tots. Let's just say we could have a sub-site called My Tater Tot Addiction without much effort.
Growing up, scalloped potatoes often frequented our dinner table and were usually peppered with pieces of leftover ham or slices of kielbasa. It was a quick, inexpensive dinner that was sure to please everyone around the table.
I remember searching for a homemade scalloped potatoes recipe a number of years ago. I actually remember doubting the recipes because I thought there was no way something so incredibly rich, decadent and delicious could be so simple. I was wrong.
Homemade Scalloped Potatoes are not only easy, they are also quite inexpensive and versatile. The beauty of scalloped potatoes is that although they are simple and economical, they can also be quite impressive – which makes them perfect for gracing any holiday table from Easter to Christmas.
(more…)
The post Homemade Scalloped Potatoes appeared first on My Baking Addiction.