Live your most colorful life with these soft and chewy sugar cookies studded with vibrantly colored milk chocolate M&Ms candies!
The perfect sugar cookie is soft and chewy in the center and crispy around the edges, with notes of sea salt and vanilla and a delicate crunch from the granulated sugar coating. With the addition of colorful candy coated milk chocolate pieces peppered throughout, it might just be the cookie recipe you've been craving.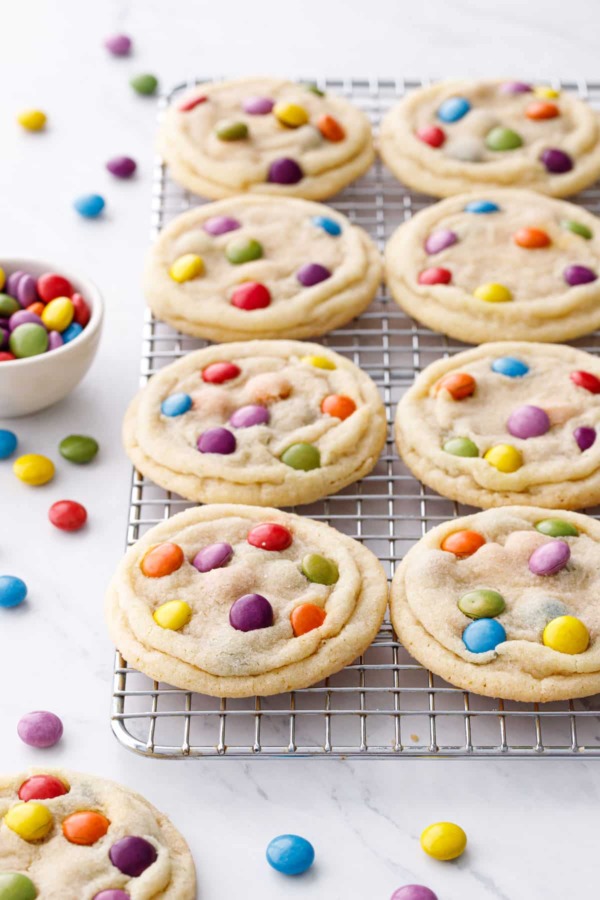 When I think of M&M cookies, I envision the giant ones you'd find in a bakery: pale blonde in color with a lightly ruffled, crackly tops and studded with colorful candy coated chocolate pieces.
Maybe I have a skewed impression of things, as most recipes for M&M cookies online seem to be more of a chocolate chip cookie-like base, just with M&Ms instead of chocolate chips.
While chocolate chip cookies and sugar cookies are somewhat similar, they have notably different flavor profiles (a bit of brown sugar makes a huge difference). So if you're looking for something that resembles a chocolate chip cookie with M&Ms, you best look elsewhere (although I've got lots of other cookie recipes that are worth checking out before you go!)
These cookies, on the other hand, are true sugar cookies: pale blonde and vanilla forward, with ample sea salt to cut the sweetness and enhance the buttery flavor, and rolled in sugar for a delicately crunch and sparkly finish. Add in the colorful candy coated milk chocolate pieces and you have yourself a winner.