This traditional Mexican pozole recipe is made with tender pork and hominy and simmered in the most delicious chile broth, then piled high with all of your favorite fresh toppings. Stovetop, Crock-Pot and Instant Pot instructions included!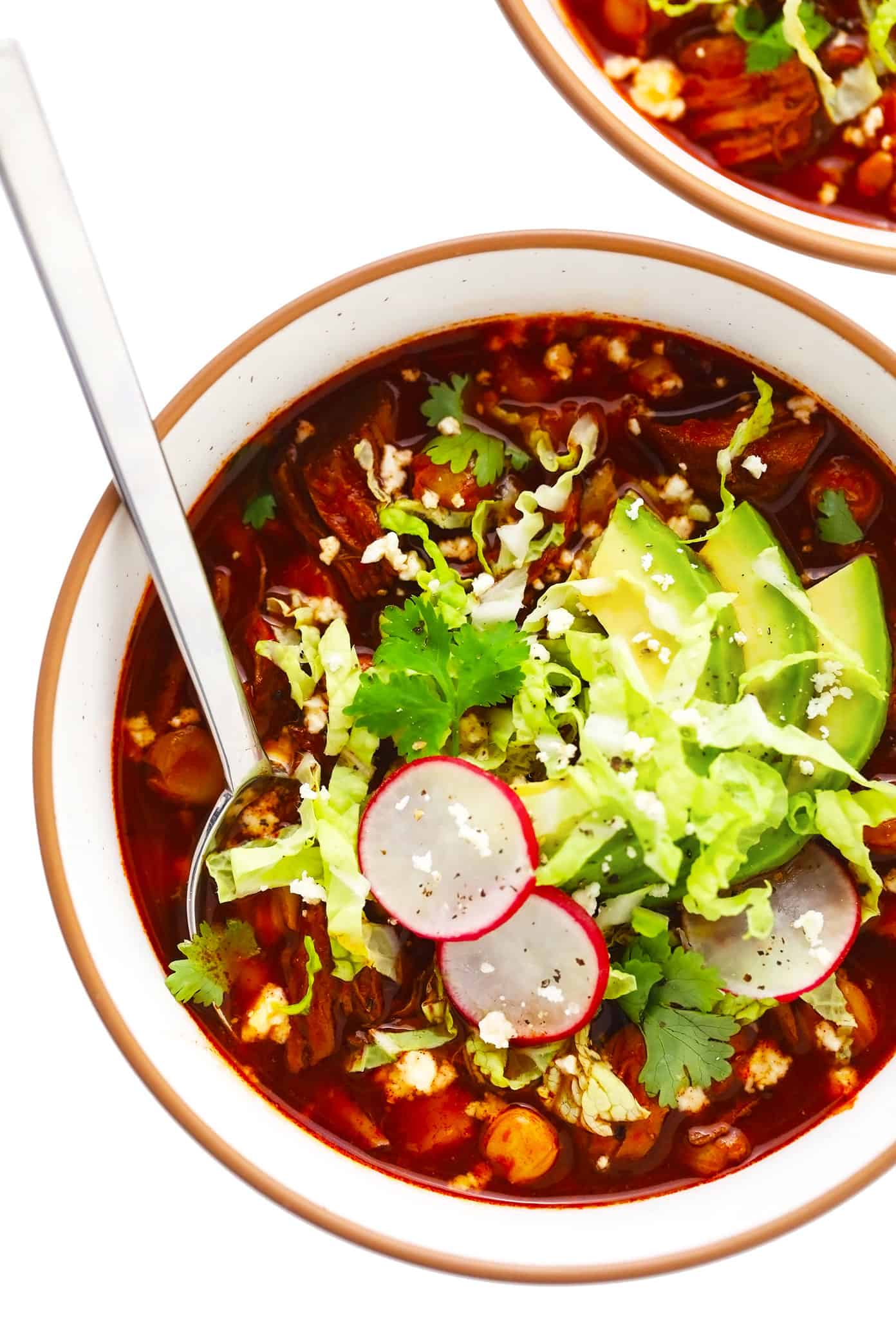 There are a million reasons to love a good bowl of pozole. But in my opinion, the magic of this traditional Mexican soup is found in its rich, vibrant, and incredibly flavorful red chile broth. ♡
By contrast to its pozole blanco (white) or pozole verde (green) cousins, pozole rojo is made with a blend of red chiles that gives this broth the most irresistible balance of savory, smoky, earthy, slightly sweet, and spicy flavors. And when slow simmered together with tender pork and hearty hominy, this later piled high with a generous handful of fresh toppings, this classic Mexican soup is my absolute idea of cozy comfort food to the max. Soooo much flavor!
To be honest, I love this recipe's pozole broth so much that I've been known to make small batches of it just to sip from a mug on chilly winter nights. But when you're craving a good and hearty bowl of soup, the traditional pork and hominy combo here will never let you down. You can either simmer all of the ingredients together for a few hours on the stovetop or toss everything in the Instant Pot or Crock-Pot. And while I'm going to insist that you use dried Mexican chiles to make this broth (no chili powder shortcuts here), I promise that they are incredibly easy to work with and dried chiles are absolutely essential when making pozole. I have also included notes for how to adjust the spice level here to make your batch exactly as mild or spicy as you prefer. And keep in mind that this recipe freezes wonderfully, so feel free to make a double batch while you're at it!
Thousands of you have made and loved our pozole rojo recipe over the years. So in honor of the arrival of fall this week — hello, soup season! — I thought I would bump it back to the top of the site for anyone who has yet to give it a try. Let's make some pozole!