These seeds & cheese crackers are made from two kinds of cheese and five different kinds of seeds, baked to light and crispy perfection. They'd make a unique and delicious addition to any cheese board!
If you love the lacy bits of crispy cheese that form on the edges of a grilled cheese sandwich, these (naturally gluten free) crackers are for you! The addition of five different kinds of seeds makes for a unique textural experience that is deeply satisfying.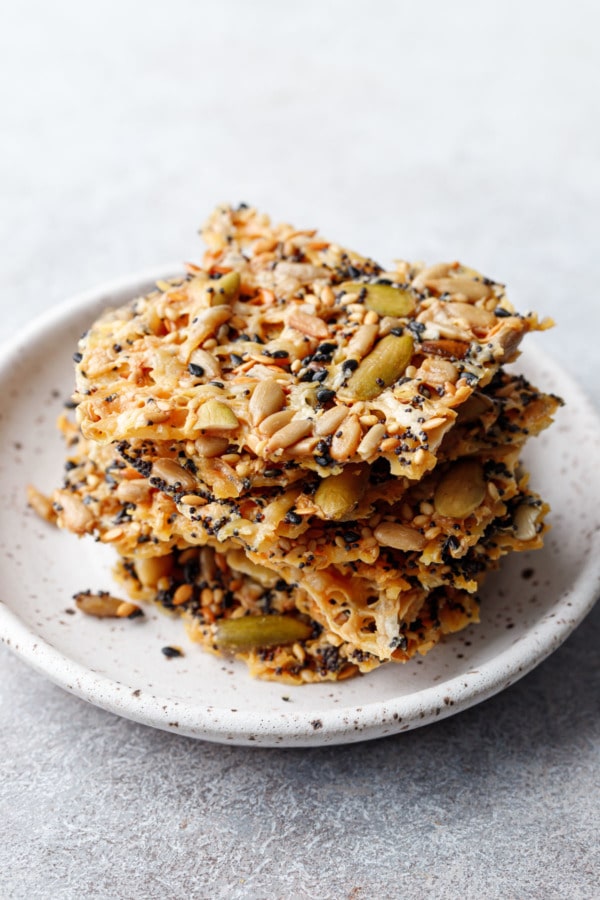 I was finally able to get out to California to visit my family last month, which was a lovely treat after so many months (er, years?) of not being able to travel.
Granted, I spent most of my time there loafing on my sister's extremely comfy couch binge watching all the trashy TV that Taylor doesn't like, which is pretty close to what I'd be doing at home. But being able to do so with my sister? Priceless.
One day we had a lovely lunch with my aunt and uncle who I hadn't seen since… well it's been so long I can't even remember now.
Along with a lovely assortment of prepared salads, she set out a spectacular snack plate with a few different kinds of crackers and cheeses. One of those crackers happened to be a cracker made out of cheese, and after one bite I was hooked. I literally could not stop eating them.
After politely inquiring as to the origins of said crackers (my brain already running through recreation possibilities), my aunt revealed they were called Seeds & Cheese Crackle from Market Hall in downtown Oakland (if you've never been, it's magical; like Disneyland for food lovers).
The ingredients list was short and simple, just seeds and (you guessed it) cheese, and I was certain I'd be able to recreate them at home.