The spice is right with these crispy hasselback sweet potatoes, slathered in butter and seasoned with a fragrant garam masala spice blend.
This unique method for roasting sweet potatoes may be a bit more work than your standard spud, but the impressive results are well worth the effort!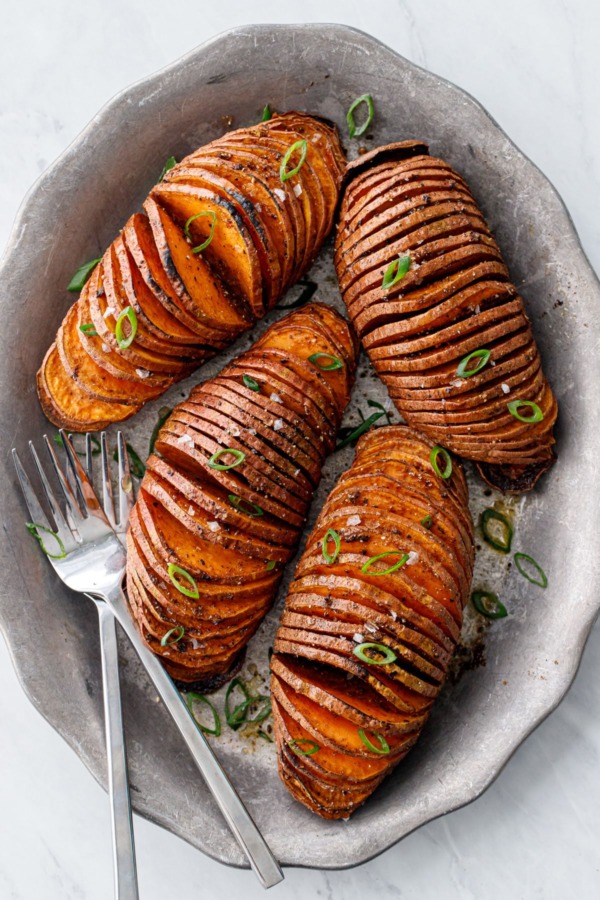 This post is sponsored by The Spice Hunter and includes tracking links. For more information about tracking links and how to opt out, please visit All About Do Not Track prior to clicking any links found in this post.
Garam Masala (which roughly translates to "warming spice mix") is a spice blend with origins in Northern India. I'd describe it as pumpkin spice meets curry: with fragrant cinnamon, cloves and cardamom complimented by savory cumin, black pepper and coriander, though the particular spices and proportions will vary greatly from one recipe to another.
It's those pumpkin-spiced notes that make it such a perfect compliment for sweet potatoes, which around this time of year are usually smothered with brown sugar, cinnamon, and marshmallows. But unlike those sticky sweet iterations, the savory spices in garam masala make this dish particularly pleasing. So the next time you can't decide whether to cook sweet potatoes in a sweet or savory manner: garam masala lets you have both at the same time.
The Spice Hunter's Garam Masala Blend has just the right amount of earthiness, plus a balanced sweetness and warming heat, making it perfect for this satisfying holiday recipe.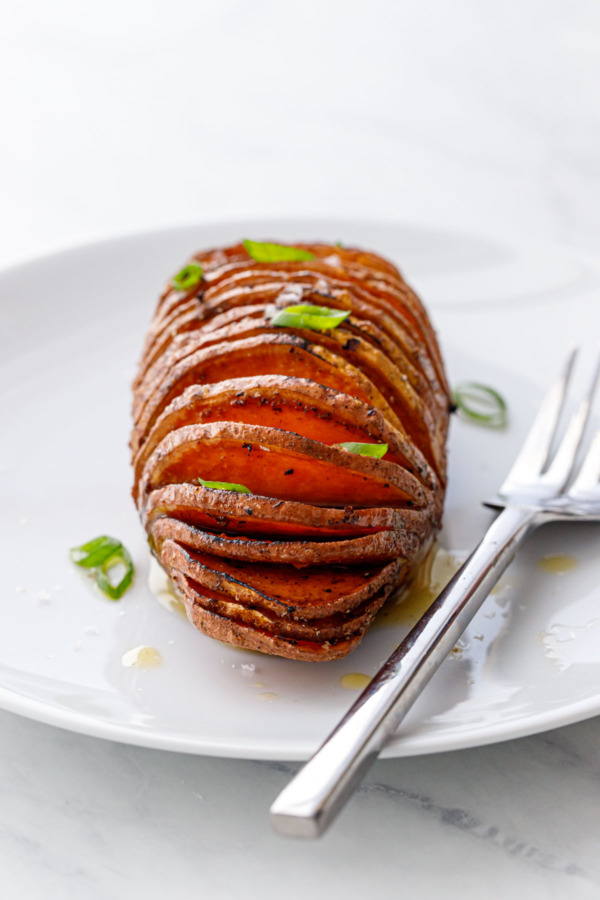 The method of cooking potatoes hasselback-style originated in Sweden, where potatoes were sliced very thin to allow for even cooking with crispy skin and creamy insides. That same method works equally well for sweet potatoes, which come out of the oven with beautiful crispy skin and silky smooth, tender flesh.
Yes, there might be a bit more work involved than a standard baked sweet potato, but the end result is way more impressive (not to mention much more fun to eat).
We topped our garam masala-spiced hasselback sweet potatoes with some sliced green onion to urge it more towards savory, toasted pumpkin seeds or crispy bacon bits would be good too. You could also top them with candied pecans, marshmallows or even a sprinkle of brown sugar if you prefer things sweet… this recipe can really go either way.