Back when I was brainstorming freezer meals for maternity leave, I wanted to figure out a burrito that would pack loads of veggies, protein, and nutrients, and still be something that I craved when I was exhausted and starving. I achieved that here, and I'd like to thank a giant pile of queso fresco for the assist. Queso fresco is so darn good, fresh, and salty. I purposely only called for 8 ounces in this recipe when the standard block at my grocery store is 10 ounces, so that I could have 2 ounces leftover to nosh on. This filling is sooo flavorful, it has the perfect balance of smoky, salty, sweet, spicy, fresh, and bright… you could eat it with a spoon. And of course it's only made better when swaddled up in a soft nutty whole wheat tortilla. Homemade tortillas will make these truly bonkers, but of course store-bought will work too.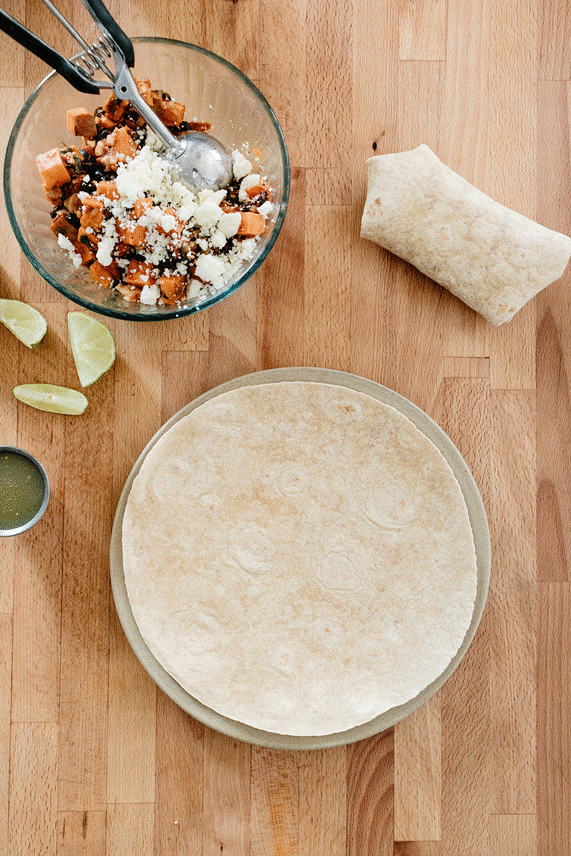 ---
Sweet Potato and Black Bean Freezer Burritos
makes 8
Ingredients
1 lb sweet potatoes, chopped into 1/2" cubes
3 tb olive oil, divided
Kosher salt
1/2 yellow onion, finely chopped
1 jalapeño, seeded and finely chopped
2 cloves garlic, minced
1 tb tomato paste
1 tb chili powder
1/2 tsp dried oregano
1 (14 oz) can black beans, drained and rinsed
1 (14.5 oz) can chopped tomatoes
2 c (3 oz) fresh spinach
8 oz queso fresco, crumbled
A handful of chopped fresh cilantro
Black pepper
Hot sauce, to taste
Juice of 1/2 lime

8 10" whole wheat burritos (store-bought or homemade, using a double batch of this recipe and subbing half the flour for whole wheat flour)
Clues
Preheat the oven to 425ºf. Toss the sweet potatoes in 1 tablespoon olive oil and spread out on a sheet pan. Season with a couple of good pinches of salt and roast for 20 minutes, tossing halfway through. You'll want them to still have a bit of a bite because when you reheat the burritos, the potatoes will continue to cook. (If you want to eat these now and not freeze them, add another 10 minutes to the baking time, until the potatoes are tender.)
In a large skillet, heat the remaining 2 tablespoons olive oil over medium high heat. Add the onion, jalapeño, and a pinch of salt and cook, stirring, until soft, 5-7 minutes. Add the garlic, tomato paste, chili powder, and oregano and cook for another minute. Add the black beans, tomatoes, and spinach and simmer for about 7-10 minutes, stirring, until the spinach has wilted and most of the liquid has cooked off. Add the sweet potato, queso fresco, cilantro, a few turns of black pepper, hot sauce, and lime juice. Taste and adjust as desired. Remove from heat.
Fill the burritos with about 3/4 cup filling per tortilla. Wrap with plastic wrap, label, and freeze for up to 3 months. To reheat, remove plastic wrap and wrap in a paper towel or parchment. Microwave for 2 1/2-3 minutes, flipping once, until heated through. Let cool slightly and enjoy!
If you want to bring these to the next level, heat a skillet with a thin layer of oil and grill the burritos on each side until browned and crisp.
Print this recipe
---
-yeh!
photos by chantell and brett quernemoen