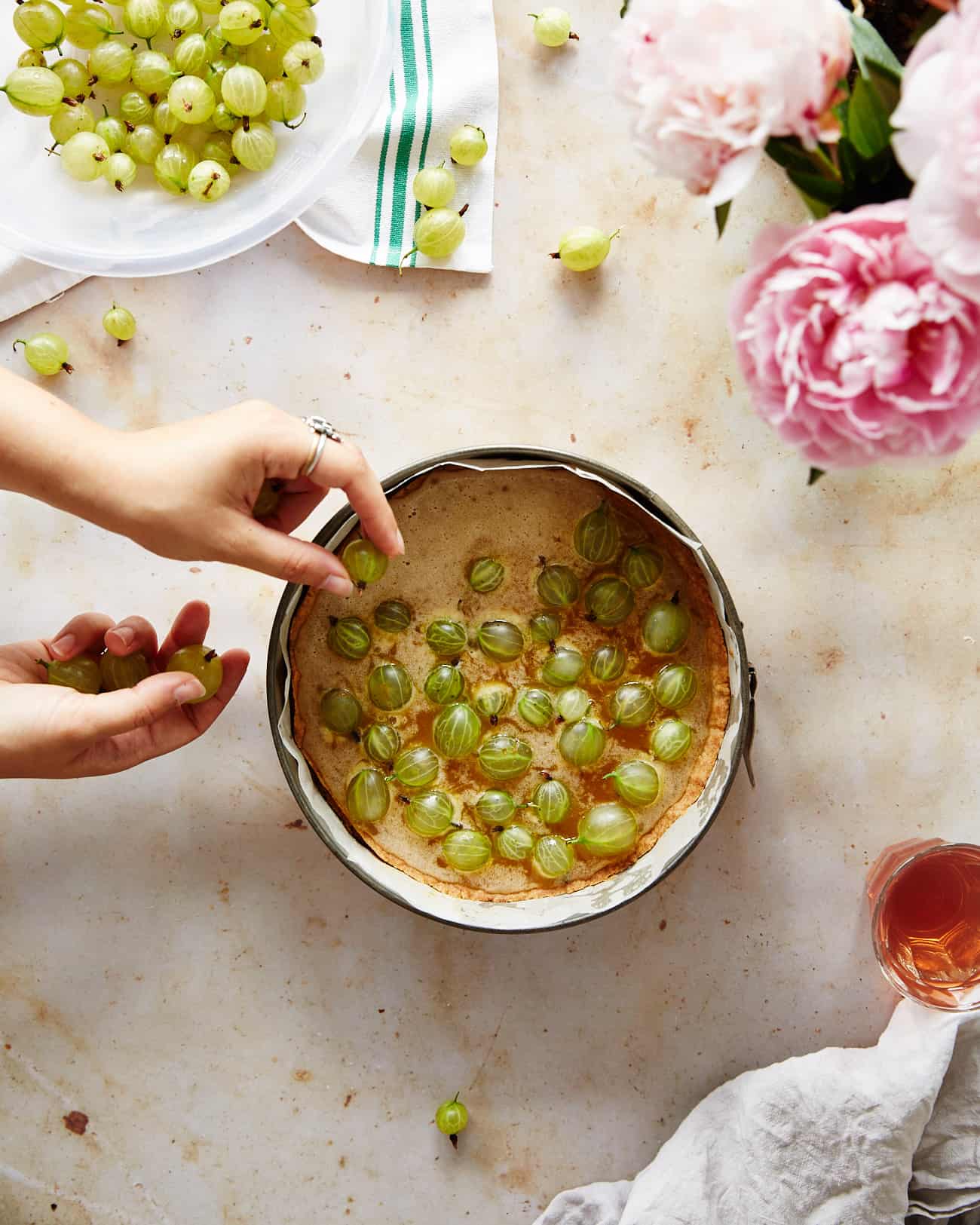 This post has been updated as of July 2021
Gooseberries are such a funny fruit, often covered in fine hairs with a translucent green (or pink!) colour and COME ON, that NAME! My boyfriend and I keep calling them geese because… we are incredibly easy to entertain.
The berries are pretty sour by themselves with small seeds inside, they cook down into a soft, squishy compote. Their sour nature means you basically have to have them cooked in a dessert as the sugar is essential. This brown butter gooseberry tart is SO good, it's incredibly easy to make because of a melt & mix press-in crust which means that all you pastry-making haters out there can rejoice. The filling is also a doddle to make and results in a custardy, creamy texture bursting with tangy gooseberries.
The recipe is adapted from this one by Bon Appetit from 2009! My mum made a version of it with rhubarb from The Bojon Gourmet before so I knew it was bloody delicious. The gooseberries are the perfect fruit for this tart as it is quite sweet itself. The sourness of the fruit balances that out so well and is a lovely dinner party dessert as you can make it ahead of time.
The easiest pastry you'll ever meet: Melt, Mix & Press-in Pastry
As mentioned above, this pastry is not your usual shortcrust! It's made by melting the butter (usually a forbidden thing to do in pastry making) and mixing in the dry ingredients. This results in a crumbly, slightly damp-feeling dough which is easy to break up into small pieces and press into the tart tin. No need to roll out the dough i.e. less mess & less stress. Honestly it's the ideal pastry for warmer weather as it's not reliant on everything staying cool.
I like to include a bit of wholegrain flour in my pastry for a boost to the flavour e.g. wholemeal pastry flour, buckwheat flour or dark rye flour. However, you can just go with all white flour if that's what you've got!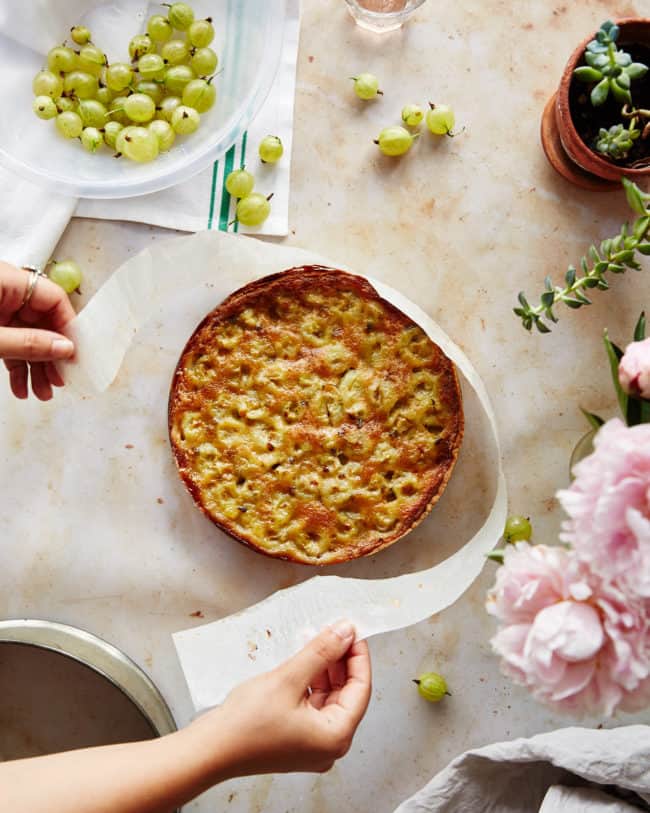 Easy custard filling
The filling is made of mostly melted butter, eggs and sugar with a bit of flour for thickening. It's a bit like a custard-y frangipane as it has some almond extract mixed in there too (although you can leave the almond extract out as I know some people hate it!). The filling is quite sweet but, since the gooseberries are V SOUR, it all balances out perfectly.
Adapting the recipe to use different fruits
You can easily swap out the gooseberries for other fruits. I think small-ish stone fruits would be delicious here – like sliced plums, damsons or apricots. You may just want to decrease the sugar content of the filling by 15-20% as these fruits are sweeter than gooseberries. The original recipe from Bon Appetit uses raspberries & I've seen it made with rhubarb too which are both quite sour fruits and work great. Other ideas could be pitted cherries, blackcurrants (sour!), blackberries or strawberries.
I think this tart could even be baked without any fruit in it & instead you could top it with fresh summer fruits (like strawberries or peaches) piled on top post-bake.
Hope you enjoy this one! It has become a firm fave of mine.
Brown Butter Gooseberry Tart
Total Time:
1 hour
20 minutes
Ingredients
For the crust:
100g (7 tablespoons/ 3.5 ounces) unsalted butter
50g (1/4 cup) granulated sugar
60g (1/2 cup) buckwheat flour OR wholemeal pastry flour
70g (1/2 cup + 1 tablespoon) plain white flour
1/4 teaspoon salt
For the filling:
110g (1/2 cup) unsalted butter
100g (1/2 cup) granulated sugar
2 medium UK eggs (large US eggs)
pinch of salt
1/2 teaspoon vanilla extract
1/4 teaspoon almond extract (optional)
30g (1/4 cup) plain white flour
350-400g (12.5-14.2 ounces) gooseberries
Instructions
Make the crust:
Preheat the oven to 180°C (350°F). You'll need a 9-inch tart or cake tin with a removable base - if using a cake tin, line the sides of the tin with some baking paper.
Place the butter (for the crust) in a medium pot and melt over a medium heat. Once melted remove from the heat and set aside.
Combine the remaining crust ingredients in a medium bowl. Pour in the melted butter and mix until combined.
Crumble the crust dough into the tart/cake tin all over the base. Press the crust in an even layer around the base and up the sides of the tin (if using a cake tin, the crust should come up the sides by ~1 inch).
Bake for 15-20 minutes until the crust is starting to go golden - it may have puffed up slightly, this is fine. Remove from the oven and set aside.
Make the filling:
Grab the pot you used earlier to for melting the butter. Add the 110g (1/2 cup) of butter for the filling to the pot. Place over a medium-low heat and allow the butter to melt. Keep cooking it until it foams up and smells nutty then remove from the heat and stir to prevent the milk solids sticking to the pot. The butter should be golden with brown flecks at the bottom of the pot.
In a medium bowl (you can use the bowl you used earlier for the crust) combine the sugar, eggs, salt, vanilla extract and almond extract. Whisk together to combine until smooth.
While stirring, pour a thin stream of the browned butter into the egg mixture until all poured in (including the browned bits at the bottom of the pot). Add the flour and stir to combine.
Pour the filling into the tart/cake tin with the baked crust. Top with the gooseberries. Place the tin onto a baking sheet (to catch any butter/liquid that may seep during baking).
Bake for 35-40 minutes until the filling is golden and a tester inserted into the middle of the tart comes out clean. Set aside on a wire rack to cool completely before cutting and serving.
Have you made this recipe?
I'd love to see how it went! Tag me on instagram @izyhossack and hashtag it #topwithcinnamon so I can see your beautiful creation & reshare in my stories!
The post Brown Butter Gooseberry Tart appeared first on Izy Hossack - Top With Cinnamon.