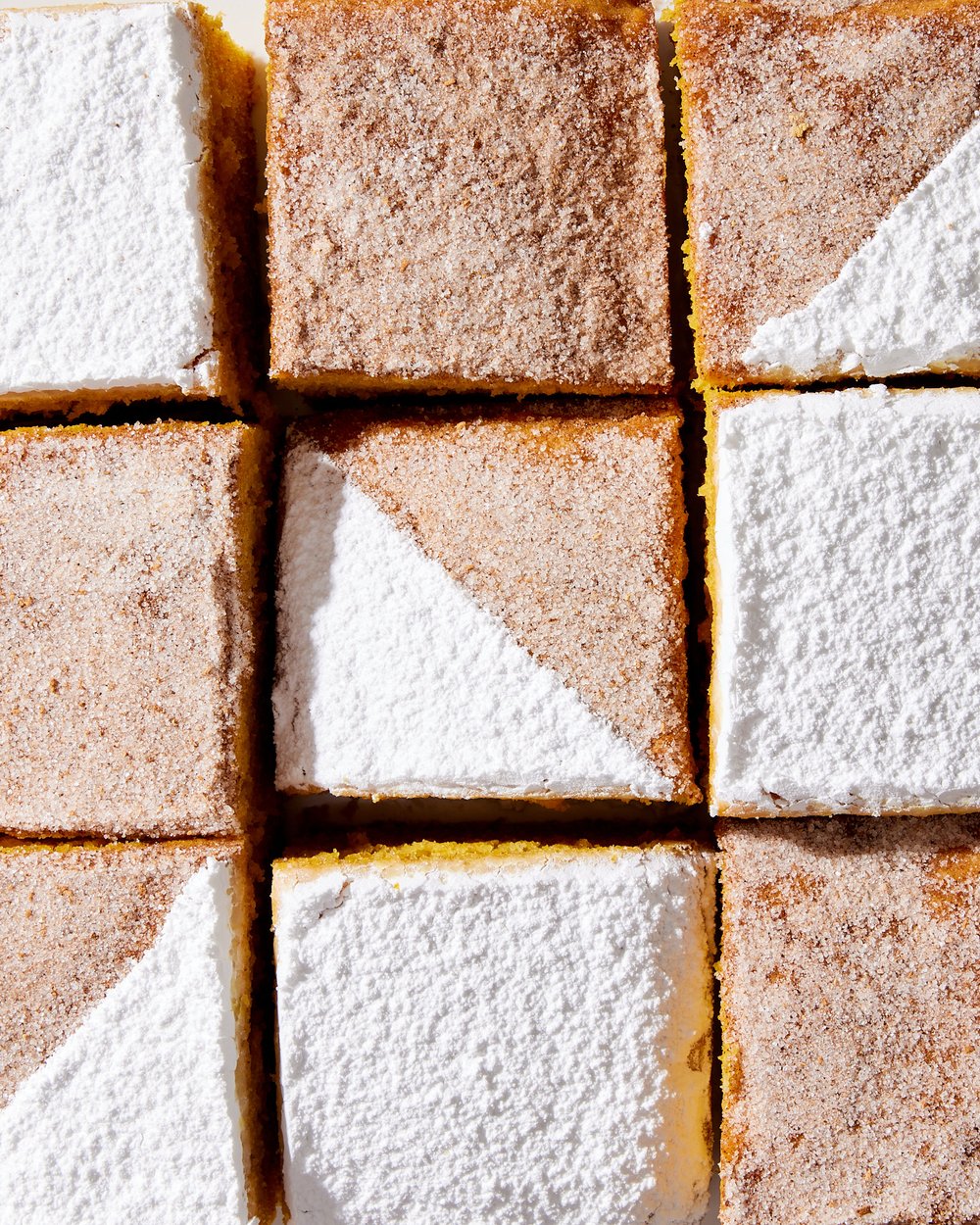 This cozy and sweet pumpkin cake is a riff on the super popular powdered donut cake from my book Snacking Cakes. All you need is a bowl, whisk and pan to put this perfect little fall cake together in less than an hour. It is packed with lots of fall (pumpkin!) spices, pumpkin puree and buttermilk just enough sweetness to be a treat. This cake keeps well for a few days on the counter so you can enjoy it one sliver at a time, you can also freeze the cake without the topping for a rainy day.
---
Pumpkin Spice Donut Cake
Makes 1, 8-inch square or 9-inch round cake
Cake
3/4 cup (150g) granulated sugar
2 large eggs
3/4 cup (165g) pumpkin puree
1/2 cup (100g) well shaken buttermilk
1/2 cup (113g) unsalted butter, melted
1 teaspoon pumpkin spice blend
1/2 teaspoons freshly grated nutmeg
3/4 teaspoon kosher salt
1 3/4 cups (225g) all-purpose flour
1 1/2 teaspoons baking powder
1/4 teaspoon baking soda
Topping
1 tablespoon unsalted butter melted
3 tablespoons confectioners' sugar or 2 tablespoons granulated sugar mixed with 1 teaspoon pumpkin spice

Make the cake: Position an oven rack to the center of your oven and preheat the oven to 350F. Butter or coat an 8-inch square baking pan with nonstick spray. Line the pan with a strip of parchment paper that hangs over two of the edges.
In a large bowl, whisk the granulated sugar and eggs until pale and foamy, about 1 minute. Add the pumpkin, buttermilk, butter, pumpkin spice, nutmeg, and salt. Whisk until smooth and emulsified.
Add the flour, baking powder, and baking soda. Whisk until well-combined and smooth.
Pour the batter into the pan and bake the cake until puffed and golden, and a skewer inserted into the center comes out clean, 30 to 35 minutes. Set the pan on a rack to cool for about 15 minutes. Then use the parchment paper to lift the cake out of the pan and set it on to the rack to cool almost completely.
To Assemble: While the cake is just warm to the touch, brush the top with the melted butter and dust with the confectioners' sugar or spiced sugar you should have a nice thick layer of sugar - more than you think might be necessary. (Store the cake, covered, at room temperature for up to three days. The cake will absorb the sugar on top, so it might need a fresh dusting of confectioners' sugar after the second day.