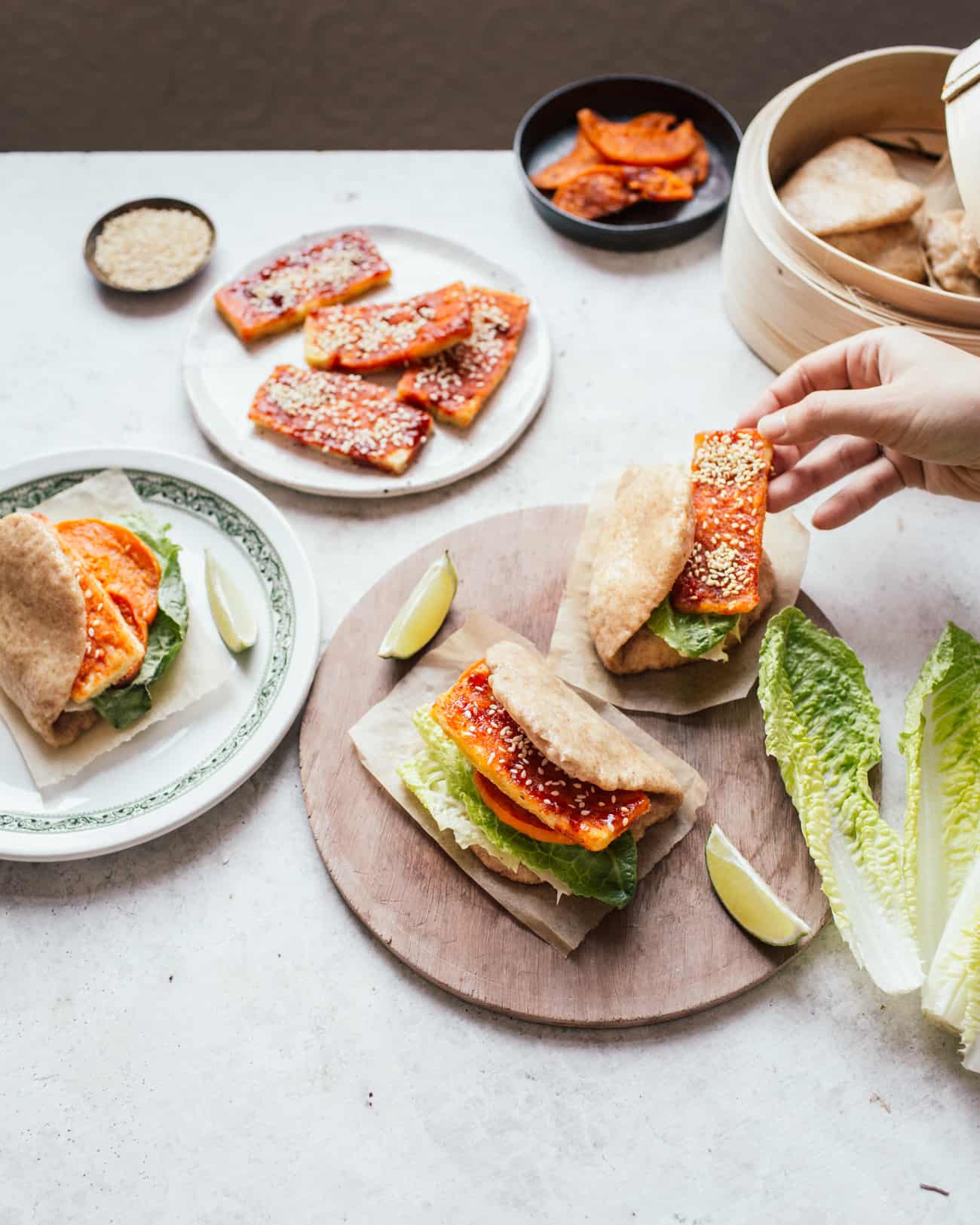 After having Korean fried chicken in a restaurant a while ago, *that* spicy gochujang sauce stuck in my mind. It's like a grown up version of the sauce on sweet & sour chicken. I made it at home, using it to coat crispy tofu (coated in cornstarch and pan fried) to stuff into pillowy soft bao buns.
I actually made these a while ago but never got round to posting the recipe! Now that I've been going a bit bao crazy I thought I would get this one up on the blog at the same time so there are some filling options for people to look at. We used this sauce last night for coating katsu seitan and it was epic – we had it with pickled radish/red onion and carrot ribbons which was a great combo. I think the sauce would work well on katsu sweet potato for an easy option.
These are a bit 'involved' since you do need to do the whole tofu pressing, coating & frying situation. I also roasted some butternut squash to go in the buns but you can leave it out if you want (or use something seasonal like roasted carrots instead). However, once you've done the prep it's easy to keep the components warm or reheat them, making the whole thing perfect for when you have a few friends round.
You can get frozen bao from Chinese supermarkets or, if you want to make them yourself, see my post for an in-depth recipe with some helpful shaping GIFs.
Crispy Gochujang Tofu Bao Buns
Yield:
12 buns (serves 3-4)
Ingredients
Squash:
1/2 a butternut squash, peeled
1 tablespoon vegetable oil
Sauce:
3 tablespoons gochujang
2 teaspoons dark soy sauce
1 clove garlic, finely minced
1 teaspoon finely grated ginger
1 tablespoons rice vinegar
2 tablespoons maple syrup
1 teaspoon toasted sesame oil
Tofu:
340g (12 ounces) extra firm tofu
50g (1/2 cup) corn flour (cornstarch)
2-4 tablespoons vegetable oil, for frying
1 tbsp sesame seeds
To serve:
Instructions
For the squash:
Preheat the oven to 180°C (350°F).
Cut the butternut squash into pieces about 5mm (1/4 inch) thick. Toss with the vegetable oil on a baking tray. Roast for 30-40 minutes, flipping halfway through roasting, until starting to turn brown around the edges.
For the sauce:
Mix all of the sauce ingredients in a medium bowl until smooth. Add a bit of water if needed to thin it out so it's drizzleable.
For the tofu:
Press the tofu: drain the tofu, wrap in 2 layers of kitchen towel and place on a cutting board. Top with another cutting board and place something heavy (like a few cookbooks) on top. Let sit for 30 minutes to drain.
Unwrap the tofu. Cut into 12 planks.
Place the corn flour in a wide, shallow bowl. Toss the tofu in it to coat well, shaking off excess.
Heat 2 tbsp of oil in a deep frying pan over a medium heat. Once the oil is hot add the coated tofu in a single layer and fry on both sides until crisp.
Remove to a dish lined with paper towel to drain. Repeat the frying with the remaining tofu, adding more oil to the pan if needed.
Once you've fried all of it, toss the tofu into the bowl of sauce and stir to coat. Sprinkle with the sesame seeds.
Keep warm in an oven at 100°C (215°F) until serving.
Warm the bao:
Place the bao into a steamer and cover with the lid. Fill a wide saucepan with a ~1 inch depth of water and bring to the boil over a medium heat. Turn the heat down to low then place the steamer into the pan.
Steam for 5-6 minutes if they were frozen, or 2-3 minutes if they're fresh.
Assemble:
Take the warm bao and fill with a leaf of gem lettuce, some of the warm crispy tofu and a piece of butternut squash.
Eat warm!
Notes
Gochujang is a spicy, Korean fermented chilli paste. It can be found in many Korean or Chinese grocers and even in larger supermarkets in the 'world food' aisle.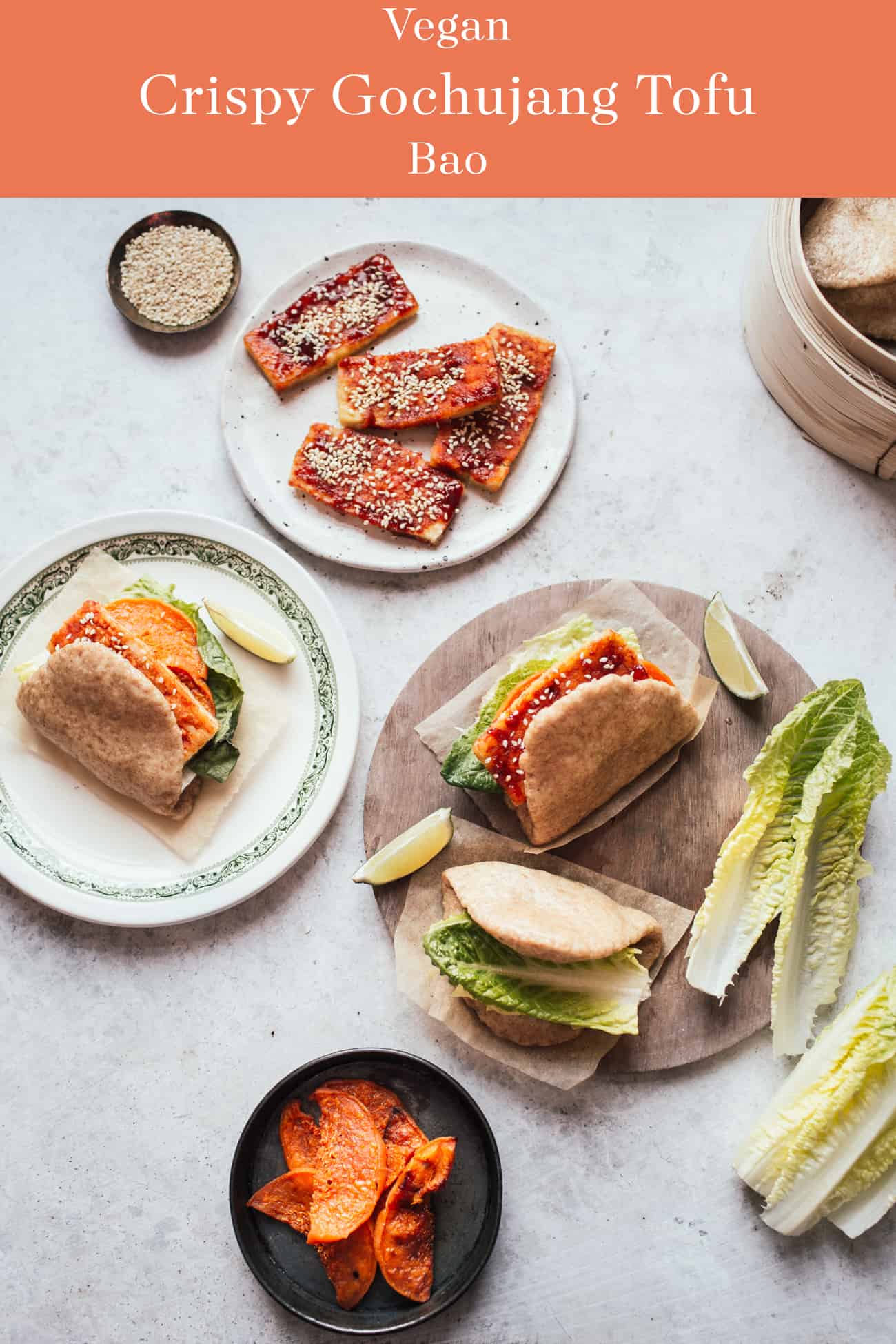 Have you made this recipe?
I'd love to see how it went! Tag me on instagram @izyhossack and hashtag it #topwithcinnamon so I can have a look & reshare in my stories!
The post Crispy Gochujang Tofu Bao Buns (vegan) appeared first on Izy Hossack - Top With Cinnamon.