Toast and raspberry jam, now in ice cream form. Or, to be more descriptive, toasted brioche ice cream with a swirl of hibiscus raspberry caramel (I mean, how good does that sound?!)
How do you turn your favorite morning toast and jam into a delectable dessert? Start with a sweet custard ice cream base base, infused with actual toasted bread (trust me, it sounds weird but it's actually amazing), and then swirl with a jammy hibiscus raspberry caramel sauce.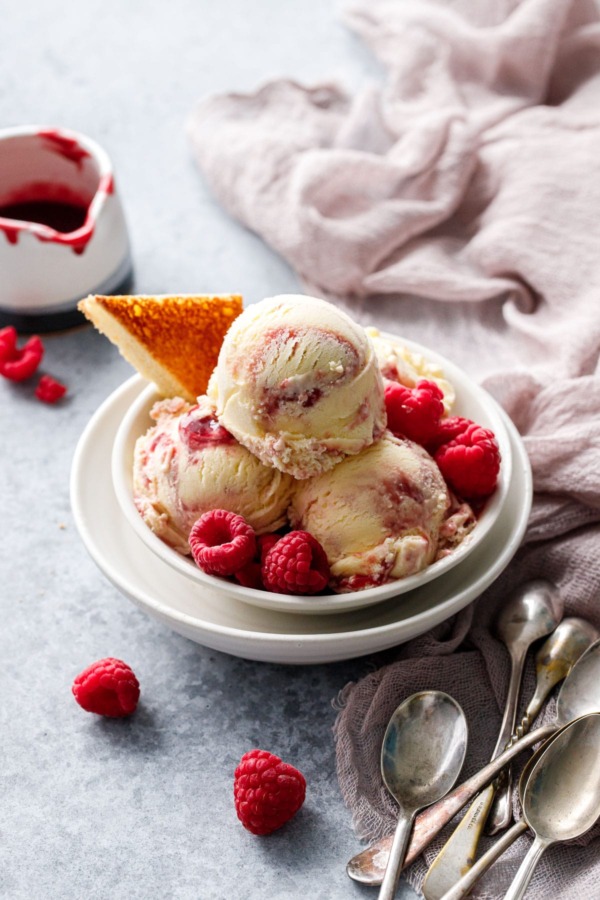 My thought process for this recipe was pretty convoluted, over the course of a few weeks I somehow went from a black sesame ice cream to this final toast and jam-inspired flavor. There was a peanut butter iteration in there somewhere too (think fancy PB&J) but ultimately I ended up here, with this toasted brioche ice cream and raspberry caramel ripple.
Much like my Sourdough Ice Cream, the custard base of this unique flavor is infused with actual bread; toasted brioche, to be exact, though you can pretty much do this with any kind of bread (whatever your favorite bread is for toast? Use that).
It's always surprising to me how much flavor the bread imparts on the cream after a short 30 minute steep. I really didn't think it would work the first time I tried it, and was simply floored when I snuck a spoonful of the freshly churned ice cream.