No one likes a watery pizza. That's why our favorite homemade pizza sauce is extra thick, like bordering on tomato paste-thick, not to mention packed with garlic, herbs, and an intense tomato flavor.
While you might be tempted to use a pizza sauce straight from the jar, we find most commercial sauces far too thin for our tastes, resulting in sad, soggy pizza centers. If chewy, crispy-bottomed pizza crust is your jam (it sure is ours), we find the extra time to make a batch of this extra-thick homemade sauce is well worth the effort.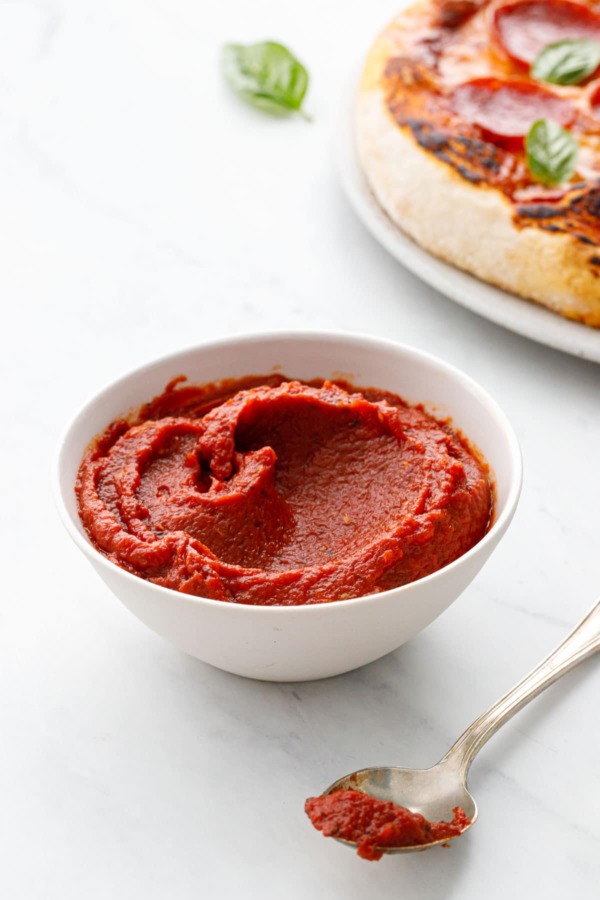 The texture of this extra-thick pizza sauce falls somewhere in between tomato sauce and tomato paste, probably leaning more towards the paste end of the spectrum when all is said and done.
The flavor is so intense you really only need a few spoonfuls on your pizza (2-3 tablespoons is just about right for a 9-inch two person pizza); that small quantity packs the same amount of flavor without the extra liquid.
Seasoning-wise it's deceivingly simple, just a bit of garlic sautéed in olive oil, salt, pepper, and dried Italian herb seasoning to help enhance the tomato flavor even further.
Paired with our favorite pizza crust recipe and assorted toppings of your choice, you're in for a truly epic pizza night.