Doubling down on all things green with these matcha and pistachio shortbread cookie bars. A buttery, melt-in-your-mouth texture and a crunchy granulated sugar topping will have you clamoring for more.
This flavorful twist on a classic butter shortbread is a matcha made in heaven, combining two green ingredients in one brightly colored cookie that has a unique flavor that's all its own.
So you know those sound illusions where you can trick your brain into hearing a completely different word depending on what you're focusing on? (Yanny/Laurel is the one example that went viral not too long ago).
Well, this recipe is sort of like that, with a combination of matcha and pistachio (what would you call that… Mastachio? Pistacha?)
Take a bite and think matcha, and you'll taste bright and grassy matcha.
Think about pistachio and you'll definitely taste the nuttiness.
Think about nothing specific and you'll just taste pure deliciousness, sweet and salty and just plain lovely.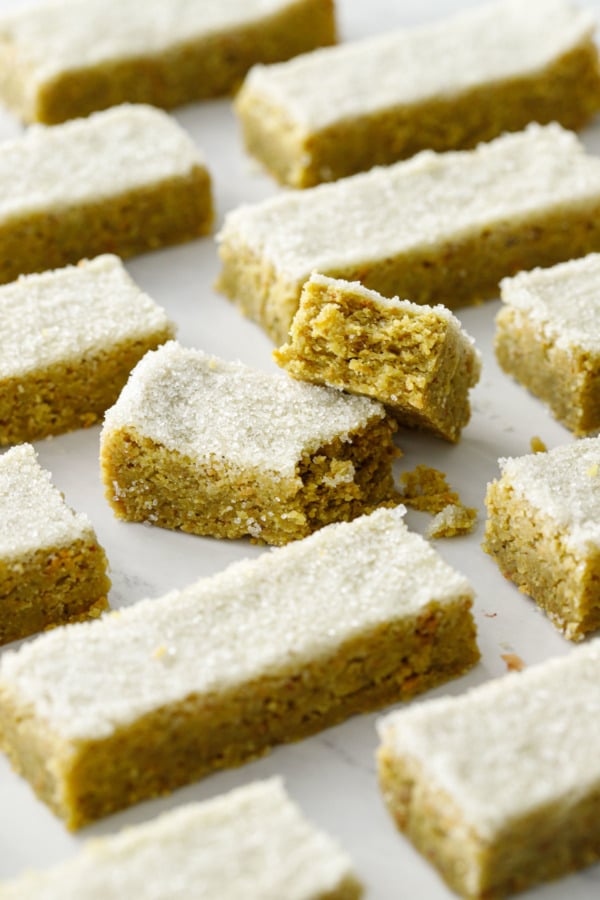 This is a more traditional shortbread than my previous shortbread recipes: the most notable difference being the lack of egg here. While the egg adds stability for sure, it's definitely not a traditional shortbread and results in a texture more like a sugar cookie. This eggless shortbread has a 'shorter' texture, short being the moniker used to describe that crumbly, melt-in-your-mouth characteristic that's so unique to shortbread.