These savory cheddar cheese waffles are much more versatile than their sweet counterparts, no matter whether you enjoy them for breakfast, lunch, or dinner. We personally love them paired with fried chicken or dipped in ranch dressing (or both at once, if we're being honest), but truly, the possibilities are endless.
The perfect waffle is light and airy in texture with delightfully crisp edges, and these savory waffles are most certainly that. In fact, addition of cheese in this recipe takes that crispness to a whole other level. (You know that ruffly layer of crispy cheese you get when your grilled cheese overflows? That same magic is in effect here.)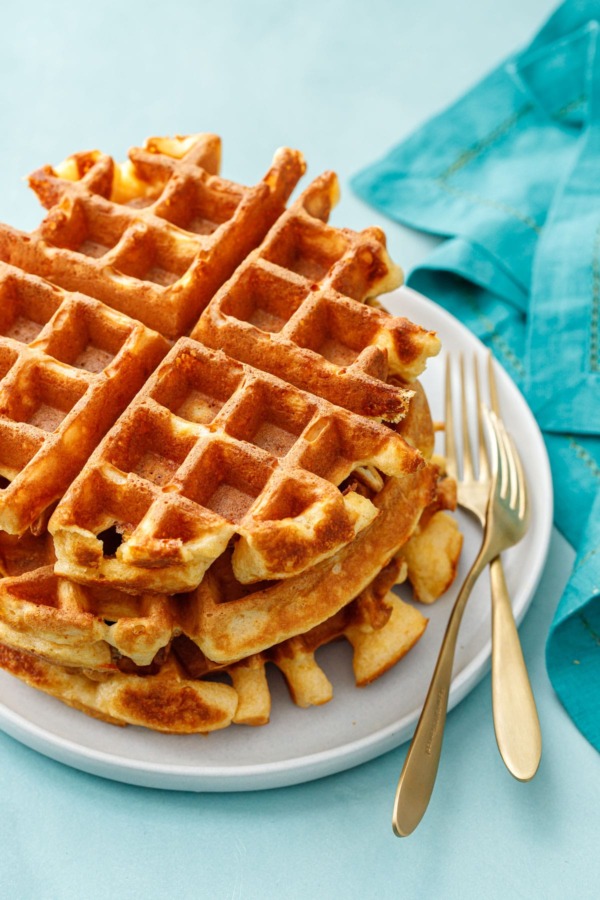 I recently had a hankering for waffles, but was (as usual) undecided as to just what kind I should make. My initial thoughts were to try a sourdough waffle using my somewhat neglected starter, but I couldn't decide between Belgian or Liege waffles (the kind that use pearl sugar inside for a really unique texture). I even toyed with trying out an olive oil waffle that uses oil in place of melted butter.
Flummoxed, I posed the question to my facebook group, whose opinions I value greatly (seriously, awesome folks over there, you should join us!) I ended up adding a few other waffle options off the top of my head, including both Belgian and Liege, olive oil, as well as a savory cheese waffle (because why not?)
Well, the cheese waffle blew the other options out of the water. Which really surprised me, but hey, I'm all for giving the people what they want.
So we ate waffles for dinner for three nights in a row, perfecting this recipe. And perfect it most definitely is.