No bake pumpkin cheesecake is an easy, creamy dessert for the holidays! Full of pumpkin and spice flavors, these mini cheesecakes are perfect for entertaining.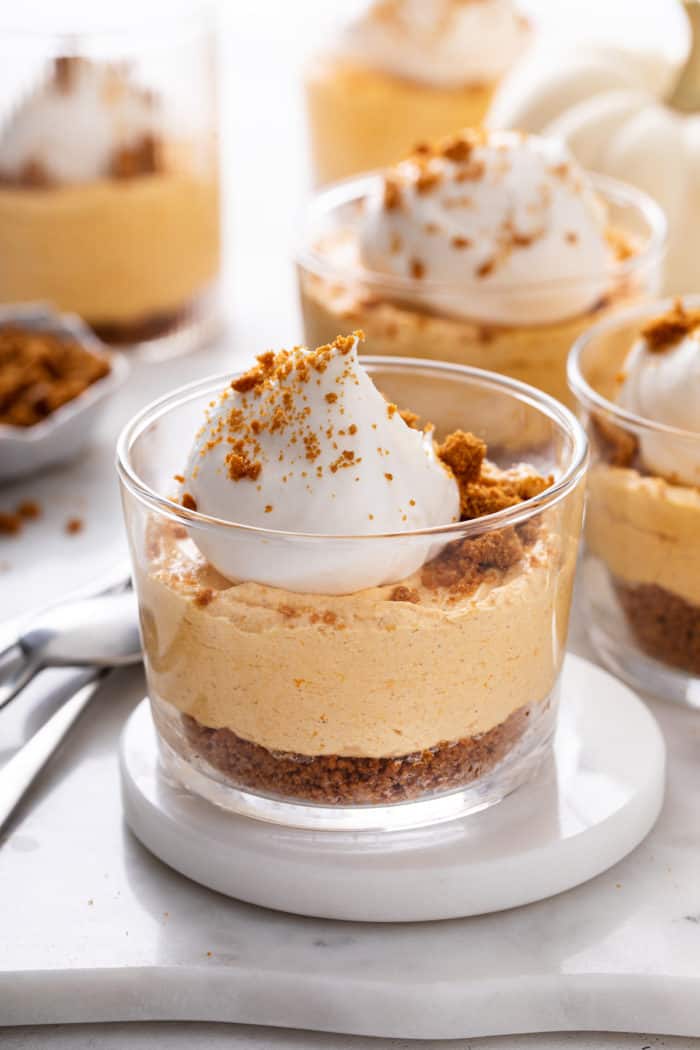 When it comes to the holidays, the last thing I want to do is be fussing around in the kitchen.
Don't get me wrong, I love a good meal. But give me quick and easy dishes so I can spend time with my family, not focused on the oven.
That's why I absolutely love no bake cheesecakes. Yes, I love all my cheesecake recipes, but with no-bake cheesecake you get the luscious, creamy flavors you expect with a fraction of the time.
No bake cheesecakes are just as customizable as regular ones too, so you can make no-bake peach cheesecake in the summer and this creamy pumpkin spice cheesecake in the fall and winter.
This no bake pumpkin cheesecake is a little different from my classic no-bake cheesecake because pumpkin puree is folded into the batter in place of some of the cream cheese.
We also amp up the flavor with classic pumpkin pie spice and a Biscoff cookie crust. Honestly, I might like this dessert even better than baked pumpkin pie!
Plus, because these cheesecakes are made in individual servings, they're great for serving at parties or part of a dessert spread.
(more…)
The post No Bake Pumpkin Cheesecake appeared first on My Baking Addiction.