Savor springtime with these luscious strawberry and matcha tarts: with a rich matcha pastry cream filling and ripe fresh berries, it's a unique combination your tastebuds will adore!
My love for matcha is more than a spring fling, and this tart is no exception. The natural sweetness of the strawberries is the perfect contrast for the grassy bitterness of the matcha.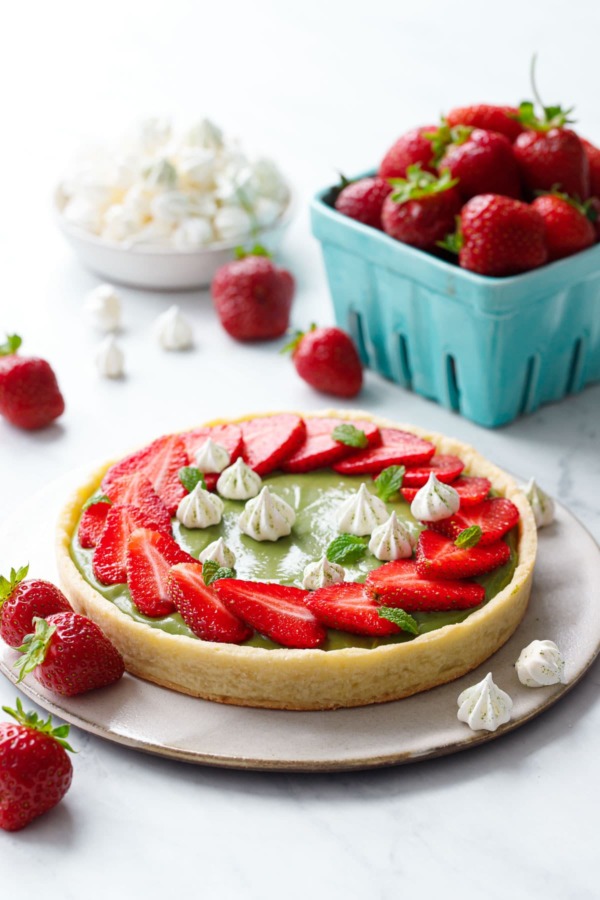 "I think we might go to the Clarksville place and pickup strawberries in just a bit. Want some?"
More exciting words have rarely been spoken. Or texted, in this case, by my friend Phillip on Friday afternoon.
Normally this time of year we'd have already made at least one trip out to one of the U-Pick strawberry farms within a 45 minute drive of Nashville, where we'd fill our buckets with more berries than two people could feasibly eat before they went soft. Some would be undoubtedly eaten straight from the fields, and more than a couple snuck from the tupperware container on the drive home. Some we'd freeze, a couple pounds would invariably make their way into some kind of jam. And the rest… well, I usually had some sort of springy strawberry concoction up my sleeve. From fresh strawberry pie to chocolate strawberry ice cream, strawberry blondies and even strawberry-topped guacamole, if you scroll back through the archives you'll surely notice a few new strawberry recipes pop up each and every May.
But this year has been different for many reasons. So Phillip's text took me off-guard, and I hadn't had time to plan and scheme about what exactly I would do with all those berries. Although that didn't stop be from replying that I'd take a gallon! without a second thought.
When he dropped off the flat of beautiful, glossy berries (seriously though, I'm not sure if I've ever seen such pretty strawberries), I spent some time photographing them (as you do with pretty fruit)… but beyond that, I was stymied. Stumped. At a complete loss.
I know I've been a bit quieter here than usual, my 2-post-a-week streak long since broken, so I knew I had to put these berries to use in a way that would be worthy of a blog post. And that pressure, well, it paralyzed me. I simply couldn't decide what to make, and the clock was ticking (unlike the white and crispy grocery store berries engineered for storage and transport, these local berries were picked at the peak of perfection, but that perfection doesn't last long).
I wanted a recipe that was interesting, not the same basic cake or tart that's been done before. But I also didn't want something too complex, something that I'd have to test 2, 3 or 4 times to get it right, and also since I know we're all taking fewer trips to the grocery store these days, and ingredients aren't quite as easy to acquire. (Case in point: I didn't even have a drop of heavy cream, which ruled out pretty much any sort of shortcake-take. On the plus side, I guess that cut down infinite possible choices to a less staggering number.)
Ultimately, after much hemming and hawing, I decided on a simple strawberry tart, one that would shine a spotlight on the beauty of the ruby red berries in their freshest form.
But, if you know me, you know I can't leave well enough alone, and so a plain strawberry tart was out of the question. Most recipes call for a base of pastry cream that is then topped with a starburst or swirl of fresh sliced strawberries, and that pastry cream base was ripe (no pun intended… ok, maybe a little intended) for adaptation.
My choices having being limited even further, I now debated between almond pastry cream, or something slightly wackier, a vibrant green from either matcha or pistachio (you know how much I adore both of these ingredients).
Matcha ultimately won the day.