Is there anything quite like the rich, tangy, and umami-filled flavor of Caesar dressing? It's no wonder Caesar salads are relatively simple. With a dressing like that, you don't need much else! Homemade Caesar dressing is also very simple, despite its complex flavor, so don't shy away from making it yourself at home. Our simple recipe takes has all that bold flavor you'll find with a restaurant dressing made with just a few simple ingredients (and maybe just one special ingredient 😉).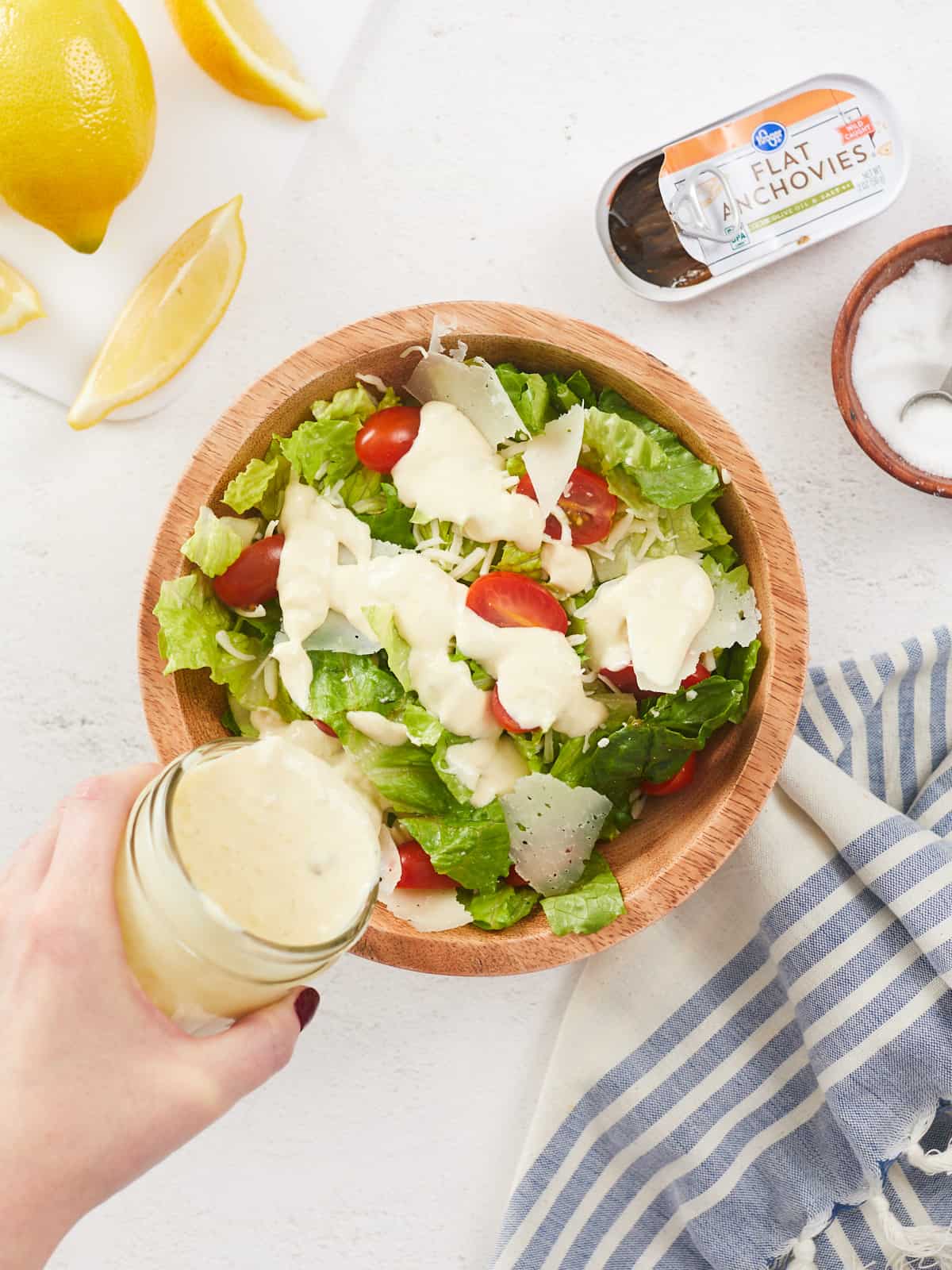 What is Caesar Dressing?
Caesar dressing is a rich and tangy dressing with strong savory and umami flavors balanced with bright acidity and flecks of vibrant black pepper. It's typically served over a simple bed of crisp Romaine lettuce, with freshly grated Parmesan, croutons, and sometimes a protein like chicken, salmon, or shrimp.
Ingredients for Caesar Dressing
You only need a few simple ingredients to make homemade Caesar dressing, and our version is even faster and easier thanks to the use of mayonnaise instead of making our own egg and oil emulsion. Here's what you'll need to make your own homemade Caesar dressing:
Garlic: Fresh garlic provides both a savory flavor and a little kick of heat to the dressing.
Anchovies: These little fish add a ton of deep umami flavor to this dressing, which really sets it apart from other creamy salad dressings. And don't worry, it doesn't make the dressing taste like fish! It just adds some subtle, deep, savory flavor.
Lemon: You'll use both the juice and zest from a fresh lemon for this recipe. The juice provides acidity, while the zest adds a nice fresh flavor to balance the savory anchovies.
Mayonnaise: Making Caesar dressing from scratch usually involves emulsifying egg and oil to make a creamy dressing base, but we took a shortcut by using mayonnaise, which is pre-emulsified egg and oil! Easy peasy!
Dijon Mustard: Dijon adds another layer of slightly tangy flavor to the dressing.
Parmesan: Nutty Parmesan cheese makes the dressing even more rich, and punches up the umami flavor even more.
Black Pepper: Flecks of spicy black pepper add pops of flavor to Caesar dressing so that no bite is boring!
How to Store Caesar Dressing
Homemade Caesar dressing can be stored in the refrigerator in an air-tight container for 4-5 days. If you don't think you can eat the entire batch within that time, use the serving adjuster in the recipe below to make a half batch and reduce waste. We don't recommend freezing homemade Caesar dressing as it will likely separate upon thawing.
How to Use Caesar Dressing
Caesar salads are the obvious way to use Caesar dressing, but this mouth-wateringly delicious homemade dressing is great on a lot more than just salad! So don't let your leftover dressing go to waste. Try using Caesar dressing in these creative ways:
Drizzle over roasted vegetables
Use it a sandwich spread
Use it as a dressing for pasta salad
When breading chicken or fish, use Caesar dressing in place of the eggwash
Toss chicken wings in Caesar dressing instead of buffalo sauce
Use it in the place of dressings for chicken and tuna salads, or coleslaw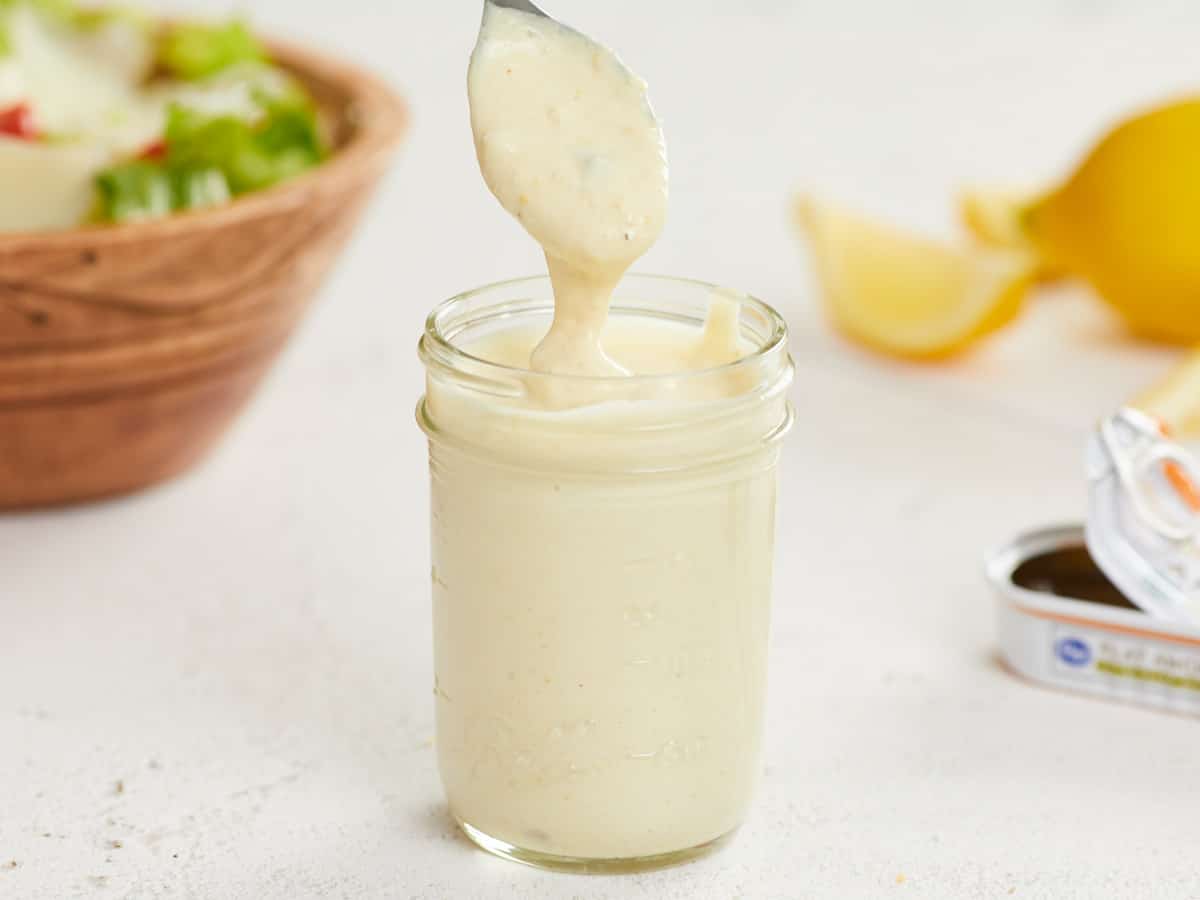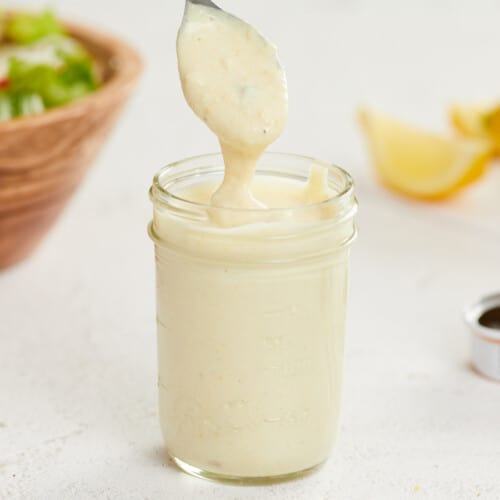 Print
Homemade Caesar Dressing
This rich, tangy, and flavorful homemade Caesar dressing is easy to prepare, and will take all your homemade salads to the next level.
Instructions
Zest and juice the lemon. You'll need about 3 Tbsp juice and 1 tsp lemon zest. Mince the garlic and anchovy filets. Reserve about ½ tsp of the oil from the anchovy container.

Add the lemon juice, zest, minced garlic, minced anchovies, anchovy oil, and pepper to a boil. Whisk to combine.

Add the Dijon, mayonnaise, and grated Parmesan and whisk to combine again. Taste the dressing and adjust the ingredients to your liking. Serve with a fresh salad or you favorite foods.
See how we calculate recipe costs here.
Nutrition
Serving:
2
Tbsp
|
Calories:
117
kcal
|
Carbohydrates:
1
g
|
Protein:
2
g
|
Fat:
12
g
|
Sodium:
240
mg
|
Fiber:
0.2
g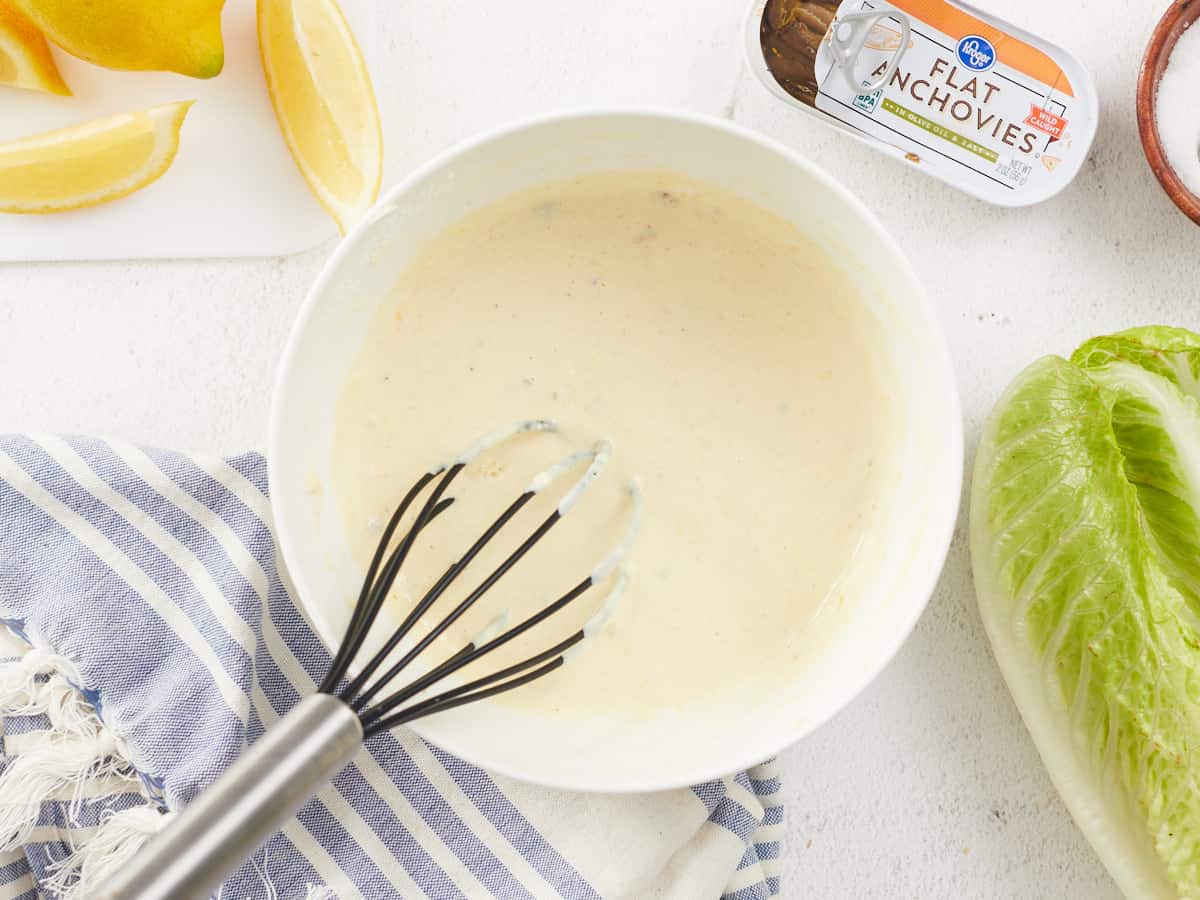 How to Make Homemade Caesar Dressing – Step by Step Photos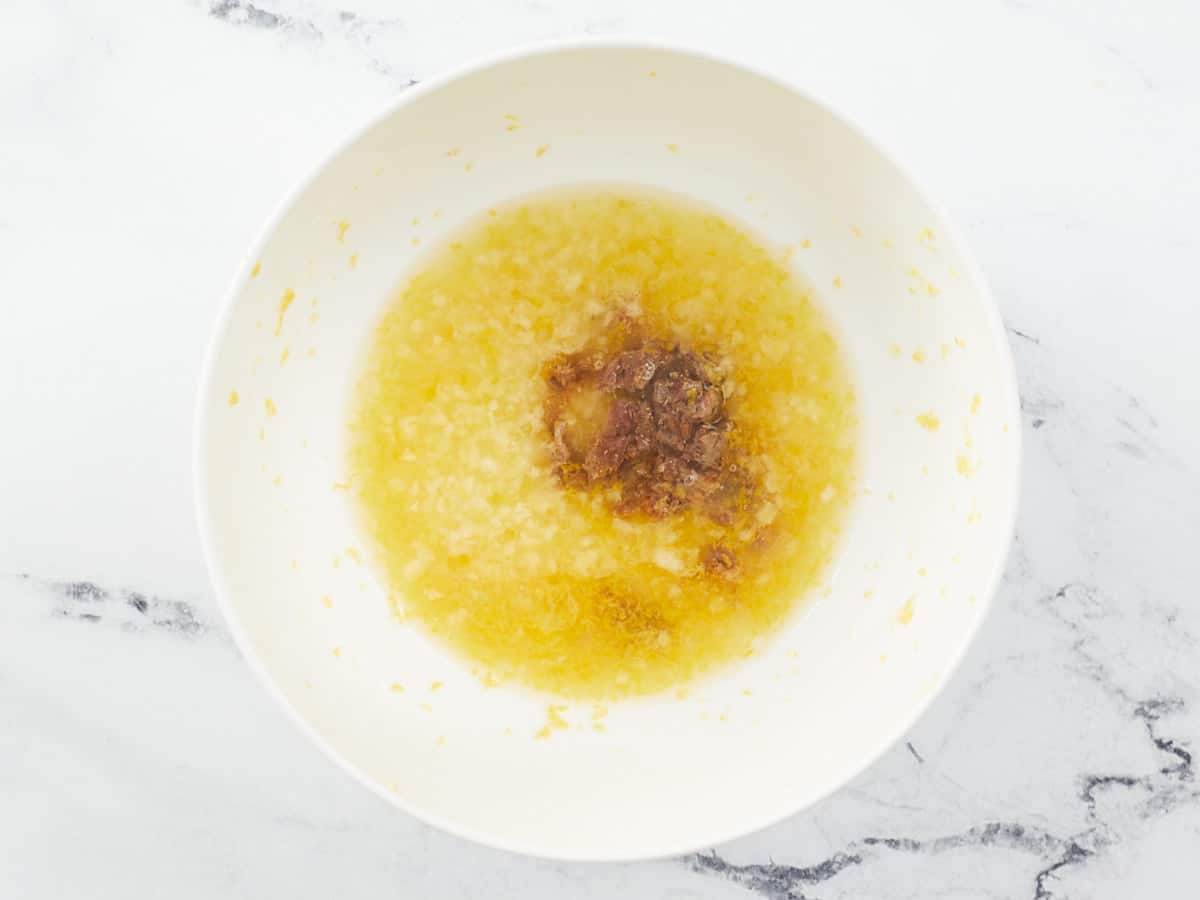 Zest and juice one lemon. Mince three cloves of garlic, and mince three anchovies. Add the lemon juice (about 3 Tbsp), zest (about 1 tsp), minced garlic, minced anchovies, ½ tsp of the anchovy oil from the package, and ¼ tsp freshly cracked black pepper to a bowl. Whisk to combine.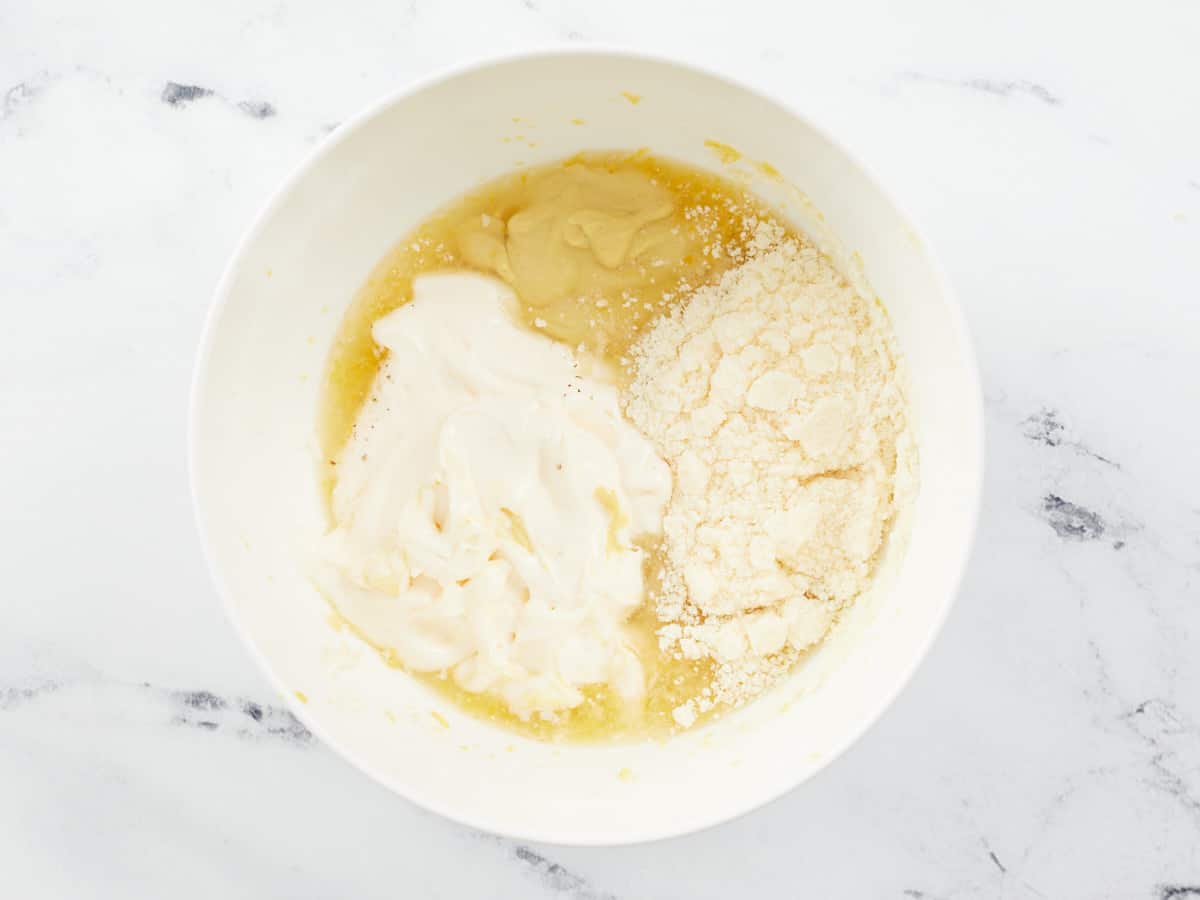 Add 2 Tbsp Dijon mustard, ½ cup mayonnaise, and ¼ cup grated Parmesan cheese.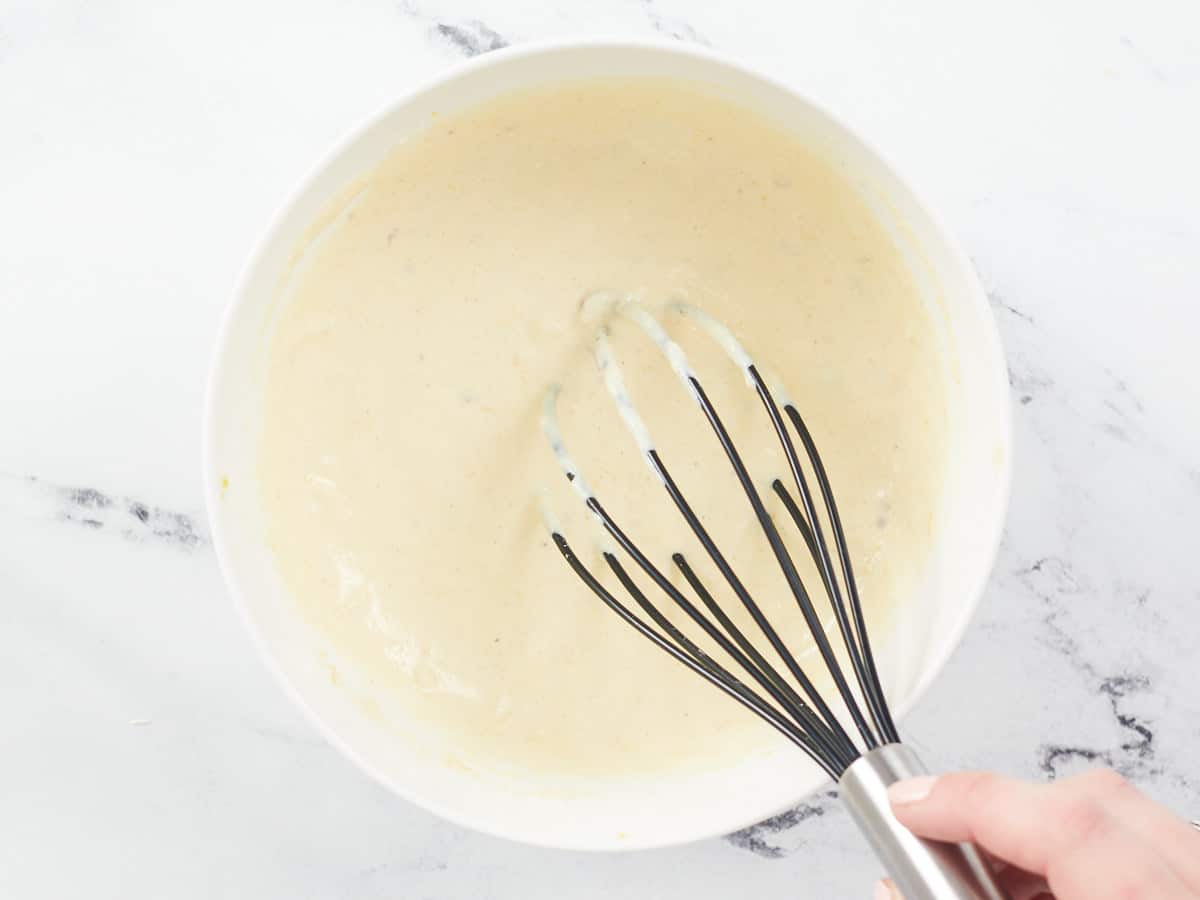 Whisk the dressing until smooth. Taste and adjust the ingredients to your liking.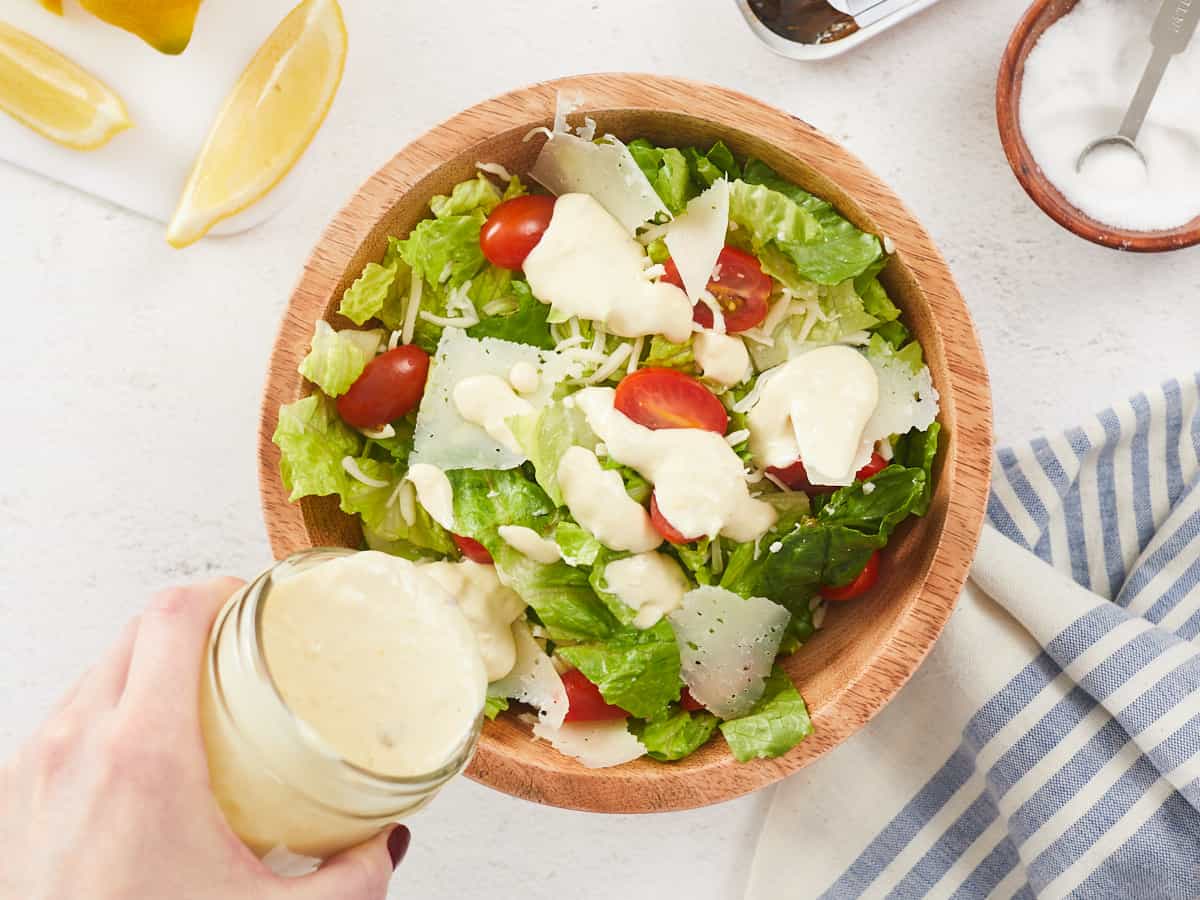 Pour the dressing over your favorite salad or vegetables, spread it onto a sandwich, or use it as a dip for any of your favorite foods!
SO GOOD! 🤤
The post Homemade Caesar Dressing appeared first on Budget Bytes.