Ultra soft matcha infused sugar cookies with an unexpected surprise inside: a pocket of sweetened black sesame paste for a savory richness that you'll absolutely adore.
The black sesame proves to be a perfect foil to the saccharine sweetness of the sugar cookie: it's nutty and sweet, but also slightly savory at the same time (and the result is downright amazing.)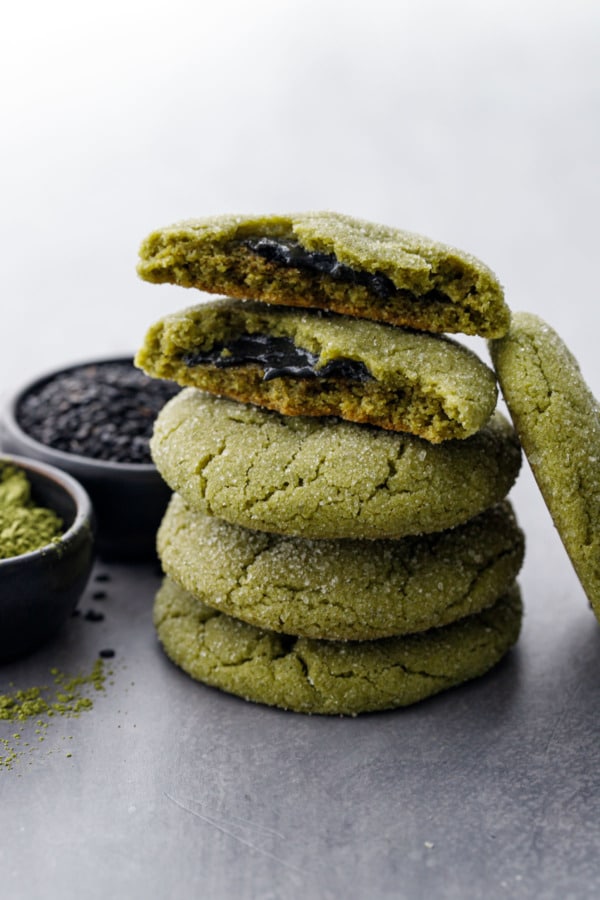 This isn't the first time I've combined matcha and black sesame.
And it most certainly won't be the last. ?
I mean, these two ingredients were made for each other, united with a bit of sugar into a practically perfect union. The subtle grassiness of the matcha and the roasted nuttiness of the black sesame is a unique flavor combination that is sure to raise some eyebrows, but trust me on this one: it works.
I played around with a few different filling options before settling on black sesame, including raspberry jam and a raspberry cream cheese filling, plain white chocolate, as well as 3 different black sesame mixtures.
While the raspberry jam filling was quite tasty (I didn't care for the cream cheese), I ultimately felt the raspberry was too strong a flavor that overpowered the matcha.
The black sesame, on the other hand, complemented the matcha perfectly without overpowering it. Perfection!
(The white chocolate was probably my second favorite but considering I already did that in a stuffed chocolate cookie I decided I needed some variety).