Roasted tomato soup is the perfect transition recipe to usher us from summer into the fall season. This simple soup gives me just enough cozy vibes to get me excited for fall without being too heavy for these last few warm days of summer. Plus, it's the perfect way to use up those last few juicy tomatoes of summer, whether you score them from your local farmer's market or your backyard. Don't let any of those gorgeous 'maters go to waste!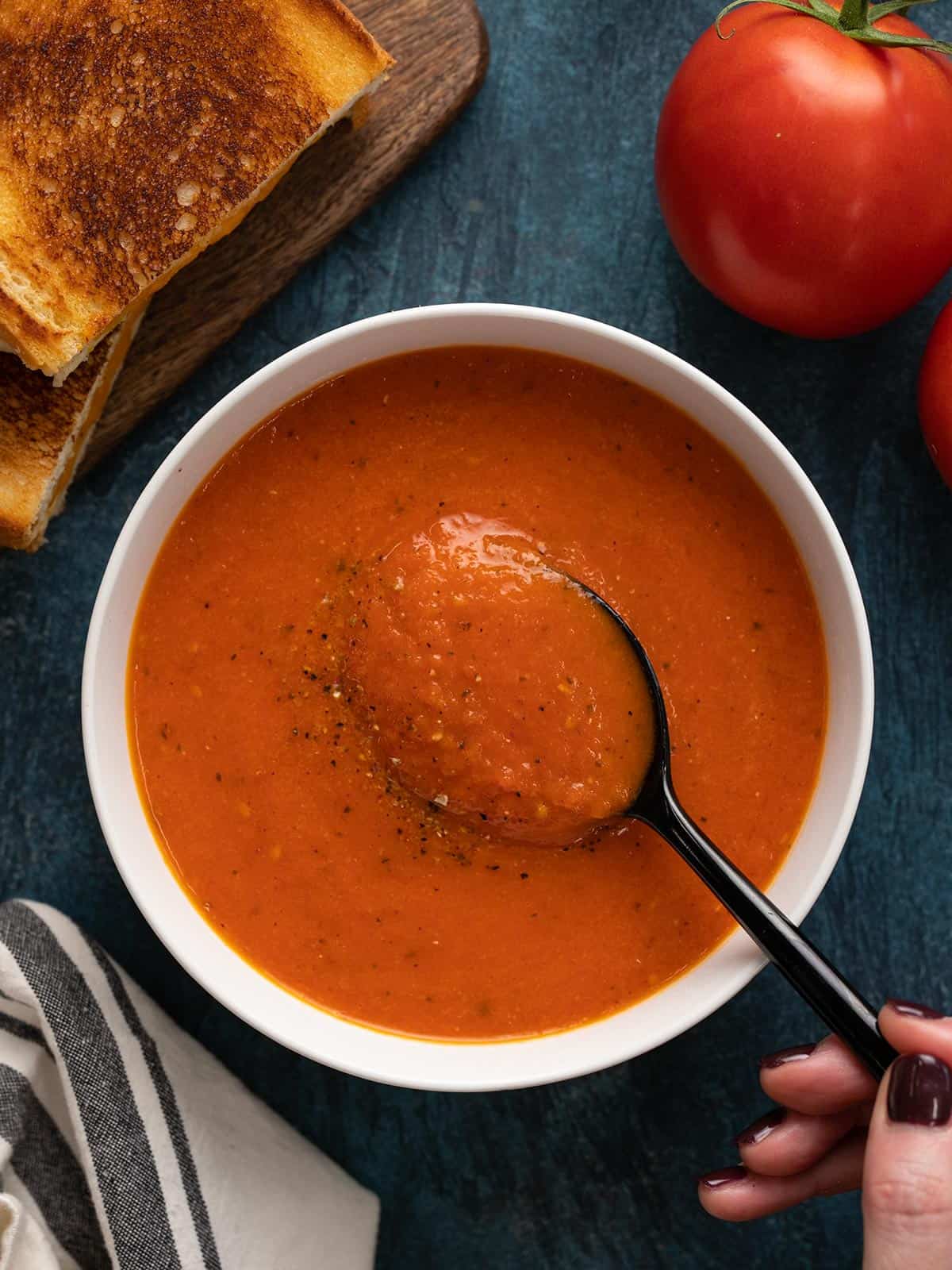 What's in Roasted Tomato Soup
I love this Roasted Tomato Soup because it's incredibly simple, yet totally elegant. It's the type of recipe that really makes you feel pampered even though it doesn't take a lot of work. You'll need these ingredients to make tomato soup:
Fresh tomatoes: The fresher the better when it comes to this homemade tomato soup! If you can score some home-grown or locally-grown tomatoes, that will give you the best flavor.
Onion: The natural sugars in the onion caramelize while roasting, giving this soup a natural sweetness to balance the acidity of the tomatoes, as well as a nice savory base note.
Garlic: Garlic gives the soup depth and I just can't do tomato without it's best friend, garlic. ;)
Olive oil: Olive oil helps the vegetables caramelize without drying out and it adds some body to the soup, so it doesn't feel quite so thin on the palate.
Vegetable broth: Adds both volume and flavor to the soup. You can substitute chicken broth if preferred.
Basil: The seasoning is simple in this soup so that the natural flavors of the tomatoes really shine. Just a little basil does the trick!
Salt and pepper: It's all about balance! Salt helps flavors pop and pepper adds just a little sparkle of flavor.
The Best Tomatoes for Tomato Soup
Tomatoes are the main ingredient in this easy soup, so picking the best tomatoes is key to making the soup really great. Here are some tips for choosing the best tomato for the job:
Fresh, vine-ripened tomatoes will give the best flavor and color to the soup. If you grow your own tomatoes or have a neighbor with a green thumb, take advantage! Or, try to source from a farmer's market, when possible.
If tomatoes are not in season and you have to source from the grocery store, smaller varieties, like grape, cherry, plum, or Roma tomatoes will provide the best flavor. Roma tomatoes tend to be the most budget-friendly, but can sometimes be the least fresh, so make sure to check for freshness.
Avoid tomatoes that are large, pale, or grown in a hothouse. While these tomatoes may be great for slicing or dicing, they won't provide much flavor to the soup.
What Else Can I Add?
The recipe below is elegantly simple, but you can jazz it up if you have some of the following ingredients on hand:
Fresh basil – blend into the soup when puréeing the vegetables, or top each bowl with fresh leaves
Parmesan – either use to top each bowl of soup or simmer a Parmesan rind in the soup
Cream – Swirl in a ½ cup to the pot for a deliciously creamy finish
Red bell pepper – roast with the tomato, onion, and garlic for a sweeter soup
Flavored olive oil – drizzle a little extra over each bowl just before serving for more depth of flavor
Pesto – add a shot of herbs, Parmesan, and flavorful oil all in one spoonful!
What to Serve with Tomato Soup
Grilled cheese, of course! If you want something truly epic, try making an air fryer grilled cheese, spinach and feta grilled cheese, or pesto grilled cheese. Or, if you're looking for something on the lighter side, try pairing this tomato soup with a veggie sandwich or a classic cucumber sandwich. Or just serve it with some garlic bread on the side.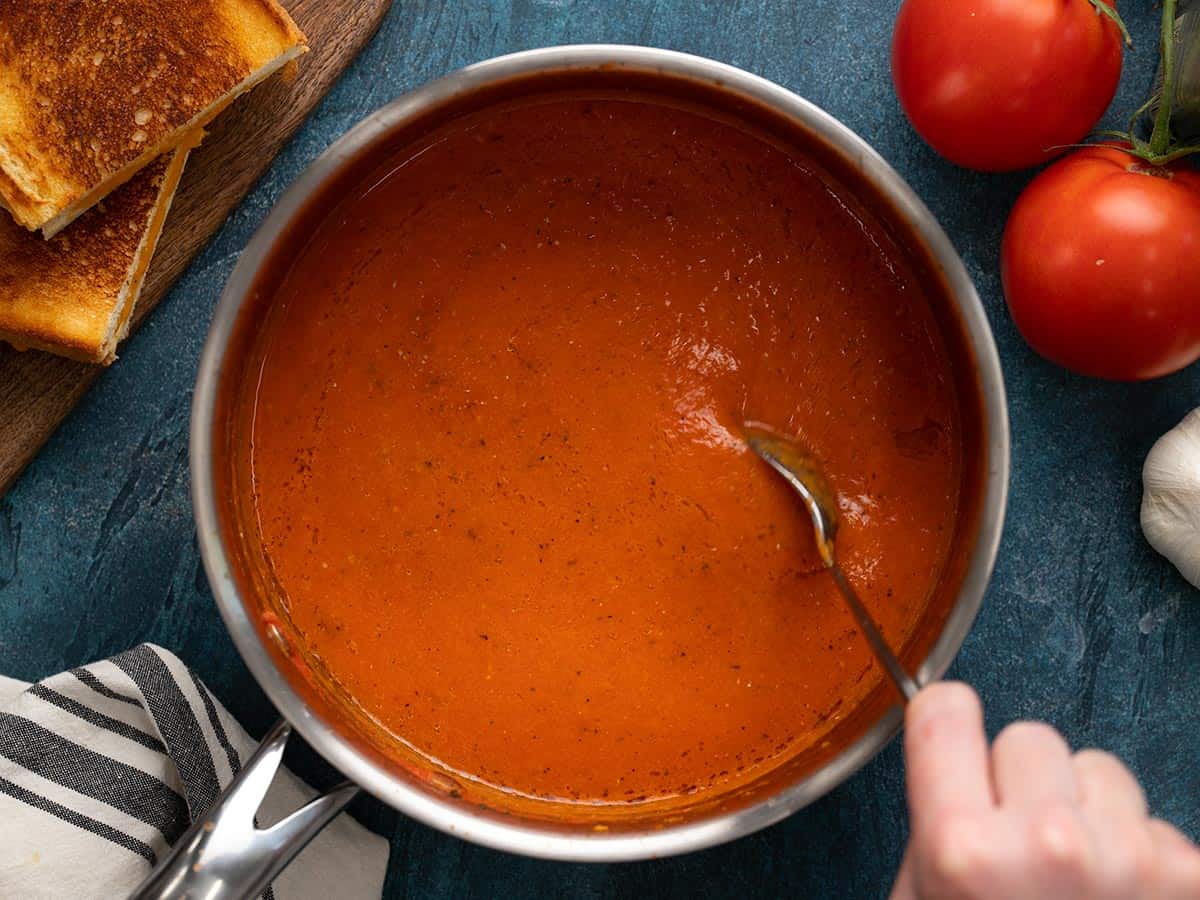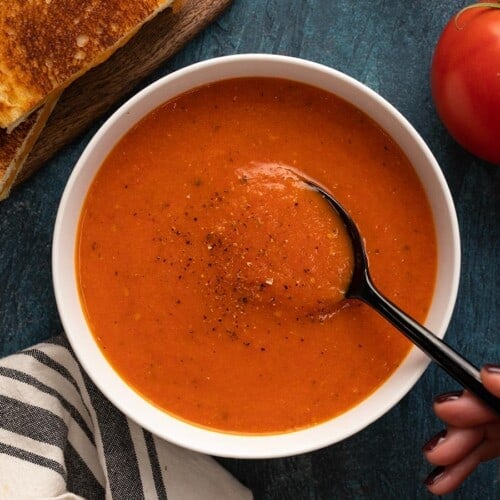 Print
Roasted Tomato Soup
Roasted tomato soup is made with fresh tomatoes, onions, and garlic that are slowly roasted until the flavors are deep, sweet, and cozy!
Servings
4
(1.5 cups each)
Ingredients
3

lbs.

fresh tomatoes

$7.18

1

yellow onion

$0.36

4

cloves

garlic

$0.32

2

Tbsp

olive oil

$0.32

1/2

tsp

salt, divided

$0.03

1/8

tsp

freshly cracked pepper

$0.02

1/2

tsp

dried basil

$0.05

2

cups

vegetable broth

$0.34
Instructions
Preheat the oven to 400ºF. Cut the tomatoes into quarters or halves, depending on the size of the tomatoes. Slice the onion into 1-inch wide wedges. Peel the garlic.

Place the tomatoes, onions, and garlic on a large sheet pan. Sprinkle with

¼

tsp salt and

⅛

tsp pepper, then drizzle with the olive oil. Toss to coat everything in oil.

Roast the vegetables in the oven for 40-45 minutes or until they become slightly browned on the edges.

Transfer the vegetables and all of the juices to a soup pot and purée with an immersion blender. Or, transfer to a blender, add the vegetable broth, and purée.

Add the basil and vegetable broth (if not already combined) to the soup pot and heat over medium. Allow the soup to come up to a simmer, then continue to simmer, stirring occasionally for 10 minutes.

After simmering for 10 minutes, add salt to taste. The total amount of salt needed with depend on the salt content of the broth used, so start with ¼ tsp and add more until the flavors are vibrant. Serve hot with a grilled cheese or garlic bread for dipping!
See how we calculate recipe costs here.
Nutrition
Serving:
1.5
cups
|
Calories:
145
kcal
|
Carbohydrates:
18
g
|
Protein:
4
g
|
Fat:
8
g
|
Sodium:
780
mg
|
Fiber:
5
g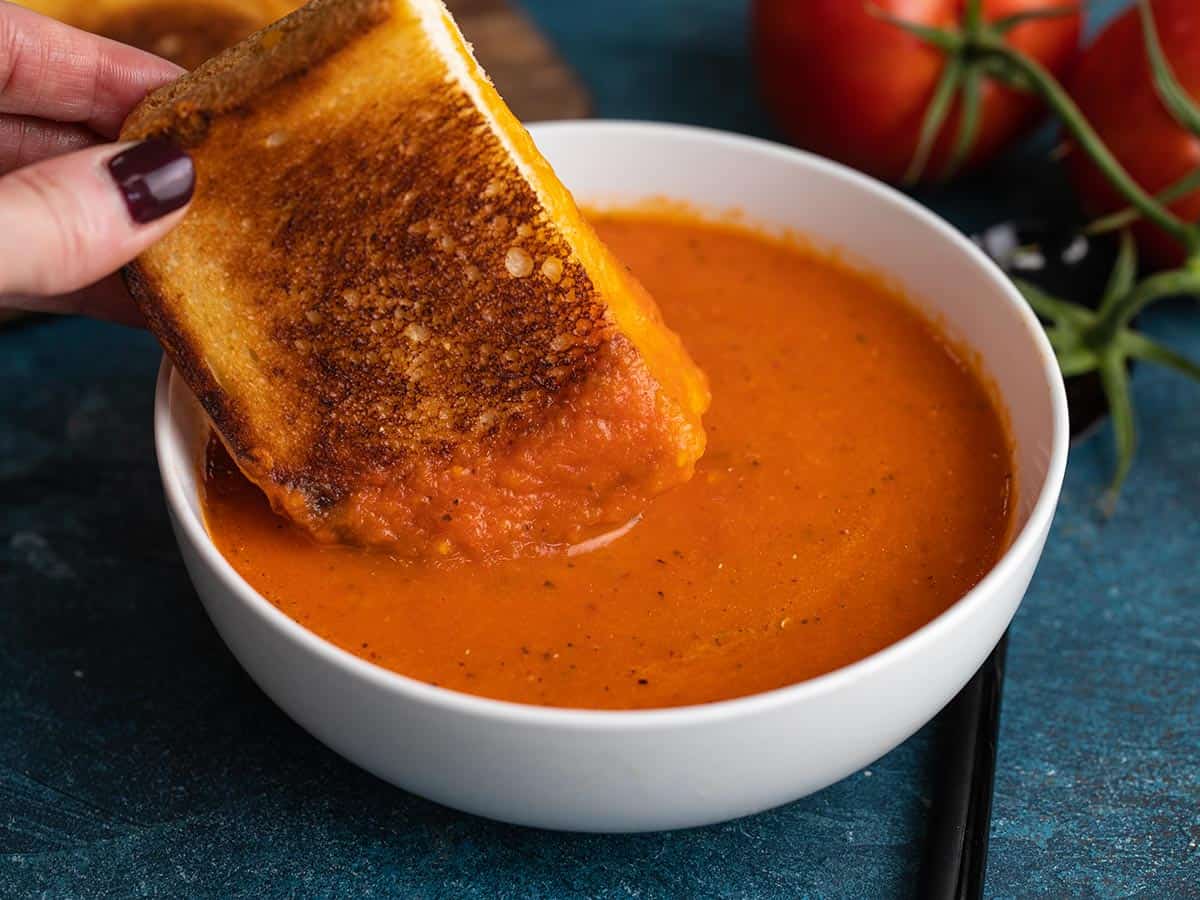 How to Make Roasted Tomato Soup – Step by Step Photos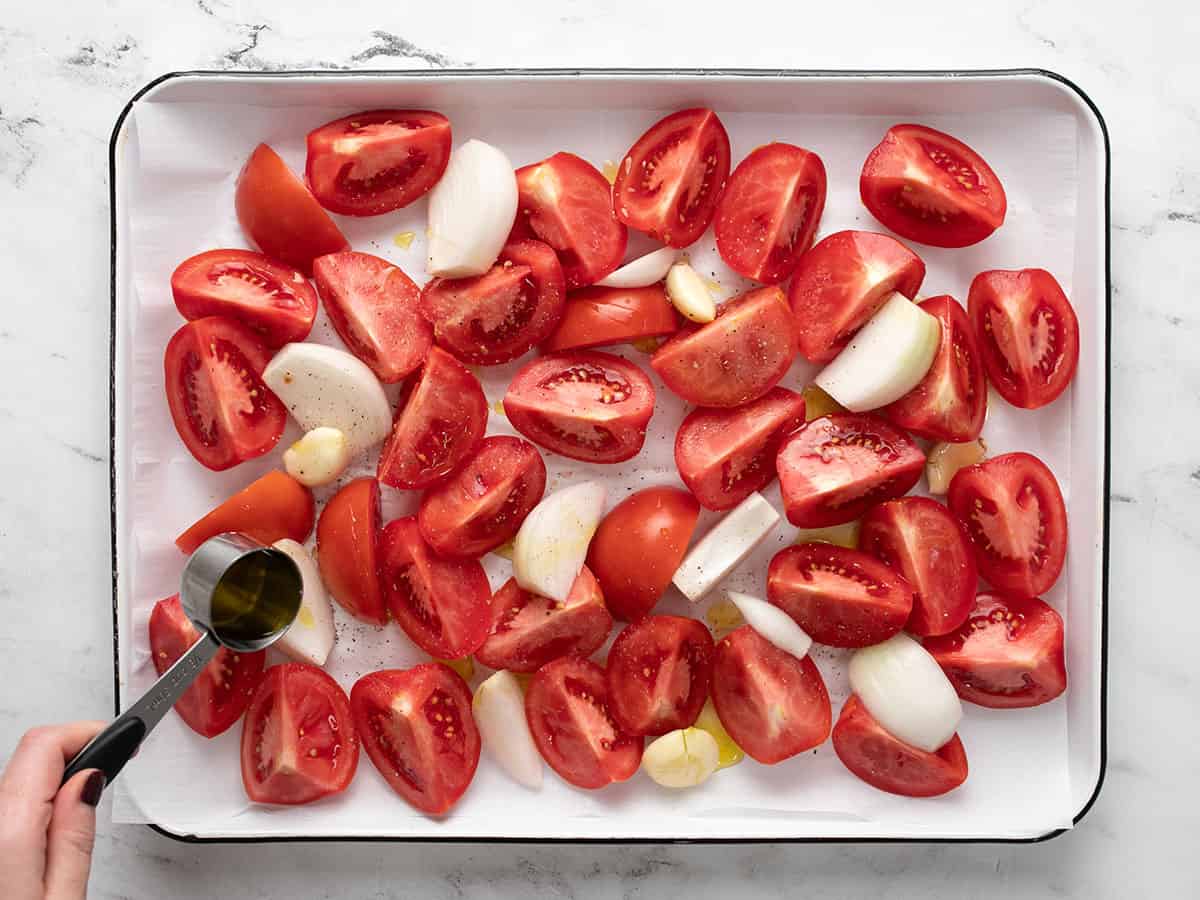 Preheat the oven to 400ºF. Cut 3 lbs. of fresh, ripe tomatoes into quarters (or, if using a small variety, cut in half). Slice one yellow onion into 1-inch wide wedges and peel four cloves of garlic. Add the tomatoes, onions, and garlic to a large sheet pan. Add ¼ tsp salt, ⅛ tsp pepper, and 2 Tbsp olive oil, then toss to coat.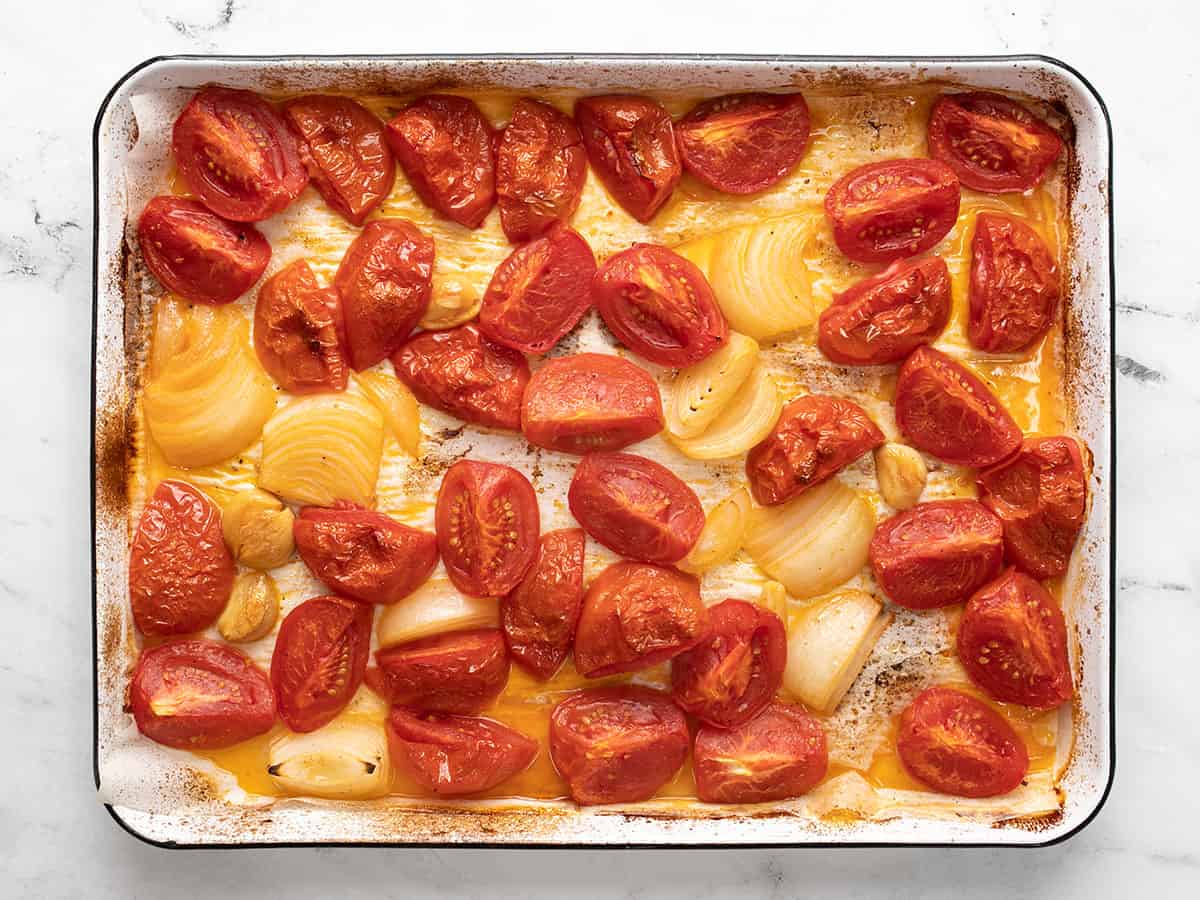 Roast the tomatoes, onions, and garlic in the preheated 400ºF oven for 40-45 minutes, or until there is some browning on the edges of the tomatoes and onions.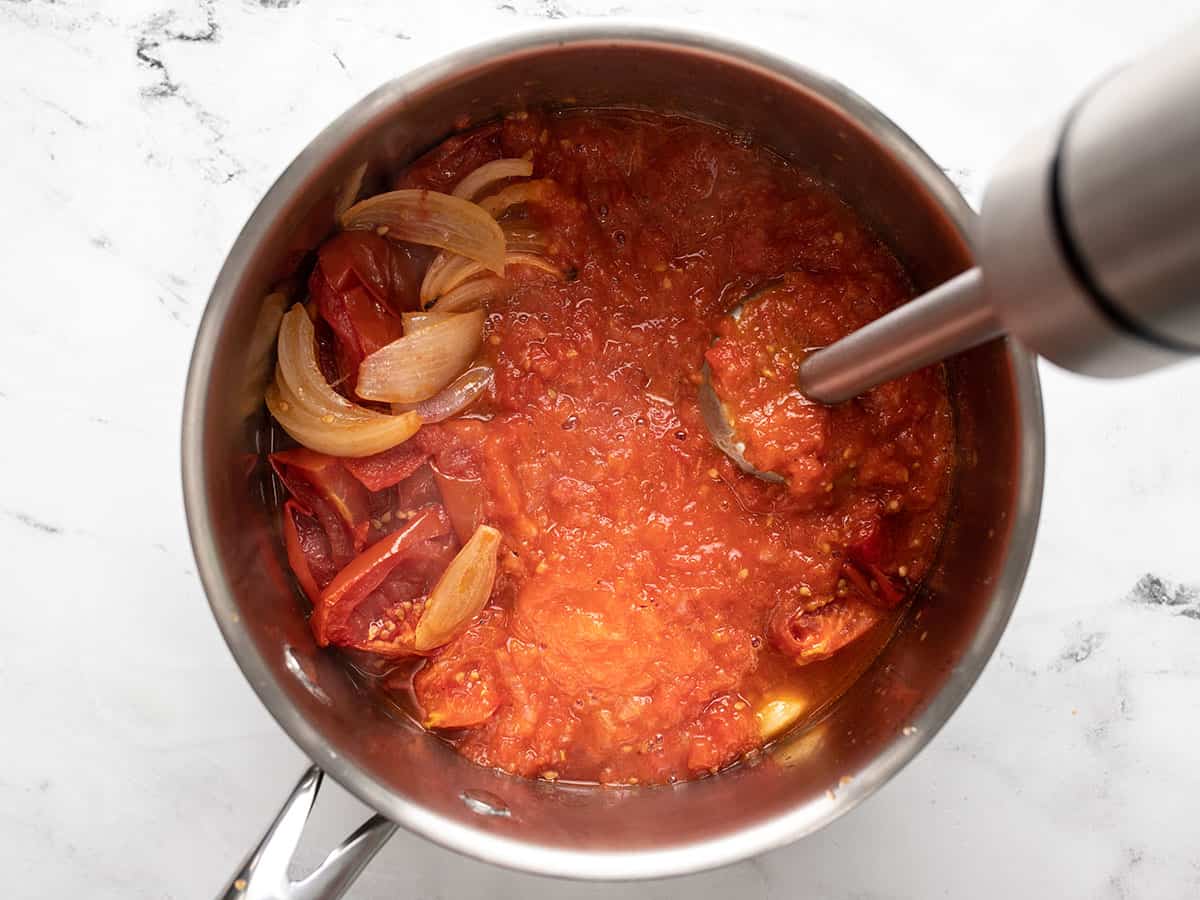 Transfer the vegetables and all their juices to a soup pot and use an immersion blender to purée. Or, transfer them to a blender and the broth to cool them down, then purée.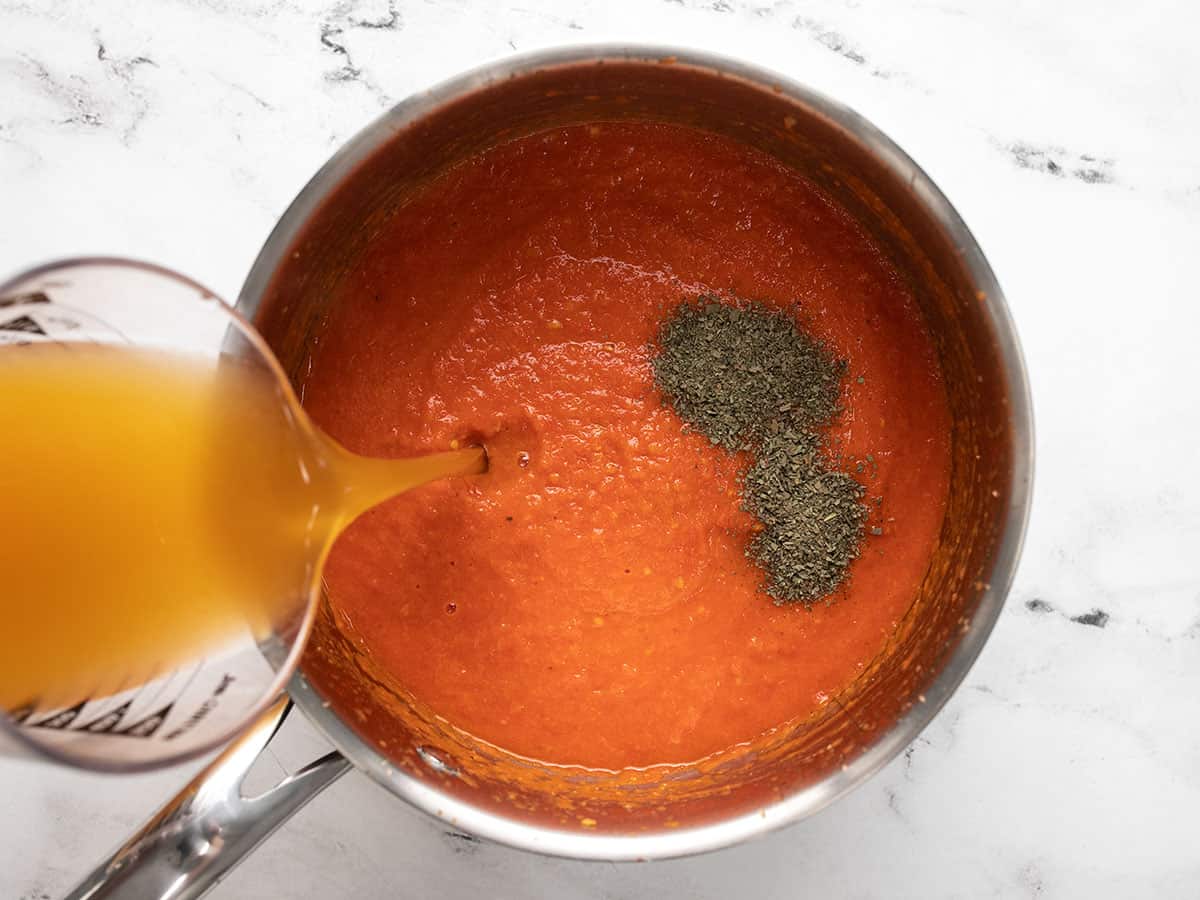 Add ½ tsp dried basil and 2 cups of vegetable broth to the pot with the puréed vegetables. Place the pot over medium heat and allow it to come up to a simmer. Simmer the soup, stirring occasionally, for about 10 minutes.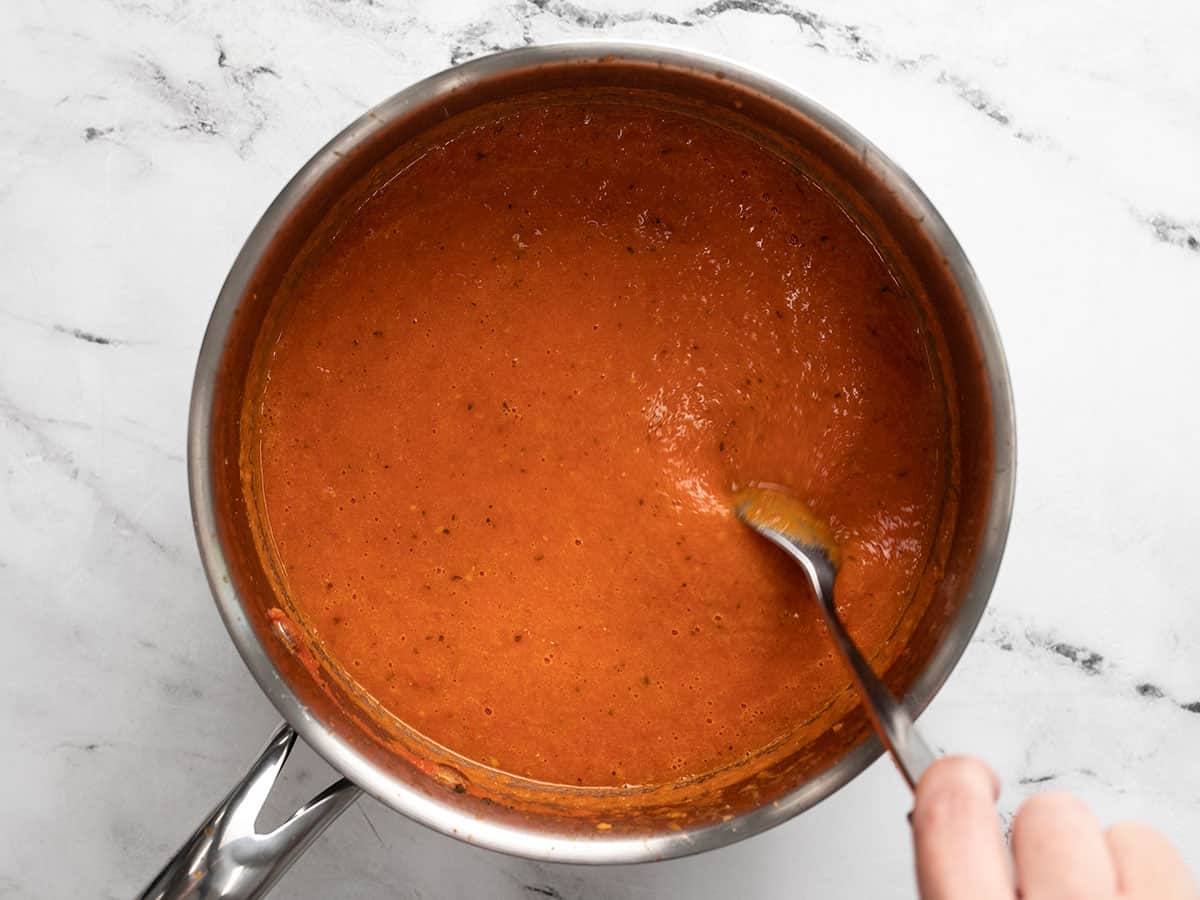 After simmering for about 10 minutes, give the soup a taste and add salt to help the flavors pop. The amount of salt needed will depend greatly on the salt content of the broth used, so start with ¼ tsp and add more until the soup tastes vibrant.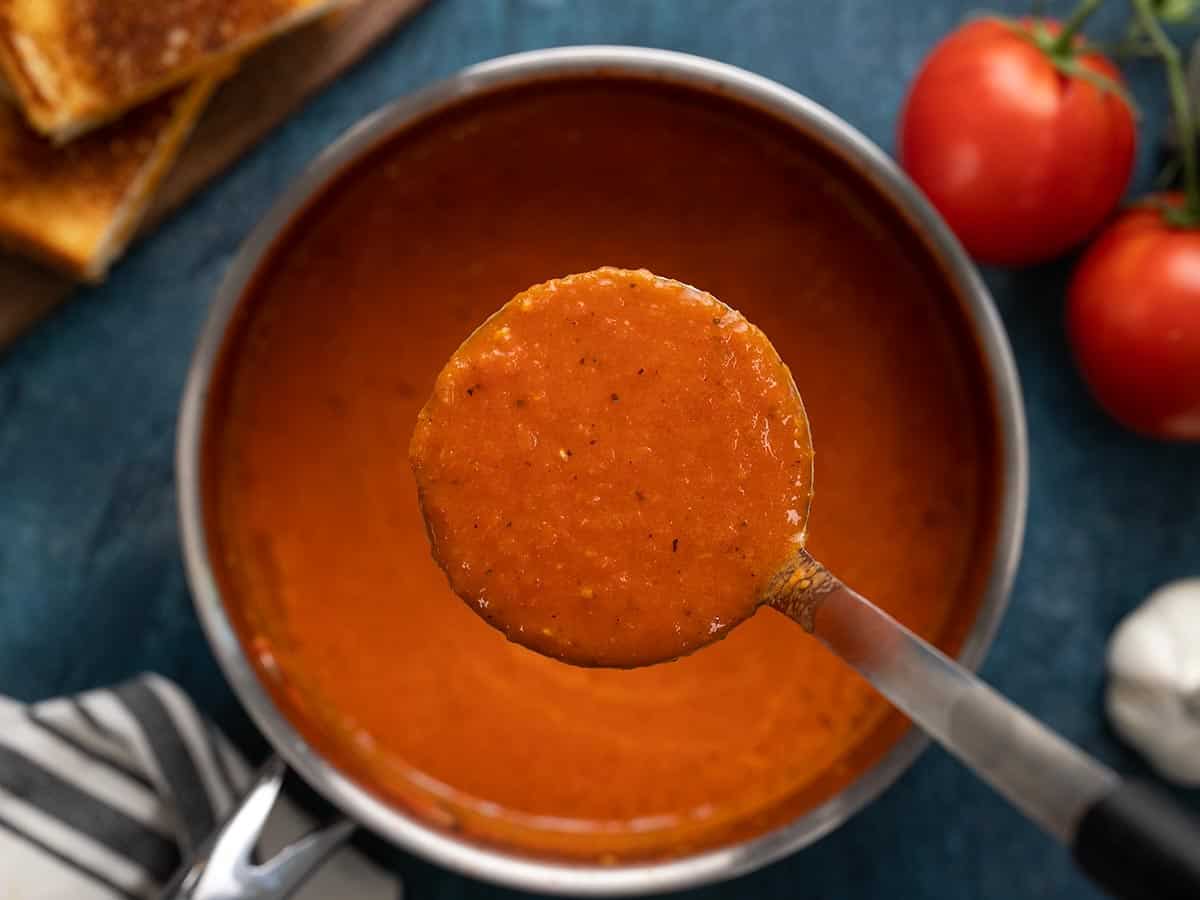 Don't forget to make an epic grilled cheese to go along with your fresh homemade tomato soup!
The post Roasted Tomato Soup appeared first on Budget Bytes.