Baileys Cheesecake has a delicious chocolate cookie crust topped with Irish cream-spiked cheesecake filling and ganache layers.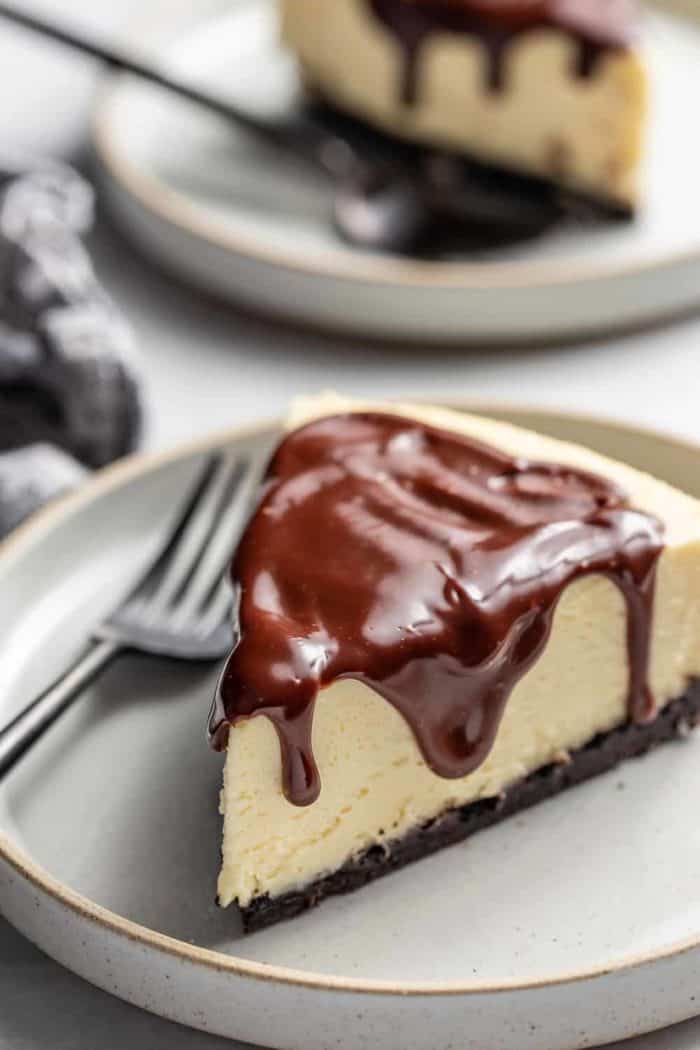 Back in my college days, I managed a small Mediterranean restaurant near campus. It was both a place for the local neighborhood to grab a quick bite to eat and for college kids to hang out and pretend to study while sipping cappuccinos.
And since I worked a lot, and free food was a perk of the job, I pretty much lived on hummus and pita bread for over 4 years.
There was a super friendly older couple that were weekly regulars. Every week, they'd split a tawook dinner with extra steamed veggies. The husband would finish his meal with a piece of cheesecake, and the wife would order Baileys and coffee with just a smidgen of whipped cream and chocolate sauce (similar to an Irish coffee cocktail).
It's funny the things I remember from more than 15 years ago. The names of any of my undergrad professors? Not a chance. But a meal a couple ordered every week? Yep, right down to the extra veggies.
Now, I've never been much of a drinker, but I developed quite an affinity for Baileys and coffee with just a smidgen of whipped cream and chocolate sauce. It's just one of those drinks that reminds me of being in my 20s, and makes me all warm and fuzzy for so many reasons.
A few weeks ago, I picked up a bottle of Baileys Irish Cream to make Simple Homemade Truffles…and perhaps whip up a Baileys and coffee or two. And then on a whim one night, I decided to try making a Baileys Cheesecake.
(more…)
The post Baileys Cheesecake appeared first on My Baking Addiction.